Starbucks has grown rapidly from a single store operation in Seattle's Pike Place Market, to a multi national Goliath that boasts a shop in every major town and city in the world. Some cities even have 2 on the same street.
In fact Starbucks now has over 32,500 stores (correct as of 2020) in over 80 countries across the world.
Students of business will focus on the many aspects Starbucks got right on that amazing journey, but as a coffee enthusiast, I honed in on one aspect..
How exactly did Howard Schultz change the way the world sees coffee, and make it an almost daily necessity the world over.
There are many aspects that go into the Starbucks experience, the coffee beans they use, the atmosphere in the stores and the consistency of product.
I am sure you have noticed that no matter where you order a Starbucks they taste exactly the same, you could be in Milan, Beijing or Seattle the coffee tastes the same.
This is all down to the coffee machine they use..
If you want to recreate the experience at home, then you are probably wondering what coffee machine does Starbucks use?
The Starbucks Bean to Cup machine
When Howard Schultz first transitioned the group from a coffee bean retailer to the espresso bars he saw in Italy, they used traditional espresso machines. One brand in particular the L Marzocco Linea.
The issue with standard espresso machines is they take a skilled barista to pull a good shot, and the whole bean coffee needs grinding separately.
Needing highly skilled operators and consisting of several manual processes it quickly became clear that these machines could not fuel the companies growth.
What they needed was a coffee machine so simple to use, almost anyone could pull a good shot. One that handled most of the important processes automatically, and one that could deliver a consistent product each and every time.
What Starbucks needed was an automatic coffee machine (or as we know them) a bean to cup coffee machine.
The Mastrena High-Performance Espresso Machine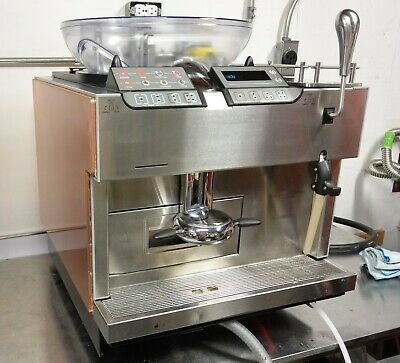 The Mastrena High-Performance espresso machine is a model of fully automatic bean to cup coffee machine that has been developed and manufactured exclusively for Starbucks.
Every single Starbucks coffee shop across the globe uses the exact same coffee machine. This is one of the secrets to the consistency of product.
The Mastrena espresso machine was developed by a small Swiss company called Thermoplan Ag, and since its introduction has been the only coffee machine used by the company
Mastrena Features
What makes a bean to cup coffee machines so much better than other coffee makers is the amount of features and automation you get.
So lets have a look at what Starbucks get with theirs
Integrated Coffee Grinder
It is no secret that coffee beans are at their best when freshly ground. To handle this the Mastrena features a integrated burr grinder, that will grind the exact amount on demand.
Ensuring all Starbucks coffee is as fresh as possible.
Exact Dosing and Tamping
Another secret to the consistent product is using the exact same amount of coffee grounds each time, and compacted (tamped) to the same level.
This has a huge impact on the infusion time, so to have this automated and exactly the same each time, is perfect for Starbucks.
Computerised Menu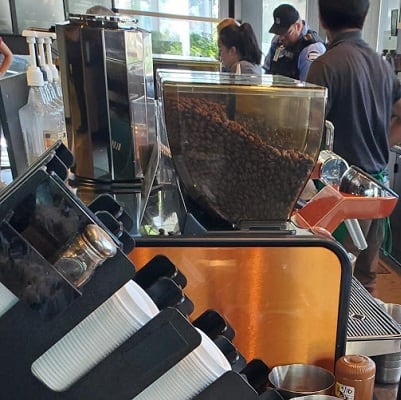 The Mastrena espresso machine comes with a fully computerised menu system, that makes its operation so simple, virtually anyone can use it.
This computer controlled aspect also removes any possibility of human error. It allows the "barista" to make all drinks from the menu, including Latte's and Cappuccinos with the touch of a button. Giving a huge increase in efficiency and speed.
Profile
Not so obvious and not technically a feature of bean to cup machines, is the profile of the Mastrena. One important feature for the company was that the barista would be able to see over the top of the Starbucks coffee machine.
Why?
Well it allows the barista to keep eye contact with the customer at all times. Doesn't sound too important but is all part of the experience.
How Much Does A Starbucks Mastrena Cost?
Take a deep breath…
Every single one of the Mastrena coffee machines costs in excess of $17,000, which at first glace is a small fortune. Add in the fact this is 4 or 5 X the cost of other commercial coffee machines, and I can understand you wondering why they bother?
Well when you consider this isn't your bog standard espresso coffee machine but an automatic machine that produces a consistent product and increases efficiency, its actually not that bad.
With one of these, you can not only have less skilled baristas, but you actually have less staff and still be more efficient.
They will more than pay for themselves in just a few months
Where Can I Buy One?
So you have read all you need to read, and now you want one all for yourself
Maybe you are planning on your own local coffee shop, or maybe you just have a spare $17,000 lying around (I mean who doesn't right?)
Well now is the bad news, you cannot buy one.
It doesn't matter what you plan to do with it, commercial or personal use, they are simply not for sale.
Starbucks actually owns the full rights to the design, and Thermoplan Ag make them exclusively for Starbucks..
But it is not all bad news, there are plenty of really good bean to cup coffee machines available for domestic use that will produce just as good a coffee as a Starbucks. And the best part is these cost a lot less than $17k
What Other Machines Does Starbucks Use?
In addition of the Mastrena coffee machine in all Starbucks coffee shops they have used some other coffee makers.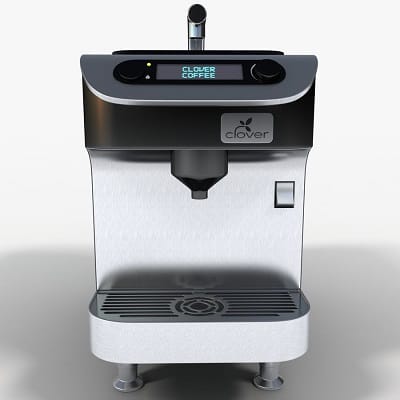 Clover Coffee Maker
The most notable of these is the Clover Coffee Maker(1) which they now own the rights to. This $11,000 coffee maker allows Starbucks complete control and accuracy over every aspect of the brewing system.
The Clover brewing system uses Vacuum-Presstm technology to create the perfect cup of coffee. The water temperature is controlled to within 1 degree Fahrenheit, and the ground coffee beans are filtered through a 70 micron filter.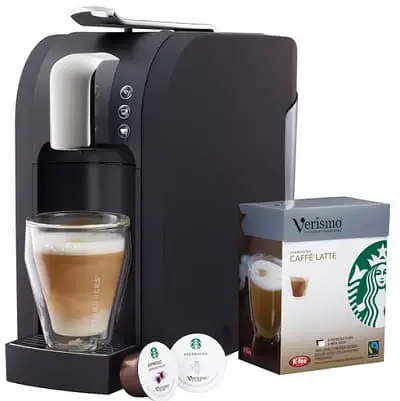 Starbucks Verismo
Unlike the two commercial coffee makers above, which are not available to the public. Starbucks also used to make a home machine call Verismo.
The Verismo system was a pod coffee machine and was designed to work exclusively with their own arabica coffee pods.
They have now however discontinued this machine and instead make nespresso compatible espresso pods.
The Final Verdict
Starbucks virtually created the mass market coffee shop industry, prior to them if you were lucky you may have found an independent coffee shop or two in your city. But outside of the big cities you were stuck with a filter coffee at best from a cafe.
While there are a few people and coffee purists who don't like them, you have to admit they do what they do, very well indeed. Everyone knows Starbucks and everyone knows what their drinks taste like.
They achieved this in no small part to innovating with the coffee machines they used, to ensure they offer a consistent product the globe over.
True you cannot buy a Starbucks machine, but you can get one that along with the right coffee beans will do just as good a job. Why not check out the best domestic bean to cup machines.