The Sage Oracle ( BES980BSS) and Oracle touch (SES990BTR4GUK1) sit at the top of the bean to cup machine price bracket. In this Sage Oracle review, I will help you decide if they can really justify their price?
In short if price was no object then the Oracle is the best Espresso Machine you can buy for home use. Styled like a more manual espresso machine, but hidden in there is a little bit of magic that means even amateurs can produce excellent shots, without the need for any pro level skills.
By looking at bean to cup machines, you are most likely looking for a coffee machine that will produce consistently good shots of espresso cup after cup, with the minimal amount of effort on your part. And in this regard then you can't do any better than the Sage.
Note : Sage used to be affiliated with Heston Blumenthal, but he is no longer the face of their coffee machines. Hence we no longer refer to them as Sage by Heston Blumenthal
You may be wondering why The Sage Oracle came in only 8th on my list of the best bean to cup machines? Well although I do firmly believe this is one of, if not the best, I have to consider its price in the equation.
Exceptional coffee and perfectly textured milk
The Features
Automatic Bean to Cup Coffee Machine
Autoamatic or Manual Steam Wand for Milk Texturing
Integrated Conical Burr Grinder (With different grind settings)
Automatic ground tamping
Dual Boiler
15 Bar Pump Pressure
2.5 Litre Water Tank Capacity
Automatic grind control
Self Cleaning Function
Digital Temperature Control (PID)
Pre Infusion to ensure perfect extraction
Dimensions : 37.3cm (W) x 36.8cm (D) x 44.7cm (H)
Weight : 19.3kg
280 gram bean hopper capacity
Brushed stainless steel
My Sage Oracle Review
This could easily be a commercial grade espresso machine that would not look out place being used by a professional barista in your local high street coffee shop.
But it is not, it is in fact a home coffee maker. Packed within it's good looking exterior is just the right amount of technology to handle all the awkward parts of the coffee making process, to produce consistently excellent coffees each and every time.
The Oracle is different to other bean to cup machines in that it is a sort of hybrid between a traditionally manual espresso machine and a fully automated coffee machine.
The Espresso making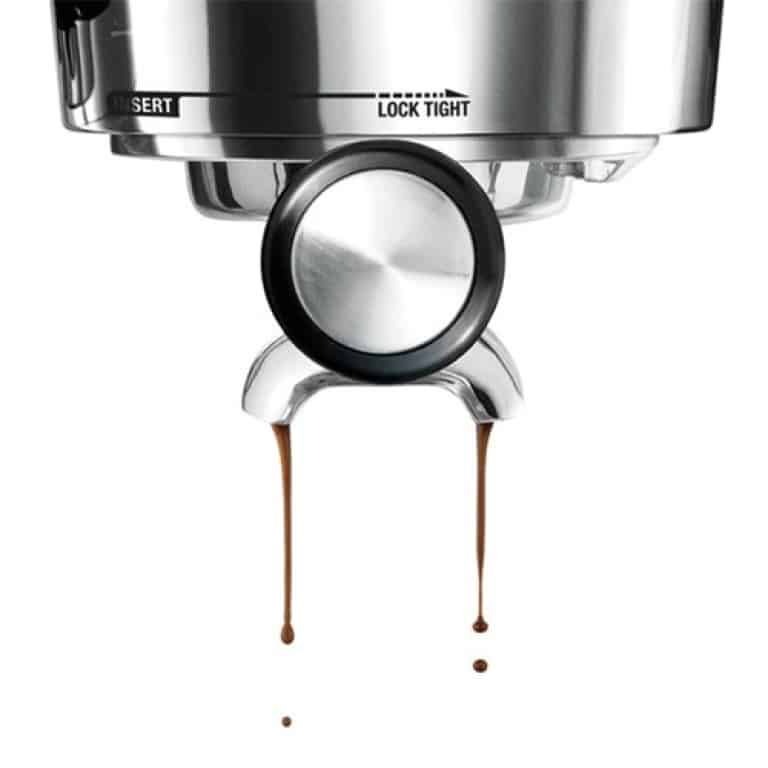 Although it looks like a manual espresso machine, the Sage Oracle does automate 99% of the espresso making process, hence why I class it as a fully automatic bean to cup machine.
Actually the only part you are required to do is move the portafilter to the group head. And I don't know about you but I can certainly handle that bit, even first thing in the morning.
Grinding the beans
The first part of the brewing process is grinding the coffee beans, and like all true bean to cup machines this is handled by the integrated stainless steel conical burr grinder. Which will on demand, by turning the portafilter to the right, grind exactly 22g of coffee.
You have full control over the grind size, via the dial on the left of the machine. Allowing you to control how fine or coarse you want them.
Unlike its baby brother the Sage Barista Express, the oracle will not only grind the exact amount of beans required, it will also tamp them correctly for you. Leaving you with a perfectly compact amount of freshly ground coffee.
The Oracle will take ground coffee, but I urge you if you want the best espresso to use fresh coffee beans.
Brewing the shot
As I mentioned 1% of the process is down to you, and this is it your up, time to move the portafilter and place it in the group head, two inches to the right. You need to twist to lock into place. See your part wasn't difficult.
You may have noticed the portafilter has a spout/dispenser either side, like you see in the coffee shops. This does mean, that even when you want a single shot, you need to make sure your cup is under both spouts, we don't to waste anything.
Now we are set to make either a single or double shot, simply select what you require and hit "brew", The Oracle will take care of the rest.
It has pre-programmed extraction times, but you can adjust these to your liking. I would suggest you start off with the presets and see how you go. Or discuss it with your expert when sage come round to install it for you.
There is also a pre programmed option for a long black, as well as hot water for making Americanos. Not all espresso machines have this option direct from the group head.
I can confidently say the espresso you will get, will be as good as any you have had before, even from most coffee shops. The clever bit behind why, is what sets this machine apart.
So what is the magic that happens during the extraction process?
Pre Infusion Function (1) – this is the process of gradually increasing the water pressure during the brew, to gently expand the grinds. This ensures you have an even and perfectly flavoured espresso shot.
Digital Temp Contrl (PID) – This brings the water to the exact optimal extraction temperature.
Heated group head – to ensure the brew takes place at the correct temperature.
All of this is fully automatic and does not require any intervention from you. It is this level of technology that allows you make great espresso with ease.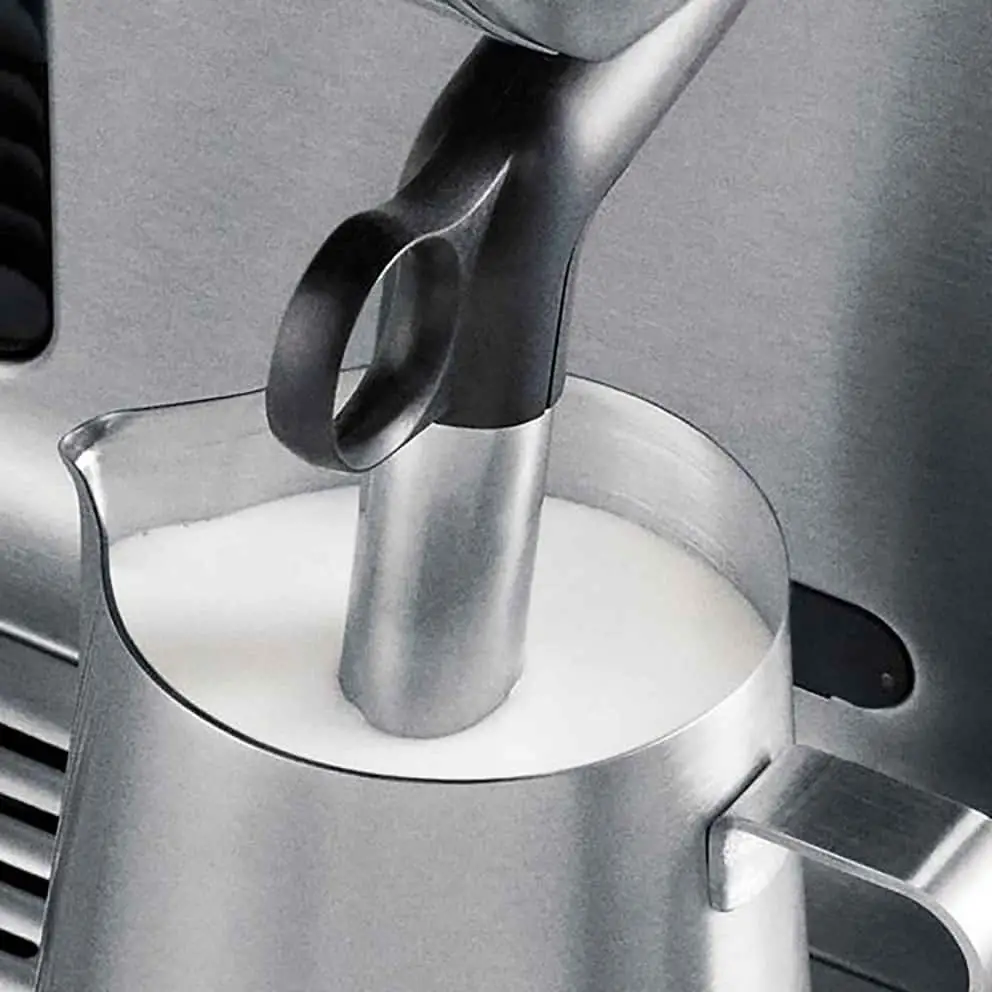 Milk texturing
At first glance you could be forgiven for assuming the milk frothing is a manual process, it certainly has what appears to be a steam wand.
But as you could expect from Sage all is not what it seems, the steam wand is capable of automatically frothing your milk. Or for when you fancy trying out as a Barista it can be a manual milk frother.
In the box you will find a stainless steel jug with a built in thermometer, to use when making Latte, Flat White or Cappuccino.
For those times when you can't be bothered doing this part yourself, and lets be honest most of the time. All you need to do is fill the jug with milk (not all the way, about halfway should do). Then place it on the drip tray with the wand fully submerged.
Then all that's left to do is decide what you want, there is a dial on the side where you set how much foam (latte's) or froth ( cappuccino) you prefer. I advise playing with this and trying different foam, froth and warm milk ratios.
Surprisingly the textured milk it produces is silky, smooth and as close to what a pro barista could do as you will find in an automated machine.
Unlike other automated machines where this happens directly in the cup, the Oracle textures the milk in the jug, allowing you even on the automatic mode to practice your latte art.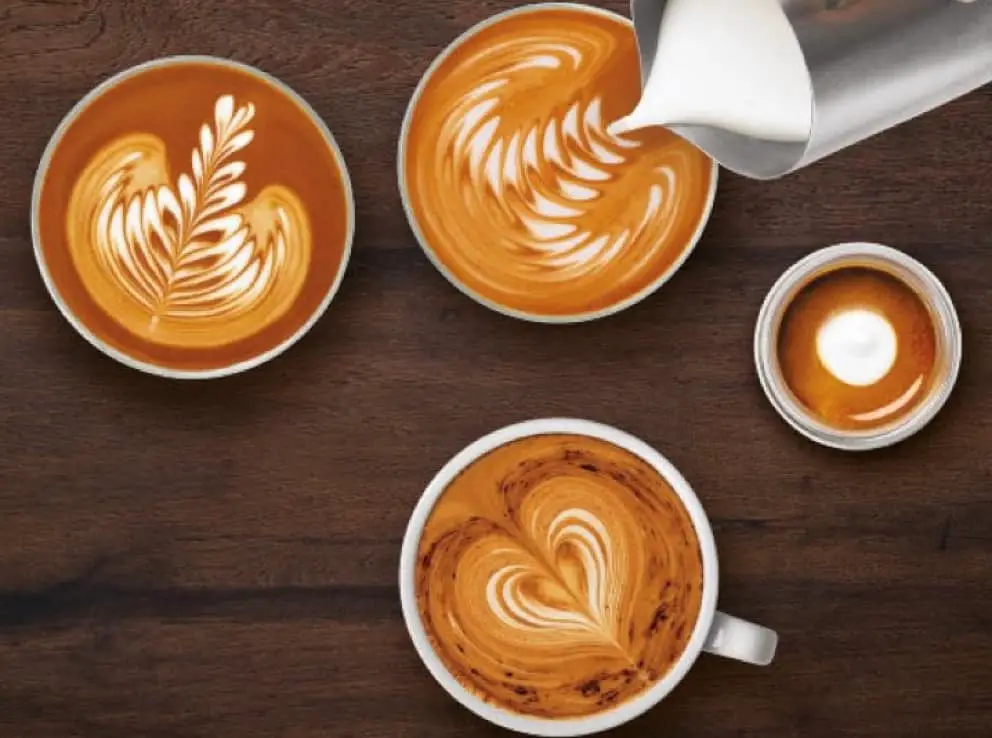 As I mentioned you do have the option of manually handling this part and using the wand manually. I find if I have time then I do like to have a go from time to time. Whats great about Sage the Oracle is you have the choice.
Sage have also added some neat little functions to help when in manual mode, such as cutting off the steam if the milk gets too hot. Meaning it is impossible to accidentally scold the milk.
You can also use this for hot milk if that takes your fancy?
Having a dual boiler means you can brew your shot and froth your milk at the same time.
Cleaning and Maintenance
This machine has so many awesome features and so many exciting things for me to write about that this bit seems a little bit boring. But I have to include it in my review and it is a really important part to consider when looking at automatic espresso machines.
First up is what to do after each use, and like any machine you simply need to wipe it down, including the drip tray, the steam arm, and filter baskets as well as clean out the portafilter. You should also soak these in warm water at least weekly.
A note on stainless steel, I find it really difficult to keep it looking pristine, any tips please let me know.
On a longer term note, I would advise using the water filter supplied, especially if you live somewhere that has high water hardness. This will help limit the limescale build up, and keep your machine working perfectly longer.
And on a descaling note, you need to run the program at least once every three months. But if you are heavy user then even more. This is effectively mixing up the descaling solution and adding it to the water tank, then the program will run it through the machine. Don't worry it will also take care of fully flushing it through afterwards.
The descaling program does take a fair amount of time (30mins +) so don't wait until the very last minute, set it up when you don't need a coffee.
Frequently Asked Questions
Is the Sage Oracle worth it?
This is really a difficult question to answer. First thing to note is this is not a cheap machine and is a the very top of the price range. But if you can afford it then yes the Sage Oracle is worth the money.
However you could pay half the price and get a machine nearly as good
Is there Warranty and Guarantee?
All Sage coffee machines come with a reassuring 2 year repair, replace or refund guarantee. However it is highly unlikely you would need to call on it as these machines are very well built. But the peace of mind is great to have.
Sage also have a full UK customer service center which offers support by phone, email or web chat.
What size cups does it take?
You can easily fit anything from an espresso cup to standard size mug under the dispenser. According to my measuring the clearance between dispenser and drip tray is 105mm, which is just enough for a decent size mug.
The average mug is under 100mm so a good fit.
How do I descale Sage Oracle?
There is an automated program to descale the Sage Oracle. It is simple to follow and shold take just over 30 minutes to complete.
How often should I descale it
You should aim to descale your coffee machine at least once every three months. If you you are a heavy user or have very hard water then this will need to be done more frequently.
The Conclusion
While they are no longer associated to Heston Blumenthal, Sage still produce the same amazing coffee machines.
The Oracle is the best of these, while it looks like a manual machine, it actually handles all of the fiddly little bits with making great coffee. So you can have damn near perfect coffee at a touch of a button. For me I would recommend this all day long if it wasn't for the price. But as the adage goes you really do get what you pay for with this machine.
Smooth consistent espresso with a perfect crema, and silky textured milk all just one touch away.
If you can buy this machine.