Its pretty safe to say most fully automatic bean to cup coffee machines are packed with features, designed to make life easier for the end user. Ultimately convenience is the name of the game.
As you are about to discover in my Jura Z6 Review, this coffee machine takes this to a whole new level.
What you are getting with the Jura Z6 is all the amazing features you would expect from one of the industries best brands, enhanced by artificial intelligence.
Quite often when you buy any piece of tech, it quickly becomes outdated as the world advances around it. I don't foresee this as being a problem with the Z6, it so far ahead of its peers, you will still be impressing your mates for years to come.
Any coffee drinkers out there who fancy a bit of the future in their homes, be prepared to dig deep in those pockets, as all of this does not come cheap.
Possibly The Best Available
The Z6 Features
The Z6 is jam packed with a host of features, some you should expect, some are exclusive. But all guarantee this is one of the most advanced machines out there.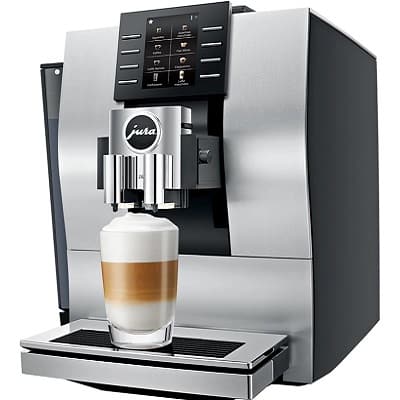 Super Automatic Coffee Machine
Artificial Intelligence
Multi-Level AromaG3 Grinder
Intelligent Pre-Brew Aroma System (I.P.B.A.S.)
Fine Foam Technology
2.4 Litre Water Tank Capacity
Pulse Extraction Process (P.E.P)
intelligent water system
Thermoblock heating system
Integrated cleaning and descaling programme
CLARIS Blue filter system
Height adjustable coffee spout
One Touch Operation
Variable brewing capacity
Dimensions : 32.0cm (W) x 45.0cm (D) x 37.5cm (H)
Weight : 12kg
280 gram bean hopper capacity, with Aroma Preservation seal
My Jura Z6 Review
I am just going to be straight up here, this is not your average bean to cup coffee machine and is not for your average home. Its price tag alone will exclude many buyers and you need to be a serious coffee lover to part with such a wedge.
It comes with a vast amount of custom settings, advanced features, Bluetooth connectivity and artificial intelligence, meaning that those who do indulge are in for a real treat.
Espresso Making
Having all the features and technology in the world will mean absolutely nothing if the coffee it produces is rubbish. Let's face it ultimately all we want from our coffee makers is great cup of coffee every day.
So lets break it down and see exactly how well the Jura Z6 does the various elements of brewing quality coffee.
The Beans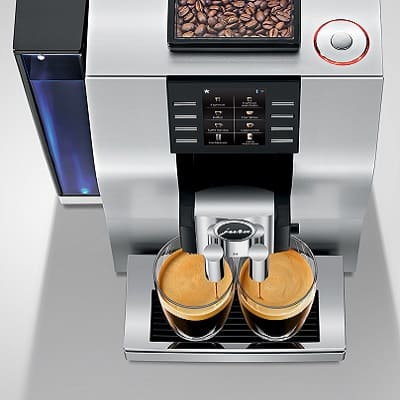 I am just going to assume that if you are thinking of investing in a good quality coffee machine, then you already know the importance of using the best beans.
But what a lot of users overlook is how much respect their beans get from their coffee machine.
The Z6 comes with a decent sized 280g beans hopper. Normally I am not a huge fan of adding more than a few days (125g) of beans to your machine, I prefer to keep excess beans in specialty container to preserve freshness. But the beans container here is fitted with a tainted lid and rubber gasket seal, which is known as the "aroma preservation seal".
Now you can happily add a week or mores worth of beans and not worry about them spoiling. That is convenient.
The Jura Z6 also comes with an upgrade on their standard Aroma G3 grinder, instead it features the improved professional aroma grinder(1).
This delivers an extra 12.2% aroma through a much higher grind quality. I am not a mathematician so can't really explain exactly why, but this is all down to geometry and having the optimum grind curve. In laymen's terms this means you get a higher proportion of fine particles in your grounds, resulting in a more intense flavour extraction in a shorter brew time.
This really is a next level conical burr grinder.
For the occasional time you fancy a decaf, then the Z6 does have a handy bypass chute, allowing you to use pre-ground coffee.
The Brewing process
There's no point having the freshest beans ground to perfection, if all you do is gently pass some luke warm water over them and pray you get a decent coffee. No making exceptional espresso is a process, and the next step in that process is a quality brew.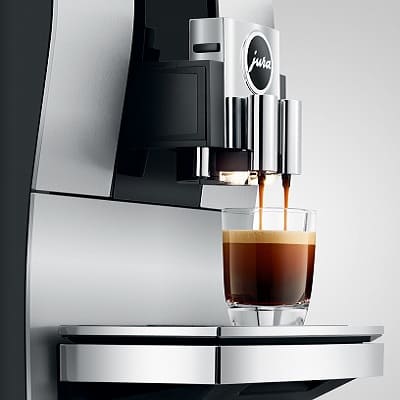 The Jura Z6 has this down as well.
Firstly we have a variable brew unit, allowing you to customise the coffee strength by choosing between 5-16 grams of ground coffee beans.
As with all Jura machines the Z6 features the intelligent pre brew aroma system, which like other pre-infusions, gently wets the grounds with a little warm water, prior to the extraction. This allows the particles to swell slightly making them evenly packed in the brew unit. This is what guarantees a consistent and even extraction.
But what sets Jura apart from the crowd is their "pulse extraction process" which is where your espresso machine passes the water over the grounds in short bursts. The results in the perfect extraction time, and releases more of the flavour.
The resulting coffee
Ultimately any coffee machine review is about the end product, while it is nice to know about all the features. Really coffee lovers just want to be sure they will get great coffee every time.
Well the Z6 produces some of the best coffee I have had from a home coffee maker. In fact it is easily a step up on most professional baristas.
Milk Based Coffees
Right, time for all you Latte Lovers to listen up, this is where we see how well the Jura Z6 turns those full flavoured espresso shots into all manner of coffee specialties.
The milk system includes Jura's Fine Foam Technology. Which is effectively a multi-functional milk frother, allowing you to prepare a full range of coffees that use either warm milk or milk foam. You can now easily make delicious latte macchiato, cappuccino, flat white, warm milk and milk foam for hot chocolate.
The milk system is really easy to use and doesn't actually require any more input from you, other than selecting what drink you wish to enjoy from the menu on the colour display or app.
One part you can control on the Z6 is the milk temperature and the milk foam temperature, if you have read as many online review as me, you will know this often an issue for coffee drinkers.
One downside (see nothings perfect), is they don't provide a milk carafe for storing leftover milk in the fridge. I am not sure what the reason is behind this, it seems such an easy thing for Jura to give you, especially at this price point.
Ultimately the I have to applaud the Jura Z6 for the high quality specialty coffees it produces, you get a full range of 22 drinks and can customise them all via the app. If you enjoy a milk based tipple then you will not be disappointed.
Customisation
All super automatic coffee machines allow you to customise certain parts of the process, but not all users like this. Some people think the whole point of an automatic coffee machine is convenience, and they just want to unbox it and have great drinks one touch away.
On the other hand some coffee enthusiasts want to be able to control every single part of the process, and want to micro manage their machine.
Whichever side of this line you fall the Jura Z6 has you covered. You can just plug and play and be enjoying awesome drinks in just a few minutes.
But you can also control any or every part of the process.
Some of the custom options available on the menu items include :-
10 Different Coffee Strength levels
10 Milk and foam temperatures
3 Different brewing temperatures
3 hot water temperature settings
Adjustable grind settings
Adjustable amount of water
Adjustable auto switch off
In addition by using the smartphone app you can also create and store your own custom recipes which means you can really turn yourself into a home barista.
The artificial intelligence the Z6 is famed for, will over time learn each users preference, and will customise the start screen and options to suit the preference of each household member.
Design
Apart from the Jura A1, I have never been a particular fan of the look of the Jura coffee machines. For me they just look a little too commercial for a home use machine and not in a good way. They remind me of hotel buffet breakfasts. But I think this may just be me, as everyone I speak to loves the design.
Ultimately what I am trying to say is aesthetics is a subjective topic, and you will either like the look or not?
What I do like on the Jura Z6 is, it is housed in an aluminium casing, which is a huge step up on the plastic casing on the cheaper Jura models. You can if you want choose the black plastic model.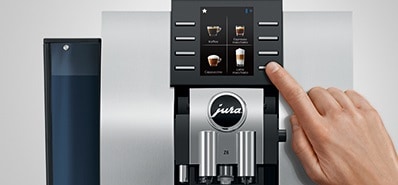 Another great touch is the water tank is side mounted , which makes it easy to get to, but the real purpose of this is to show off the blue water tank backlight. This just adds to the futuristic feel of the Z6.
The 3.5″ colour TFT display is built into the front of the machine and does not interfere with its clean lines. So many many machines these days look like the display was an after thought and just stuck on the front.
Cleaning and Maintenance
I don't mean to bring you down, but we do have to talk about the cleaning system. You really don't want to spend over £2k on a coffee machine and then leave it tucked away in the cupboard because you can't be bothered cleaning it.
I long for the day when a someone invents a way this is all fully automatic, or I make enough money for someone else to do it for me. We are not quite there yet, but the Jura Z6 does do more of this than most.
Firstly the maintenance status display will show exactly where you are at with the cleaning system, the descaling cycle and filter usage. So you don't need to keep some complicated spreadsheet to stay on top of this. It will even tell you exactly how many coffees it has brewed since the last filter change for example. This is doesn't happen on just any automatic coffee machine.
As you would expect the Jura Z6 doesn't just tell you where you are with the cleaning, it also features integrated rinsing, cleaning and descaling programmes. To handle most of the heavy lifting and leaving you enjoy the benefits of owning one.
The milk cleaning system actually has a TUV hygiene certificate.
The Z6 also features Jura's intelligent water system, which ensures you have the correct filter in place, and if not what you need. Which is basically the CLARIS water filter, this will remove all the bad elements and calcium deposits from the water. Leaving you with a higher water quality that one, means no scale builds up and two, doesn't affect the coffee taste.
Like I said we are not quite at the point of having no responsibility. Unfortunately even with the Jura Z6 you will be required to wipe it down after user, and change the milk spout.
You should also regularly remove the drip tray, water tank and coffee grounds bin and give these a good clean with hot water and some soap.
These little steps will keep your coffee maker in top notch condition for as long as possible and ensure ever cup of coffee the z6 produces tastes as good as the first.
Frequently asked Questions
Reading online reviews and forums you quickly notice a few regular questions pop up from multiple buyers. Below are the most popular ones from people looking into the Jura Z6.
Is Jura Worth the Money?
When you are at the price level of the Jura Z6 then this is a very important point to consider. It's true this a very expensive coffee maker, but it is packed with excellent features like (P.E.P) pulse extraction process.
Can you use ground coffee in the Jura Z6
Yes you can use pre-ground coffee in the Jura Z6 thanks to its bypass chute. Meaning anyone who like a decaf is ok to buy one.
Breville (Sage) or Jura?
These are two real high quality brands, who between them are responsible for some of the best coffee machines available. For me if money was no object then I say go with Jura.
But more price conscious buyers will most likely be better off with breville (sage)
My Jura Z6 verdict
Let's just assume that if you are still here and still considering buying the Jura Z6 then you can afford it. So I don't need to say if you can afford it etc.
The Jura Z6 is quite possibly the best automatic bean to cup coffee machine I have ever had the pleasure to play with.
Apart from the fact it is jam packed with tomorrows technology. It produces world class shots of espresso, and even real connoisseurs would be hard pushed to tell the difference between a coffee speciality it makes over one made by a pro barista.
All this while being simple and intuitive to use, Jura really have hot the jackpot with this one. Top marks.