Colombia is one of the worlds biggest producers of coffee, but what exactly are the best Colombian Coffee Beans?
Famous for mainly Arabica beans, the coffee triangle produces an almost unmistakable brew, mild, rich and full of Aroma, it is some of the best coffee available.
Today you will learn all you need to know when shopping for Colombian Beans, what to look for, the coffee flavour, what roast to choose and how to brew for the best results. Not to forget what to avoid!
Plus I will reveal the best Colombian brands available as chosen by myself and some real industry heavyweights…
The 7 Best Coffee From Colombia
Narrowing down the best Colombian coffees was no easy task, but a very enjoyable one to say the least. We must have drank more Joe than your average small Italian village over 6 months.
But we got there, we narrowed it down to the 7 below, each is equally good and all bring something slightly different to the table (or should that be cup).
From the most famous face of Colombian Coffee Juan Valdez (see explanation below) comes a single origin coffee from the Antioquia region.
This central North Western area of Colombia has been growing coffee for nearly 2 centuries. Consisting of nearly 100,000 small holdings it produces some of the highest quality coffee going. The high altitude (1,200m – 1,800m above sea level) and low temperatures ensure a slow ripening of the cherry.
Expect a well balanced cup of coffee with sweet caramel notes, cocoa and fruity/herbal undertones.
Online reviews confirm this is one of the best loved Colombian varieties.
The Brown Bear coffee brand consistently feature highly on my lists of best coffee beans, and rightly so. They do continually find excellent beans.
As with all coffees from Colombia they are 100% arabica beans and fair trade sourced.
This is a wonderfully bright coffee and offers you the sweetness of toffee, hints of apple and marzipan, and makes for a very unique experience.
Suitable for any coffee maker (just grind as needed).
Spiller & Tait have done it again, another stunning coffee from these great UK based coffee roasters.
Grown in the Huila area of South East Colombia, these beans lack the acidity and bitterness often associated with Colombian coffees.
Instead they are highly drinkable, and enjoyed anytime of the day. Expect a full bodied cup, with sweetness and subtle hints of dark fruits.
Especially good with filter coffee and French Press / Cafetiere.
As they have come so far over the last few years, we are now comfortable including a decaf on the list. And Decaf doesn't come better than the Decadent Decaf coffee, of all the decaf coffee brands they are the best.
This a fine single origin, arabica bean that easily stands up against its caffeinated siblings. Grown at altitudes of around 1300m above sea level in Medellin, it boasts the classic profile of Colombian coffees.
Full and balanced flavours with sweet nuttiness.
Being decaf you really can enjoy this anytime of the day.
The No.2 Smooth James is a medium roasted blend of 80% Arabica and 20% Robusta beans from Colombian coffee growers. While Robusta is not normally associated with Colombia, this coffee producer has made an exception to produce and espresso blend.
This medium intensity bean is slow roasted to extract its full flavour and aromas. And is very versatile, it makes a great epsresso but is also great in percolators and filter machines.
The Volcano Coffee works produce 3 specialty coffees, each suited for a different time of day. This the morning shot is obviously best suited to that morning kick.
This is an intense and strongly roasted bean which is has been hand sourced and roasted in small batches in London. Bringing you a high quality and great tasting coffee.
Not only do you get great tasting coffees but you get a good conscience too. The Volcano coffee company are carbon neutral and believe in ethical trading, paying over double the normal market price, to reward ethical and sustainable farmers.
Sourced direct from farmers and roasted by hand, the Union Hand Roasted Coffee Company produce some fantastic coffees.
The Timana is a single origin 100% arabica bean of the Caturra variety (often regarded as the best in Colombia).
Expect a well balanced brew, with hints of plum, citrus and syrupy sweetness. Perfect for all brewing methods.
The Ultimate Guide to Colombian Coffee
The Industry in Colombia
The Coffee industry in Colombia is huge, they are the second largest producer from Latam America (behind only the worlds largest Brazil). In 2020/21 they are expected to export 13.5 million 60kgs bags (over 800 million kilos)(1).
This means they supply around 10% of the worlds coffee, so they are huge players on the international scene. In fact the third largest grower.
Domestically the industry directly employees around 500,000 workers, who all work on small family owned farms. The average farm size is less than 5 acres.
These independent farmers produce nearly all of the coffee exported, and thanks to the fair trade scheme they make a very good living from producing coffee.
Production has been stable for many years, but there are worries that the perfect growing climate is at threat from global warming.
Coffee Regions of Colombia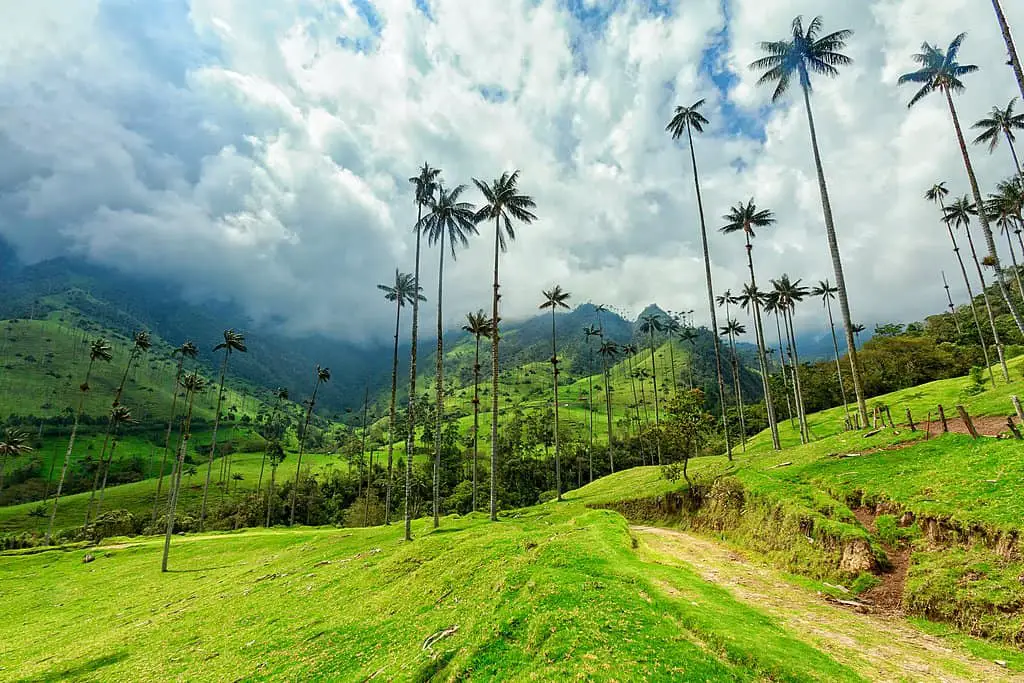 Officially there are over 20 different growing regions within Colombia, but these can be easily categorised into 4 main areas.
Northern
The Northern region is a small region that produces a more nuttier taste, and has less acidity than other Colombia beans.
The region is fairly dry and cool, so produces a full flavoured bean that has ripened slowly.
Central
The Central Colombia region is possible the most well known around the world and most coffee drinkers will have seen M.A.M on their bags. This stands for Medellin, Armenia and Manizales the 3 different states produce some of the best Colombian coffee beans.
The Coffee triangle is also located in the central region produces the majority of the coffee exported from Colombia.
Southern
The Southern growing region is pretty much equatorial and has one distinct wet and dry season. Beans are harvested in the summer.
Southern beans are famed for their fruity and sweet caramel notes.
Eastern
This smallest in both terms of area and amount produced the eastern growing region is similar to the Northern region, but has a higher humidity and a lot more rain.
The Flavour Profile of Beans From Colombia
Being such a large producer of single origin coffee beans, and different growing regions, there is a wide variety of flavour profiles available. This is due to being grown in distinctly different regions and stemming from different tree origins.
However there are some distinct characteristics that you can expect from all Colombian Coffees.
Body : Well balanced, full bodied and rich. Medium to high acidity.
Aroma : Fruity, citrus and just a little spicy
Coffee Taste : Tropical fruits, cocoa and sweet caramels
Most coffee drinkers like Colombian coffee and all agree it is a decent brew and suitable for all. Probably why they have so much of the market.
What Are The Best Beans From Colombia
For a country that produces some real high quality coffee beans, picking the best Colombian coffee beans is somewhat of a challenge.
Most will say the finest Colombian beans are the Caturra, which were developed exclusively in the country and are famed for their medium body and bright acidity.
Some neighboring countries now also grow the Caturra bean.
How They Process It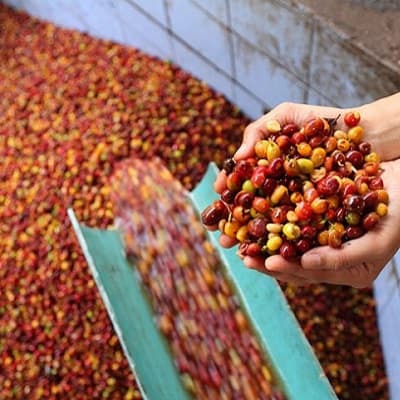 Colombian coffee is solely wet-processed, this is gentler technique designed to preserve more of the beans flavour. You may notice a lot of good quality coffee beans will advertise this on the pack
It is the favoured method used by regions with higher acidity coffee beans, such as Colombia.
Basically the ripe cherries which have been hand chosen by the farmers and placed into a wet mill. The fruit is then gently shaken, which starts to remove the skin and pulp. They are then added to a fermentation tank where the remaining pulp is broken down.
Once all of the skin and pulp has been washed of the coffee bean, they are taken outside to be dried under the sun.
The wet-processing method produces a coffee taste that is well rounded and balanced.
Roasting
The Colombian growing region is generally at higher altitudes, and this means the beans are grown at lower temperatures. A low temperature means a slower ripening process, and a more robust profile.
This more robust profile means these can handle different coffee roasts.
Lighter Roasts : Will give a sharp acidity, citrus, dark chocolate and caramel.
Medium and Dark Roast : Have a more intense hit, lower acidity and smokey flavours.
Personally I prefer a medium roast if I am going Colombian
Brewing
Colombian beans will suit a variety of brewing methods. Dark roasts are particularity suited to espresso or bean to cup machines.
Lighter roasts are more suited to gentler brews, such filter, french press or aeropress
Who is Juan Valdez?
Being such and important industry to the Colombian economy, the coffee industry has its own federation or overseeing body. The Federation Nacional De Cafeteros de Colombia (FNC) oversee the production in the country and set the minimum standards.
They actually created the fictitious coffee growers known as Juan Valdez , mainly as a marketing gimmick. He proved so successful he is still known as the face of Colombian coffee some 60 years later.
FAQs
Is Colombian The Worlds Best Coffee?
Despite producing nearly 10% of the worlds coffee, almost all of the coffee from Colombia is produced on small farms, organically and hand picked by the farmers, and is then wet processed with care. The result is a great coffee.
Whether it is the best in the world is surely subjective, while it is loved by coffee enthusiasts the world over, you will need to try some for yourself and see what you think.
What Is Unique About Colombian Coffees?
The climate is almost perfect for growing coffee in, high altitude, volcanic soil, lots of rainfall and perfect temperature, all make for the perfect growing conditions.
Add in the fact hey use exclusively arabica beans, and you have a unique flavour profile that cannot be matched from elsewhere.
Is Colombian Coffee More Acidic?
Yes Colombian Coffee is Generally more acidic than most. However it is not the most acidic coffee in the world. You can also get a low acidity option.
The main reason is a lot of the coffee here is grown in volcanic soil, which gives it more acidity, as well as being grown at lower temperatures, which means it ripens slower.
It is often described as "bright acidity".
What coffee do Colombians drink?
The most popular brew among the locals in called "Tinto" (inky water as it translates) its short cup of black coffee, that is sweetened with raw sugar cane. Its an acquired taste I will say.
As tastes slowly change, Colombians are starting to realise just how good their coffee is, and are starting to keep some for themselves.
Is Colombian coffee strong?
This is a myth and not true. In Fact Colombian Coffee is not particularly strong when compared to any other region. Due to having a great climate for growing coffee, it has a rich and balanced flavour, so does not need to be strong.
The Caffeine level is similar to that of other major coffee growing regions.
What Kind of Bean is Colombian coffee?
Colombian is made with 100% arabica coffee beans
The Verdict : The Best Coffee From Colombia
So after a lot of coffee, a lot of late nights and months of considerations, one clear winner rose to the top.
This is a Coffee that represents all that is so good about Colombian coffees, from one of their most famous brands. The Juan Valdez Antioquia whole arabica coffee bean is just simply fantastic.
Full bodied, well balanced, sweet and floral, this is a fair trade coffee that will please all who drink it.
It consistently attracts fantastic reviews online and through social media, you simply have to give it a go.