Jura are known for their high end coffee machines, and the Jura E6 is one of the best they have ever produced. Everyone knows they are not the cheapest, and the E6 sits in the middle of the price range.
My Jura E6 review aims to answer the inevitable question, is it worth its price tag. Does it have enough bells and whistles to justify the outlay?
This is a bean to cup coffee machine that attracts great reviews consistently online, and has a satisfaction score of above 90%. We will examine exactly why the Jura E6 coffee machine is so well loved.
The Features
For those that just want to get straight to it, here is a list of the key features you can expect on the Jura E6 bean to cup coffee machine. You may or may not be familiar with these, most are exclusive to Jura, if you need more info, then read by guide to Jura Coffee Machines
Fully Automatic Coffee Machine
11 Speciality coffees
Multi-Level AromaG3 Grinder
Intelligent Pre-Brew Aroma System (I.P.B.A.S.)
15 Bar Pump Pressure
1.9 Litre Water Tank Capacity
Pulse Extraction Process (P.E.P)
Thermoblock heating system
Integrated cleaning and descaling programme
Water Filter system : CLARIS Blue
Smart phone app
Height Adjustable Nozzle
One Touch TFT colour display
Variable brewing capacity
Dimensions : 28.0cm (W) x 44.4cm (D) x 34.6cm (H)
Weight : 9.8kg
280 gram bean hopper capacity, with Aroma Preservation seal
The Best Jura Bean to Cup for the Money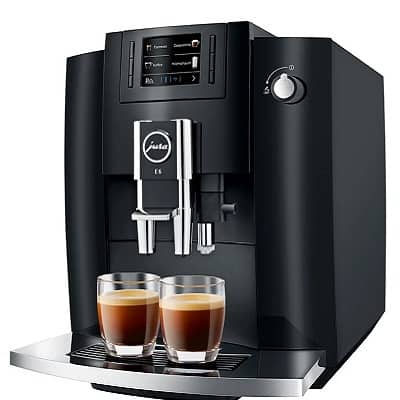 My Jura E6 Review
The Jura E6 bean to cup machine is a firm favourite among coffee aficionados, and rightly so. I borrowed one of these in order to write this coffee machine review, and it was a great month for me.
The E6 is capable of so many things from barista quality espresso to perfectly textured cappuccinos, so to keep the review easy to digest, I have broken it down into the key sections.
Making Espresso
So where I start with all my reviews, is how good is the coffee from the E6 coffee machine? Very good is the short answer. What else would you expect from a mid rage machine from one of the best brands.
Without further ado lets delve into the different aspects of brewing coffee and see how it does.
The beans
You are well aware already that using the best fresh coffee beans is a key part to producing quality coffee. But what may not be so obvious is storing the beans correctly is also essential. You see the taste the bean can offer you deteriorates over time when exposed to air, moisture and light(1)
So it will be reassuring for you to hear the Jura E6 has even given consideration to this, yes unlike your bog standard bean to cup coffee machine, the E6's 280 gram bean hopper will actual help preserve bean freshness. Welcome to the Jura Aroma Preservation Cover, a simple yet clever container which helps shield the beans from the bad elements trying to attack.
The E6 then takes these super fresh beans and passes them through its clever Multi-level AromaG3 conical burr grinder. Without boring you with all the detail of how, what this burr grinder does is preserve more coffee aroma, and takes less time.
The benefit to you? Better ground coffee in half the time, your morning hit just got a whole lot easier.
Just a note for those that like a decaf, the Jura E6 does not have a bypass chute, so you cannot add pre-ground coffee.
Brewing Process
This is the part most coffee lovers enjoy examining, the actual brewing process. After all this is where the magic happens and that ground coffee is turned into the shot you actually crave.
Inside you will find the same clever brew unit from the more expensive Jura coffee machines. This includes the intelligent pre-brew Aroma System (I.P.B.A.S.), which like any pre-infusion unit, wets the beans before the pressure builds, guaranteeing consistent and full flavoured coffee.
There is also the Pulse Extraction Process (P.E.P.) in the Jura E6 which brews your shot using short bursts of hot water, maximising extraction time. This gets you the most bang for your buck, and pulls the most flavour from the beans.
The actual brewing takes place at 15 bar pressure, far above the minimum 9 bar required for espresso, which means your espresso will have the all important thick and full bodied crema.
The Espresso Verdict
Packed with features such as the pulse extraction process and IPBAS, the Jura E6 is really easy to use to get a quality coffee from time after time. It is really quiet and extremely quick at delivering espresso for an automatic bean to cup machine.
Any serious coffee lover will be hard pushed not to be impressed with the quality and consistency of the coffee the E6 produces.
The only real draw back is the lack of bypass, meaning there is no possibility to use pre-ground coffee, which rules this out for anyone who likes a decaf.
Milk Based Drinks
Being a fully automatic bean to cup machine the E6 also comes complete with an internal milk system, which will produce frothed milk on demand.
The Jura fine foam technology is a revolutionary piece of kit, that textures your milk into a fine milk foam, with a long lasting form. This means if you make your cappuccino first and then nip across the kitchen to make some toast, when you get back to your drink you are not left with a drab cup of coffee flavoured warm milk. No the long lasting fine foam, keeps its consistency longer.
The important part here is the E6 makes milk foam and only foam, this does mean the range of coffee drinks available is limited to foam based drinks. So if you like things like a flat white then you need to upgrade to something like the Jura E8.
The milk spout is interchangeable which is awesome for cleaning, you can simple unscrew it and pop it in the dishwasher.
Design
The design of the coffee machine is fast becoming an important part of my decision process, I am not sure why? I just like nice looking things.
The Jura E6 is quite a futuristic looking design, and may not be everyone's cup tea looks wise. It sort of looks like to me a mid range hotel chains buffet breakfast machine. I can just imagine a queue of mid level travelling execs in my kitchen every morning waiting to use the coffee machine.
As you can tell I am one of those people who are not mad for the design, I was expecting more from Jura, I mean their other machines such as the A1 a really well designed. I may just be getting old, as a lot of online reviews refer t the great design.
The water reservoir, milk container, coffee grounds bin and burr grinder and all internal, which does mean the Jura E6 has clean lines. I suppose that is what appeals to the masses?
What I do like is the front facing TFT display, this looks pretty cool and is really easy and intuitive to use. The user interface is built into the body design, and doesn't look like it was stuck on after, like some machines.
Randomly I do seem to like the look of the drip tray, it sort of floats in front of the machine, and is large enough to accommodate two large cups. But what is cool is the drip tray will tell you when it needs emptying.
Customisation and Connectivity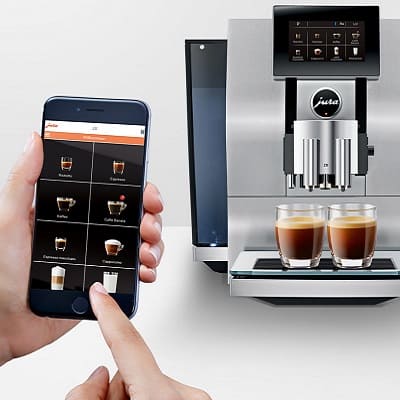 The level of custom options available is more than enough to get real personal with your coffee, and
goes way above what most coffee drinkers require.
Custom options include:-
Adjust the amount of water used
8 Coffee Strength options
2 different brewing temperatures
3 custom hot water levels
Grind settings
Programmable switch off time
All of these can be controlled via the colour display or via the smartphone app. The Jura E6 is controlled via Jura Operating Enterprise (J.O.E) either via WiFi, or via Bluetooth smart connect.
Jura smart connect may be a step too much for some, but I love it. Imagine being in the supermarket and wondering do you need more coffee beans? well simply get your phone out and ask you machine.
There are pros and cons to having this level of connectivity. I certainly makes life easier, but some argue the more technical you get, the more can go wrong.
Cleaning and Maintenance
All coffee makers require some degree of manual cleaning, its simply a case of how much is automated and how much you need to do.
As with all Jura, the E6 coffee machine does automate more of this than most, meaning you get more time to enjoy the coffee and have to spend less time fiddling about.
There are three built in programs for the brewing unit, a rinse through cycle, cleaning program and a descaling program. It also features separate rinse and cleaning programs for the milk frother.
The intelligent water system ensures you always have the correct water filter in place, to match the local water hardness. This serves two functions, it removes all the local impurities stopping limescale build up, but also means your coffee is made with the best water quality.
Buyers of the E6 don't get away Scott free though, you will need to remove the water tank, the coffee grounds bin and soak them from time to time. Plus you should probably give the whole thing a wipe down after each use.
Reasons not to buy
While its true this is an extraordinary coffee maker, there are a few things potential buyers need to be aware of.
If you are a fan of decaf then the E6 coffee machine is not for you, it does not take pre-ground coffee.
Secondly fans of milkier drinks such as Lattes should avoid this machine, it does make excellent fine foam, but it doesn't produce the hot milk required for Lattes.
Frequently asked Questions
There are a few questions which buyers of the E6 coffee machine seem to ask over and over, so to save you having to go through the different sites, I have collated the most frequent ones here. Feel free to get in touch if you think of anything else?
Is Jura Worth the Money?
When you consider all the facts and compare what you actually get in comparison to other coffee machines, such as the pulse extraction process and the I.P.B.A.S. Then yes Jura is worth the money.
Can you use ground coffee in the Jura E6
You cannot use ground coffee in the E6, there is no bypass chute. This is one of the main things buyers complain of.
Can Jura E6 make Latte?
Strictly speaking no it cannot make a Latte. This is because it does not produce hot milk, it only makes foam. But if it is only occasionally then you can warm milk separately to make a Latte, it would just be a fuss to have to do it daily.
Delonghi or Jura?
This is a frequent question from buyers, these are two high end brands and produce some excellent machines. To answer this I have to say at the lower end of the price range I would favour Delonghi. But when you move up in price Jura become the better choice.
The Final Verdict
The E6 is packed full of top notch features such as the pulse extraction system, but these run automatically in the background, meaning despite being technologically advanced it is still simple to use.
Buyers of this coffee machine can use either the TFT display or smartphone app to control varying aspects of the brew, including the coffee strength, temperature, and amount of water. Resulting in a very personal coffee experience.
There are a couple of let downs such as the outer design and the lack of bypass chute, but if you don't mind these, then this is one of the better coffee machines available.