Delonghi are well known as a premium brand when it comes to coffee machines, so you already know you will be getting something decent. My Delonghi PrimaDonna Review will help you decide if you need to stretch to the daddy of the coffee makers.
Well apart from getting the best they offer in terms of coffee making tech, you also get all the smart features and convenience of a connected device.
The DeLonghi PrimaDonna is a fully automatic coffee machine and some, it goes beyond the standard automation and adds internet connectivity into mix. But we do have to pay for these advanced features and it comes in at the top end of the price range.
So the question is, is the PrimaDonna Elite worth it? Well read on and find out why this will change your life.
Fully Automated bean to cup machine
Integrated Conical Burr Grinder
LatteCrema System
15 Bar Pump Pressure
2 litre capacity Water Tank
400 Gram Bean hopper
Thermoblock Boiler
Cup Warmer
Different User Profiles
Smart Phone App and Bluetooth Connection
4.3″ TFT colour touch screen display
Weight 12.4kg
Dimensions 26.0cm (W) x 37.5cm (D) x 47.0cm (H)
Smart Coffee for the Future
My Delonghi PrimaDonna Review
For any of my bean to cup coffee machine reviews I split them into what I consider the main components and break them down for you.
I think this works well, as what is important to one coffee lover may be different for the next.
So lets get to it
Espresso Making
It doesn't matter about all the gadgets and all the technology your coffee maker has, if it doesn't make a decent shot of espresso there is no hope.
This is a fundamental must for all coffee machines.
Beans and Grinding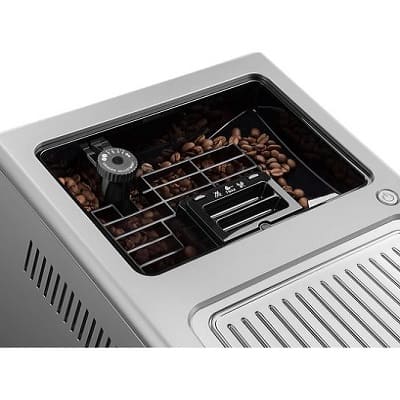 If you are looking at spending upwards of 4 figures on your coffee maker, then I will just assume you will be using high quality coffee beans.
But what you do need to know is, how much respect will those beans get from your coffee machine?
In the Prima Donna the answer is a lot of respect. To start with your lovely coffee beans are stored in an airtight and light proof hopper. The 2 worst things for your beans are air and light, so keeping them safe from these will keep them fresher longer.
You of course have the option to control the coffee grind settings, and there is a handy dial to set your preferred level of coarseness. Personally I find grinding my coffee beans toward the finer end produced a better espresso. But this is personal taste, a finer grind gives a fuller flavour and a coarser grind a less intense shot.
Not to forget that ceramic burr grinder which is much gentler on your beans than its stainless steel cousin.
There is also a bypass option on this machine, for those times you fancy a decaf coffee, or just want to use pre-ground coffee.
Brewing the Coffee
The second element to making a high quality cup of coffee is the brewing process, and this all takes place in the heart of your machine.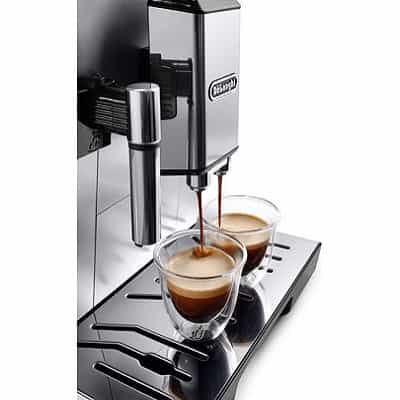 Firstly the Delonghi Primadonna brewing unit perfectly tampers your coffee powder, just like a pro barista would. This will ensure the optimal infusion pressure of between 9-12 bar is achieved. This will result in you extracting a dense, creamy and aroma filled shot cup after cup.
And thanks to having variable chamber the Prima Donna is capable of brewing 2 cups of coffee at the same time, to the same level of perfection.
Like any Delonghi coffee machine, the Prima Donna has a dedicated thermoblock boiler, just for controlling the water temperature used in the coffee preparation. This means your espresso is always brewed at the correct extraction temperature of between 88 and 96 degrees Celsius.
The Coffee Verdict
The Delonghi Primadonna Elite is a high end coffee maker, and produces and excellent and consistent shot time after time.
For those that want t control the process, it offers enough level of customisation to keep you happy without baffling you. But for those that want ease of use the custom settings will make a perfect cup of coffee as well.
Specialty Coffees
A Bean To Cup Coffee Machine should be so much more than an espresso maker, and the Primadonna Elite is. This is a machine capable of producing a range of stored coffee drinks, plus additional recipes programmed from the app.
It features the De'Longhi LatteCrema System, which is basically a mixing device used to deliver a rich, dense and long lasting foam. The exact ratio of milk foam to hot milk can be controlled via the regulator dial.
The PrimaDonna Elite is a dual boiler, meaning it has a dedicated steam system, so the milk frother can operate independently of the coffee preperation. A separate system allows the machine to quickly produce steam for either a smooth and silky hot milk or a fine velvety micro foam. It can also be used to produce just hot water.
The milk container is external and can be detached when not in use, allowing you to store in a fridge overnight. The milk carafe also features a double thermal wall, to keep your milk at a colder temperature for longer, this is the key to producing high quality foam.
As well as your standard drinks, such as Cappuccino's, Latte's, Macchiato's, you can also program or customise recipes in the smart phone app. But what sets the PrimaDonna elite apart from other machines is you can also make hot chocolate and iced coffees.
Design and Usability
The De'Longhi PrimaDonna Elite is not the most aesthetically pleasing bean to cup machine available, but its far from an eye sore. I suppose its biggest let down is it looks rather bulky and square, but then it does need to be for all its functionality.
I actually don't mid its futuristic space age look.
One feature most people look for in a bean to cup machine is one touch functionality, and the PrimaDonna Elite doesn't offer this. Instead De'longhi have got rid of the manual push buttons for each option and replaced them with a colour TFT touch display.
Even so it is still really easy to use and extremely intuitive, the touch screen offers a picture and text based menu system. Simply scroll until something takes your fancy and select your drink. Not quite one touch, more one flick and one touch drinks.
Cleaning and Maintenance
Even a machine as fancy and advanced as the De'Longhi Prima Donna needs some level of cleaning and manual maintenance on the part of the user. But luckily not much.
The best part is it features De'Longhi easy cleaning program, which is run after every use. This will keep your machine in a tip top and hygienic condition.
You will also need to descale it roughly every three months or so. This is done via an automated program as well, but you will need to mix the solution.
What can't be automated and is the need to remove the stainless steel drip tray, water reservoir, and grounds bin and give them a good clean in warm soapy water.
Frequently Asked Questions
How do you descale the De'Longhi PrimaDonna?
You need to add the descaling solution to the water tank and top up with water. Then run the descaling program. For full detailed descaling instructions read our full guide.
Which is the best De'Longhi Coffee Machine?
My pick would be the Primadonna Elite, followed closely by the Magnifica. But this is dependent on your budget and what you want from your machine. I have a guide to the best De'longhi bean to cup machines.
How Long do De'longhi machines last?
If you look after it and follow the recommended cleaning and descaling cycle then it should last at least 6-10 years
The Final Verdict
This a real top notch coffee machine that will have novice users producing barista quality coffee's straight out of the box.
It comes with a range of pre-set drinks but users can also program their own recipes via the connected smart phone app.
I want to say the Prima Donna holds your hand, it will either do everything for you, or will let you control just the right amount for your experience. I suppose its like have experienced barista behind you guiding you through the whole process.
While true it does cost a pretty penny, it is in my opinion worth it. Don't believe then check out its consistently god reviews online.