You love a real coffee, the smell, the taste, the memories it evokes, in fact everything about it just makes you smile with delight.
In fact you dread any situation that will mean you miss out on a proper coffee, and the thought of instant coffee just makes you shiver. Why does anyone drink that?
So what do you do if you work outside, when you stay with the in-laws for a few weeks, go on your holidays, or any other situation where you know you wont be able to make a proper brew?
Introducing coffee bags, could this funny looking little tea bag really make a decent cup of coffee?
Well today I will give you all the information you need to know to buy these with confidence in my ultimate buying guide.
Plus I will reveal the 10 best coffee bags as chosen by me and my panel of trusted professional coffee tasters.
But before we get into all that, you should probably know what a coffee bag is and a little bit about them.
The Top 3
If you just want a quick recommendation of what to buy, without the long read, then here you go….
The Best decaf coffee bags I have tasted, perfect for those late nights away from your coffee machine
The closest to freshly ground Colombian coffee as you can get in a bag. Your guests will never know
For serious caffeine lovers, get a wake up hit like never before. The strongest available
What actually is a Coffee Bag?
Coffee bags are individually wrapped servings of the best ground coffee. Each portion is sealed inside a material bag that acts a bit like a coffee filter.
They work in much the same way as the tea bag, you place it in a mug, pour in hot water and leave to brew for 2-5 minutes depending on the strength required.
Pro tip : Let the kettle come off the boil a little before adding to the mug, you don't want to use boiling water.
And that's it, you have a fresh cup of coffee almost instantly without using a machine. You get the taste and aroma the same as French press.
Reviewed the 10 Best Coffee Bags
So now you know what a coffee bag is, you know how easy they are to brew a decent cup of coffee from, and your interest has been heightened.
You have decided to give them a go, as they could be perfect next time you go away. But you don't want to be stuck with bags that are no better than an mug of instant coffee.
Do not worry I have you back, we have done all the testing and suffered all the horrid coffees, so you don't have to.
Presenting the 10 best coffee bags available to buy today….
Contents : 50 x 8g ground 100% arabica beans
With nearly 1000 excellent reviews online, you can rest assured these Moreish coffee bags deserve the number one spot.
Containing nothing but fair trade single origin Colombian arabica beans, medium roasted to provide an intense and invigorating cup of coffee.
They promise a sweet and fruity flavour with a hint of almonds.
Reasons to buy
Single Origin
Compostable (great for the environment)
Resealable Pouch
Bear in mind
For a very strong coffee you need a long brew
Contents : 50 bags 100% Arabica Colombia Supremo
Premium bags of ground Colombian supremo beans, hand roasted in Italy in small batches, provide a complex, aromatic and mellow brew.
They are medium roasted, and are sweet, spicy and boasts hints of cocoa. Great as a morning coffee
Reasons to buy
Single Origin Arabica beans
Compostable (great for the environment)
Individually wrapped for freshness
Bear in mind
Foil packet needs special recycling (not all councils will do it)
Contents : 3 x 10 bags 100% Arabica
With a Northern Italian roast style, Taylors of Harrogate rich Italian coffee bags are a real favourite among season coffee drinkers.
Roasted medium dark using the finest coffee grounds they produce a sophisticated cup that's perfect later in the day or after a big meal.
Rich, refined and delivering flavours of dark chocolate and almond they are every bit as good as a cafetiere.
Reasons to buy
Rainforest Alliance certified
Compostable
Individually wrapped for freshness
Bear in mind
Mild taste (They do make darker roasts you can see below)
Contents : 100 bag selection box
The New King Coffee bag company produce a great range of bags to choose from, and so I thought as many people reading this article may not have tried bags before, a selection box could be just the thing to help them choose. The are also be perfect for anyone who wants to offer their guests a selection.
All of their coffees a single origin arabica and are individually wrapped for freshness.
Inside the selection box you will find light, medium and dark roast options to try, as well as their swiss water dacaf option. All made from the finest coffee grounds from around the world inc South American, African and Asian.
They a great from your breakfast coffee through to your evening sip
Reasons to buy
Selection of different flavours and strengths
Compostable (great for the environment)
Individually wrapped bags
Bear in mind
Individual foil packet has to be sent to manufacturer to recycle
Contents : 15/25/50 or 100 bag options
This is marketed as a "Wake up Coffee" and boy does it wake you up, the strongest coffee bag available from the real coffee bag co.
This is a dark roasted blend of mainly South American arabica and robusta beans from Central Indian, and produces a real full bodied coffee. Strong coffee flavour with dark chocolate, toasted hazelnuts and cinders.
Roasted in small batches and packed to order, you are guaranteed freshness.
Reasons to buy
Small batch roasted and hand packed
Compostable and biodegradable
Strong with an intense hit
Bear in mind
Not suitable for those like a milder taste
Contents : 15/25/50 or 100 bag options
Another choice from the ever favourite real coffee bag company, these have been a favourite and best seller for years (yes coffee bags have been around for years).
Each bag contains 9g of Medium Dark roast, blended Brazilian and Central American arabicas and will give you a smooth, rich and intriguing cup of Joe.
Sweet caramel tones and honeyed soft fruits balance the hint of the cocoa's bitterness.
Reasons to buy
Small batch roasted and hand packed
Compostable and biodegradable
Great anytime of the day coffee
Bear in mind
Not individually wrapped, but main pouch is resealable
Contents : 50 x 8g Coffee bags
Do you like to start your day with an ice cold shower, a body tingling mint body wash or what about a slap in the face?
If any of those sound good, then boy do I have the coffee bag for you. The "Strong Sh*t" coffee bags are not for the faint hearted.
Dark roasted blend of Brazilian arabicas and Natural robusta's they offer a smoky finish.
Expect burnt caramels, pan toasted nuts and lingering treacle after taste.
From the moreish coffee company you can rest assured you are getting a quality product hand roasted with care.
If you like string and bold flavours, you will love these.
Reasons to buy
Strongest available if that's your thing
Compostable and biodegradable
Resealable bag for max freshness
Bear in mind
Strength is not for everyone
Contents : 3 x 10 coffee bags (30 in total)
These rainforest alliance certified arabica beans are extra dark roasted in the UK to give a strong, dark and delicious coffee
This is a high caffeine coffee that has been forged in the fires of extra dark roasting, to release smoky and black pepper tones.
A perfect pick me up for anytime you find yourself flagging. Just leave the bag in hot, but not boiling water for as long as you need to produce the desired strength, 5 minutes extracts all the flavour
Reasons to buy
Strongest available if that's your thing
Compostable and biodegradable
Rainforest Alliance
Bear in mind
Strength is not for everyone
Contents : Pack of 3 x 10 enveloped coffee bags
I am sure 90% of you will have at some time had a Costa coffee, their are a brand we all recognise and trust. Well now you can enjoy a Costa coffee at home thanks to the launch of their own coffee bags.
Created with Costa's mocha Italia signature blend of ground coffee they are medium intensity and provide a full and smooth coffee experience.
Flavour profile includes nuts and sweet caramel, they are perfect to enjoy anytime of the day.
Reasons to buy
Familiar Costa flavour
Compostable and biodegradable
Rainforest Alliance
Bear in mind
Long brew time to extract full flavour
Contents : 50 x 8g coffee bags 
If you love the taste and aroma of a good cup of coffee, but don't want the caffeine, then you will be please to know you can now get really good decaf coffee, and these bags fall into that category. I had to include at least one decaf option
As with all coffee bags I recommend they are fully biodegradable and have been decaffeinated using the swiss water process, which uses no chemicals or solvents.
They produce a full bodied, sweet, nutty and bold coffee.
Reasons to buy
All the flavour none of the caffeine.
Compostable and biodegradable
Swiss water process (no chemicals)
Bear in mind
Long brew time to extract full flavour
The Ultimate Guide to Buying Coffee Bags
The Strength Of Coffee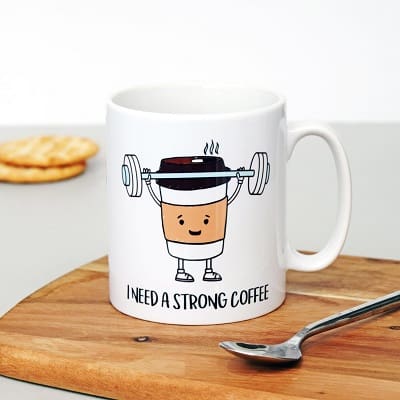 When we talk about the strength of a Coffee Bag we are referring to the scale on the side of the packaging. The first thing to note is there is no standard here, different companies use a different scale.
But what exactly do these numbers refer to? Well you could be forgiven for thinking it is referring to the amount of caffeine you are getting. Well this is wrong, it is nothing to do with caffeine but the flavour profile.
The lower the number on the scale the lighter the roast, and the lighter flavour and more acidity. The darker the roast will be more bitter and a lot more full bodied.
Most Coffee bags will be in the medium of these ranges, they are aimed at the majority of coffee drinkers.
Once you have you preferred level, you can of course alter this slightly the longer you brew the bag, just like tea bags, and tweak to your exacting tastes.
How Many to Buy
To answer this question I am afraid we will need to use a little math, so maybe go and make a brew. Ultimately it will come down to how quickly you will use them up.
The temptation is buy in bulk and that way you will never run out and always have some for emergency. But this is not the best option.
As coffee bags contain fresh ground coffee beans, they are a perishable item, they will go bad after a period of time. They will only remain at their best for roughly 3-5 months once the packaging has been opened.
As most people buy these for occasional use and not an everyday item, they should only buy enough for the specific period. IE, enough to last the 2 week holiday you are planning.
So how many should you buy :
(number of days x mugs per day) + 10% spare = amount to buy
Some bulk bags pack 100 or even more coffee bags in, if you are planning on using these instead of coffee machines then these maybe good value. Especially if you drink more than one cup of coffee a day.
The Environment
This may not be the most obvious consideration when buying coffee, but as you could be potentially using these daily, you do need to consider your impact on the environment.
Not all coffee bags are biodegradable and although they don't look like it some contain plastic in the bag.
Most good coffee companies will offer these as biodegradable(1), so my advice is buy to these rather than the plastic ones.
The Price
As with most things price depends on many factors. The brand, the quality and even where you buy them from can all affect how much you pay.
Prices range from roughly 15p to 70p per bag/cup and even more.
In comparison they are cheaper than buying a coffee from you local coffee shop, but are slightly more expensive than a filter coffee or a cafetiere. But then they don't require any outlay on equipment apart from a kettle you probably already have.
Ultimately if you weigh up the convenience and the quality brew you are getting they offer real good value.
FAQ's
What is the Point with Coffee bags?
In short the main point of a coffee bag is convenience. You may not own another method of brewing a proper coffee, or you are simply in a rush. If you do not want to settle for instant coffee, then these make a fairly good cup with ground coffee very quickly, all you need is hot water.
Coffee Bags Vs Instant Which is Better?
There is no question here coffee bags are much better than instant coffee. This is fresh coffee, ground from real whole coffee beans and added to a bag. Instant coffee is dehydrated coffee that has previously been brewed in huge vats.
What Do Coffee Bags Contain?
Nothing but good old ground coffee, that is it.
There are some misconceptions around them, and people believe they are just a marketing gimmick and contain nothing but instant coffee. This is NOT true.
Can You Use Them in a French Press / Cafetiere?
Coffee bags are primarily designed to be used the same way as a tea bag, place in a mug and add hot water, leave it to brew.
Just like you can add tea bags to a teapot, yes you can use coffee bags in a cafetiere, if you really want to. But if you have a cafetiere then buy ground coffee or even whole beans and grind as required.
Are Coffee Bags Bio-degradable?
Not all are biodegradable, some will have traces of plastic in them, especially the glue that holds them together.
If this in important to you, then look out for those that are compostable.
The Final Verdict
After a lot of brews, we actually lost count, but we must have had well over 1000 between us, we came up with the above.
I insisted any entry had to be compostable and plastic free, and use fresh ground coffee. The result is a list of 10 extremely good options and I highly recommend them all.
However the standout option has to be the Moreish Smooth Colombian Coffee Bags. They are sweet, fruity and nutty and almost guaranteed to please. Just check out the 1000's of positive reviews