Gaggia bean to cup machines are probably the first that come to mind when you ask anyone about automatic espresso machines. In fact I challenge you to find anyone with the slightest of interest in coffee who has not heard of them.
Gaggia hold a sort of Ferrari like reputation within the coffee machine space, but without the price tag. For what is a mid-range price wise, you get stunning Italian looks, great tasting coffee and a bean to cup machine to be proud of.
Gaggia did make my list of the top 10 bean to cup coffee machines, find out which one here
Quick top three
Brief History of Gaggia Coffee Machines
Before we get into which are the best Gaggia bean to cup machines, you really need to understand a little about the company and its history (1). Only then will you understand why they have the reputation they do.
As geeky as I am sometimes, I promise not to turn this into a full on history lesson, and I'll keep this part to the point.
It all started back in 1930's Milan, where Achille Gaggia was working away in his family's coffee shop, it was here he noticed that the traditional steam extraction process was not ideal. Firstly it was inconsistent and the coffee was different each time, secondly the steam often burnt the coffee and left a bitter taste.
He then set about finding a better extraction process, and as luck would have it, he met and engineer by the name of Antonio Cremonese who shared his passion to improve the coffee extraction process.
In 1938 they patented their "Lampo" espresso machine. What was different with this machine, is it forced high pressure water over the ground coffee beans. This achieved two things, one it allowed the Barista full control over the process and the exact pressure, ensuring consistent coffee cup after cup. Secondly the high pressure did not burn the coffee which resulted in a smoother shot.
The Espresso shot produced by the Lampo were the first to have the crema on top we all now associate with great espressos, so you could say that Gaggia was the godfather of the modern espresso.
Since then the company has continued to innovate and still produce some of the best coffee machines available.
My top 3 Gaggia bean to cup machines
Whilst Gagggia make a whole range of coffee machines to choose from, today I will be focussing on the bean to cup machine range.
So without further ado here we go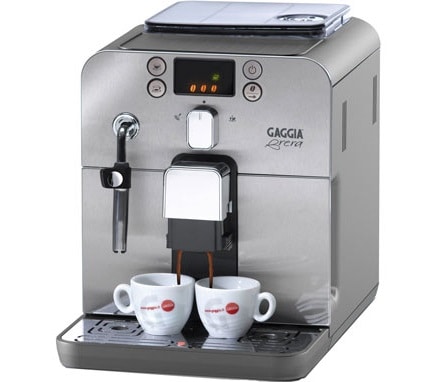 The Gaggia Brera is possibly the best known of all their coffee machines, and came in at number 6 on my list of the top 10 bean to cup coffee machines.
Despite its rather simple design, I firmly believe this is easily one of the best looking coffee machines going. And its stainless steel design would suit almost any kitchen worktop.
But looks aside how does it compare on the cofee making front. Well that is easy, very, very well. As you would expect from Gaggia, the espressos produced by the Brera is top notch and features a thick crema that will adorn your shot for several minutes.
Although it looks simple on the outside, the Brera does pack a punch on the features front, and has all you need from a coffee machine.
Features include an adjustable integrated ceramic grinder which keeps more of the coffee aroma than the metallic burr grinders. You have full control over how fine or coarse you like to grind your beans.
You can choose single or double espresso or use the manual control to produce long coffee.
For those that like a milk based coffee, then the Brera includes a manual milk frothing arm for making drinks such as cappuccinos, Lattes and flat whites.
The only downside with the brera is the size, it is a small machine, whilst this may seem like a bonus. It does mean a limted bean hopper capacity at 250grams, and its water tank can only take 1.2 ltres, which is not ideal for larger households.
Cleaning and descaling is easy and there are as you would expect automtiac cleaning and descaling programs. It also has a removable brewing unit, and drip tray for easy cleaning.
It is no wonder then, that being easy to use, great looking and producing awesome coffee that this is the best selling Gaggia Coffee Machine.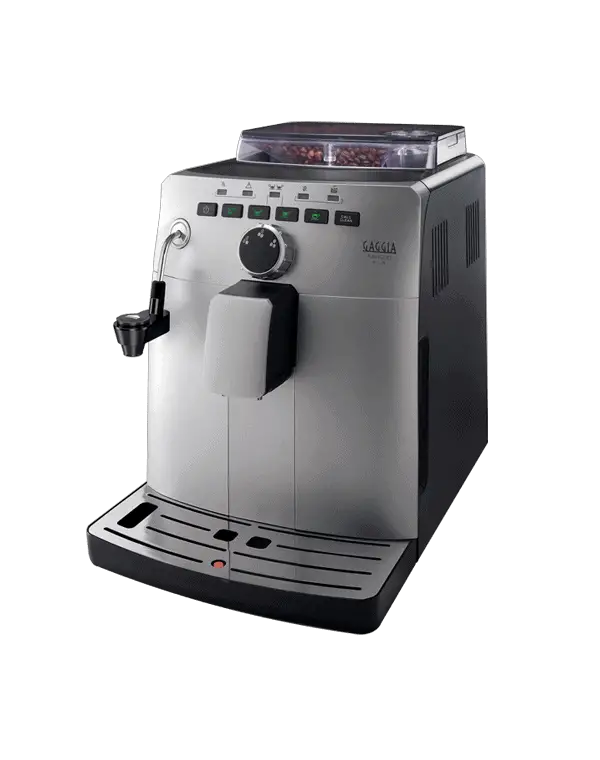 Next on the list of Gaggia Bean to Cup Coffee Machines comes the Gaggia Naviglio, this is slightly cheaper than the brera and I would describe it as sitting somewhere between entry level and mid-priced. Making a great value option for anyone looking to get a Gaggia coffee machine without spending a fortune.
One of the main differences you easily spot straight away is the exterior certainly looks like you've spent less on this machine. Rather than stainless steel, you get a black plastic casing. Although on the styling front it is still a good looking machine. It's just not as stylish as the others.
Just because it has a lower price, that does not mean lower quality coffee, and the Naviglio still produces outstanding shots of espresso. You still have full control over the strength of your coffee and the grind settings. Just a note to adjust grind settings you need to use the supplied tool.
The Gaggia Naviglio is really simple to use, and is great for anyone who just wants great coffee with little fuss. You have several pre-sets to choose from including espresso, double espresso or long coffee.
Again you have a manual steam wand for making milk based drinks, such as Latte Macchiato, Cappuccinos etc. Or for simply adding some hot water to your coffee.
A quick look at the online reviews and you see the Gaggia Naviglio is an excellent choice for a cheaper priced bean to cup coffee machine.
The Naviglio is another solid coffee machine model from the industries best known manufacturer.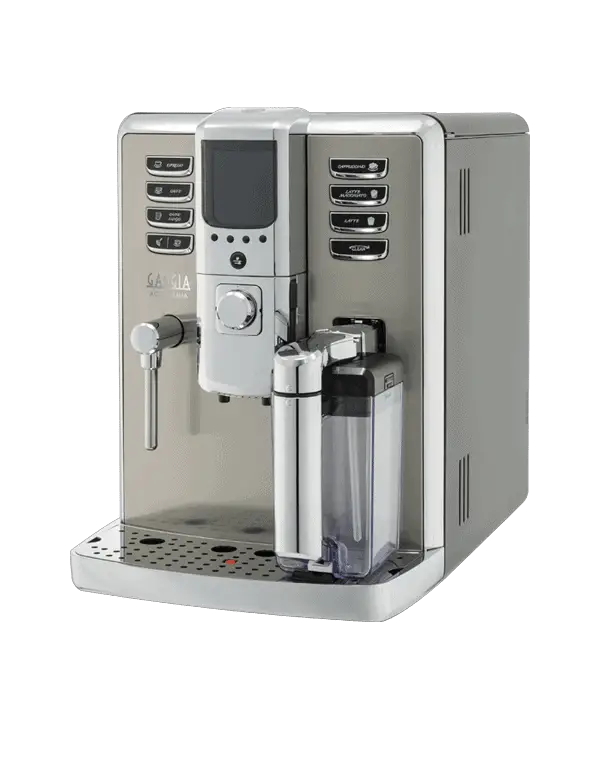 So I have shown you the entry level model, and the mid-range model. Now it is time to see the Gaggia Accademia, the top of the range model. The Accademia comes in at the top of the bean to cup coffee machine price range, but does pack all the features you would expect for that kind of money.
The most notable thing is how futuristic the Accademia looks, it sort of reminds me of a control panel from an aeroplane. But don't let that put you off, it is not complicated and is actually very simple to use.
Unlike the other two models above the Gaggia Accademia is a fully automatic bean to cup coffee machine. What this means is not only does it grind and tamp the beans, it will also handle the milk frothing for you.
This coffee machine is simply packed with features, allowing you to either control every aspect of the brewing process or allow the machine to handle it all with its pre-sets.
The pre-sets allow you to make an espresso, ristretto, lungo, cappuccino, latte, and latte macchiato with the just the touch of a button.
If you fancy something different to the pre-set options, then you can control the grind level, coffee strength, water pressure and temperature.
Unlike most other fully automatic bean to cup coffee machines, you also have a manual steam wand allowing you to nurture your inner barista. I think this is a fantastic feature, I do love tempering my own milk, but there are also times I just want to push a button and have it done for me. Best of both worlds!!
Another handy feature is the milk carafe is completely detachable for storing in the fridge overnight.
Needless to say the drinks produced by the Accademia are simply excellent, and will have you believing you are in your favourite coffee shop.
As bean to cup coffee machines go this really is the top of range and if money is no object then definitely one to consider. It is packed with features, makes excellent coffee, and consistently gets amazing reviews.
Frequently Asked Questions
A lot of you will rightly have a few questions before investing in a bean to cup machine, and hopefully below I will have answered most of them. If not please do get in touch.
Are Gaggia the best machines?
Gaggia are widely considered to be one of best coffee machine brands. Their founder invented the modern espresso brewing technique. They are known worldwide for good quality machines.
How Long should my machine last?
A well maintained and properly used Gaggia will last between 6-10 years. Gaggia UK offer a full 2 year warranty for your peace of mind.
How often should I descale my Gaggia?
If using a water filter and with normal usage then you will need to make sure you descale your coffee machine around every 2-3 months. You machine will let you know when it is time.
Where should I buy a Gaggia
Gaggia are widely sold throughout the UK and you can buy them at most major electrical or home retailers, as well as from Gaggia UK direct. However for the best prices I would always check online. I keep a constant eye on the online prices and you can check the best using the links above.
My Final Verdict
If you want a name synonymous with bean to cup coffee machines then Gaggia it is. They have been producing espresso machines since they patented the high pressure system which is now the only way to produce espresso.
Couple their long heritage with the Italian styling and you can easily see why they are a favourite among coffee enthusiasts the world over.
If you want excellent coffee, a sexy stylish machine and something to show off then a Gaggia machine should be your first choice.