Gaggia are as many of you know, are the most famous brand when it comes to bean to cup coffee machines. Ever since their founder invented the modern pressure brewing method of espresso extraction (1), they have been the number one brand in the space.
So a Gaggia Brera review is almost essential for any coffee based website, and one I have been itching to write.
This is for good reason one of the best selling coffee machines ever. In fact I have owned one myself in the past, and absolutely loved it. You may ask why I don't have one now, well I now have a large family and needed more capacity, that's it no other reason.
Read on to find out exactly what over 80 years of experience allows Gaggia to pack in to this the little gem of a coffee machine, and why if you are a serious coffee lover you need it in your kitchen.
Gaggia Brera Features
Fully Automatic Espresso Machine
Manual Milk Frother wand
Integrated Ceramic Burr Grinder
15 Bar Pump Pressure
1.2 Litre Water Tank Capacity
Thermoblock boiler system
Uses Whole Coffee Beans or Pre Ground Coffee
Height adjustable dispenser (can use anything from espresso cups up to mugs)
Stainless steel front
Dimensions : 25.6cm (W) x 42.5cm (D) x 33.0cm (H)
Weight : 8.5kg
250 gram bean hopper capacity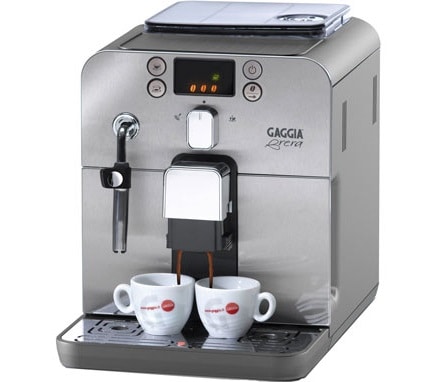 My Gaggia Brera Review
Still here, good. That means you are looking for the best coffee machine for your money, don't worry you are in the right place.
The Gaggia Brera featured highly on my list of the best bean to cup machines, and certainly deserves its place.
For a machine that sits firmly in the mid-price bracket, you get a lot of customisation and great tasting coffee. To make it even better value for money, it is often reduced so be sure to check the latest pricing.
So lets get to it,
Making Espresso
So straight to the part that Gaggia are most famous for, brewing world class espresso. I will not go into a history lesson, but for those that don't know, it was Gaggia's founder that invented the modern way of brewing espresso with pressure rather than steam, and this method is what results in the crema we all now associate with good quality shots.
And the Brera does not disappoint that rich history!
Brewing great espresso consists of two main functions, grinding the beans and the extraction process.
Bean Grinding
A coffee is only as good as the beans you use. This is a saying you should live by and if you start with bad beans, then no matter how good the machine the coffee will always taste bad.
So first things first make sure you get some good quality coffee beans.
The first thing the Gaggia Brera gets right is using a ceramic burr grinder instead of the cheaper metallic option. This may sound a little trivial, but a ceramic grinder will retain more of the coffees aroma. And who doesn't want the Aroma of freshly ground coffee lingering in the kitchen?
You have the option of 5 different grind setting to choose, from ultra fine to coarse. A finer grind will generally result in a longer brew, and the more coarse a quicker brew. However you will find different beans will be slightly different.
The coffee bean hopper (container) has a capacity of 250 grams, which is enough for anyone who makes 2/3 cups a day. In fact I wouldn't advise putting more than this in at a time anyway, I would normally suggest a weeks worth a time. The rest you can store in special air tight coffee container in a dark cupboard to preserve freshness.
If you do have a particular brand of pre ground coffee you want to use then there is a bypass shoot for this. This is especially vital for those who want a decaf coffee.
Extraction Process
The extraction process is where the magic happens, this is what turns those ground coffee beans into that lovely silky shot of coffee we all adore in the morning (or any other part of the day).
This is the part that generally sets bean to cup coffee machines apart, get this part wrong and you will be faced with a brown watery drip each day, instead of a quality coffee. But don't worry if you are looking at any of the machines on my site, then you are sorted. I would never dare recommend a coffee machine that lacks in this department. The Gaggia Brera as it happens excels on this front.
You have the option here of three coffee strengths to choose from (light, medium or strong). As well as selecting espresso or lungo (long shot) by pressing the relevant coffee button.
The Brera uses a pre infusion function, before the full extraction takes place. What this pre infusion does is wet the coffee grounds a little, before actually blasting them with 15bar of pressure. This means the grounds stay perfectly tamped and do not move around when the high pressure starts. This ensures a consistent and smooth extraction cup after cup.
For a double shot the Gaggia Brera will actually grind the beans separately to maximise freshness. And if you fancy a long coffee such as Americano, then you can add some hot water from the attached spout.
All these functions are what guarantee even novice users can create silky espresso with a prefect crema every time. No need to remember what your perfect settings are, as with the Gaggia Brera you have the option to store these in memory.
You can tell that Gaggia have put all their experience and expertise into ensuring the Brera upholds their reputation for offering high quality machines.
Espresso Verdict
You should expect nothing less from the founders of the modern espresso making method. The Gaggia Brera delivers on all fronts. Just enough levels of customisation to ensure you have full control, but not enough to bewilder a novice user.
If you have this espresso machine in your kitchen then expect to start your days with an awesome coffee.
A very high quality machine for not a lot of money.
Milk Based Coffees
From time to time you may want a little more than an espresso, and fancy something a bit more milky such as a Latte, Cappuccino or even the in vogue Flat White.
Well the Gaggia Brera has you covered on this front as well, although this process is not automatic. No instead on the Brera milk frothing is manually achieved.
This may put some off and if that's you, then you can easily find a fully automatic coffee machine that will handle the milk texturing for you. Check out the best ones available today.
But you needn't worry about this part, manually frothing milk is not as difficult or involved as it may first seem. In fact in just a few days you could be producing excellent drinks, that are much better than the automatic ones.
The Gaggia Brera is a dual boiler bean to cup coffee machine. How does this affect you? Well it means that the steam wand and brewing unit can be used at the same time. You see both these require different water temperatures, so if you like a lot of milk based drinks, this is really essential.
All Gaggia machines use a "Panarello wand" this is a little covering that covers the actual steam wand, and sort of assists novice baristas with the frothing. It makes the whole process fairly easy, but does limit just how good and creative you can get with the milk. The is prefect for beginners or even those that want this part to be quick and easy.
For those that want to takes this up a notch, the great thing is, you can remove this covering. It slides off really easy and reveals the stainless steel steam wand. Then you can really get to work and create some very fine micro bubbles and a silky smooth milk. With the naked wand you can produce milk as good as any of the commercial espresso machines.
Design and Build Quality
I don't normally include design as a whole section in a machine review. But the Brera is such a good looking bean to cup machine, I thought it deserved special mention. It is a true icon of Italian styled coffee machines.
You don't need me to tell how well this would fit in most kitchens including yours. You can see this from the many pictures you can find online.
But what isn't so obvious in all the pictures, is the machine is mostly plastic. In fact the sides, back and top are all made of plastic. This may be an issue for some of you, but for me it wasn't. I could easily just slide into its space on my worktop and no one can see the plastic bits.
The main front and the drip tray are made from stainless steel, and these are what give the Brera its quality look and feel.
In a perfect world it would all be stainless steel, but Gaggia I assume have done this to keep costs down, and for me that is a great move. This is why you are getting such a high quality bean to cup machine for not a lot of money.
Despite the plastic back and sides, I would still rate the Brera highly for both build quality and design. It certainly looks great and mine lasted for over 6 years with some real heavy use. In fact it is probably still going, I sold it on after I got a bigger machine.
Cleaning and Maintenance
That leads me neatly on to this section, cleaning and maintenance.
This is never my favourite part of writing a review and it is certainly not my favourite part of owning any appliance. That being said it is an essential part of both.
Each morning when you first fire up the machine, it will run its rinse through cycle before you can make your first coffee. This takes less than a minute and will guarantee your first coffee is not tainted by any of the left overs from the last coffee yesterday.
One thing to remember is to place a mug or jug under catch the spill. Don't worry if you forget it will just end up in the drip tray.
The other part of daily cleaning, is really just giving it wipe down after each use, including the steam wand if used. In addition to removing the used coffee.
As with any stainless steel, you will find there is a knack to keeping it looking top notch.
I would also advise once a week you give your machine a more deep clean, this involves removing parts and soaking them in hot water. What I really like with the Brera is the brew unit is removed with ease for cleaning. The other parts I would also soak are the drip tray and the water tank. Both also come out easily.
Descaling is another essential part of bean to cup coffee machine ownership. The Brera will tell you when it is time to descale, roughly every three months.
Unlike other espresso machines this is a manual process. It is not difficult mind, and you can find plenty of guides and videos explaining this online.
Descaling will keep the taste of your coffee excellent. Another tip for this is to use a water filter, you can use ones that you drop in the tank. They then remove most of the impurities from the water. The do supply one of these in the box to get you going.
Reasons I Would Not Buy
It is without doubt that no machine is going to be the perfect choice for everyone. Every coffee lover has different requirements, and no machine can satisfy them all.
While I love this machine, and it makes perfect espresso, it is small. This will limit its appeal to heavy users, or large families. If it gets used a lot you will find you need to keep topping up the water tank, bean hopper etc. Which will get annoying after a while.
It is for this reason I had to reluctantly sell mine, as much as I loved it.
Frequently asked Questions
Have read through hundreds of online reviews and questions on e-commerce sites. I have below answered some of the most frequently asked questions. I hope these answer any you have.
Which is better Delonghi or Gaggia?
It would be unfair for me to answer this definitely, it would be like asking me which of my children I like the best. Both of these brands are highly respected in the bean to cup machine space. Both offer a range of machines to suit different budgets.
Honestly you cannot go wrong with either brand.
Who makes Gaggia espresso machines?
Gaggia make their own machines in Italy, but they are now owned by their parent company Philips electronics which is a Dutch company.
How long should a Gaggia Brera last?
You Gaggia coffee machine should last 6-10 years with regular use and a good cleaning and descaling schedule. Gaggia also offer a 2 year UK based guarantee.
Can I use Ground Coffee?
Yes you can use ground coffee in your Brera. Although there is an internal grinder you do have the option to use the bypass and add pre ground coffee.
I do always say though that fresh beans are the the best option. But if you want a decaf then ground coffee is your only choice.
Is the Gaggia Brera Good Value
Yes in my opinion the Brera is a excellent value for money. When you consider it against other similar priced bean to cup machines, you are getting a one of the best machines in this price bracket.
My Final Verdict
I will keep this short and sweet (not like my review above, oops).
The Gaggia Brera is one of the best selling bean to cup machines available in the mid price range. What you get for a reasonable price, is quality espresso shot after shot, from an easy to use machine.
The custom features will allow anyone to make great espresso, and steam milk like a pro.
An excellent choice for any kitchen barista.