The home automatic coffee machine market is at risk of becoming saturated. Even in the premium end of things buyers can quickly become overwhelmed by the sheer number of options available. My Gaggia Accademia review is here to help you decide if it stands out from the crowd.
This super automatic espresso machine is a true beauty from a brand known for making outstanding coffee machines.
While you do get an excellent espresso machine, and near perfect milk frother, you do pay for the privilege. The Gaggia Accademia will set you back upwards of £1.2k.
Main Features
Fully Automatic Bean to Cup coffee Machine
Automatic Milk Frothing
Extra manual steam wand
Removable 0.6 litre Milk Carafe
Integrated Ceramic Burr Grinder
15 Bar Pump Pressure
1.6 Litre Water Tank Capacity
Dual Stainless steel boilers
Whole Coffee Beans or pre-ground coffee (bypass doser)
Height adjustable dispenser (variable cup height 70-155mm)
Brushed stainless steel finish
350 Gram Bean hopper
Dimensions: 28.2cm (W) x 42.8cm (D) x 38.5cm (H)
Weight : 17.8kg
Gaggia Accademia Near Perfection
My Gaggia Accademia Review
As you all know Gaggia are one of the top manual espresso machine manufacturers, but did you also know they are also one of the better super automatic espresso machine makers (bean to cup machines)?
Well they are, and the Gaggia Accademia is their top offering in the super automatic space.
So will coffee drinkers be pleased or disappointed with the Accademia, let's have a deep look and find out.
Making Espresso
Firstly lets look at the basics and see just how good the Accademia is as an espresso machine, just how good a shot are you getting?
We are talking nearly double the price of other Gaggia Bean to Cup Coffee Machines, so do you get a coffee that's twice as good?
To find out we should examine the different elements to making a great espresso.
Beans and Grinding
Do I need to say it? Or do you all know that it doesn't matter how good your super automatic espresso machine is, you will NOT get a great coffee unless you start with great beans?
Firstly the Gaggia Accademia has a generous 350 gram beans container, which unless you are a putting your machine in a heavy use environment, such as a small office, is too big.
Firstly most bags off coffee beans are 250 grams, and secondly once you put your beans in they start to deteriorate. So unless you will go through 350gram in less than a week this is too big. I usually put 4/5 days worth in my hopper and then store the rest in a specialty air tight coffee bean container.
The Gaggia Accademia boasts a ceramic grinder, which is much kinder to your beans, and does not heat up as much as a metallic grinder found in most automatic espresso machines. This prevents your beans from becoming burnt before they even get to the brew group.
You can choice between 8 different grind settings, which allows you to control how fine or coarse you want the beans ground. A finer grounds will give a longer more intense brew, and a fuller flavour. Conversely a more coarse grind gives a quick brew and less intense espresso.
You can also control the exact amount of beans to grind to control the different coffee strengths. Your choices are mild, medium or strong.
For those decaf coffee lovers or those that have a particular blend of pre-ground coffee they like, then the Gaggia Accademia has a bypass doser.
The Extraction Process
This is the fun bit, turning those perfectly formed coffee pucks into a silky smooth shot of espresso. This is the part that sets different coffee makers apart.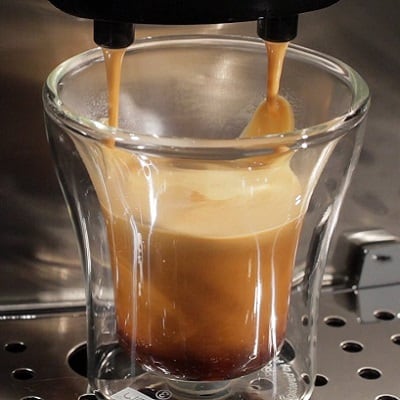 Getting the brewing process wrong, will just ruin the whole thing, and you will never get to enjoy a barista quality Espresso or Caffe Lungo.
The Gaggia Accademia features a pre-infusion process, which is now becoming a minimum standard on automatic machines.
What this does in principle is gently add a little warm water the grounds to keep them compacted, prior to hitting them with high pressure. This ensures the coffee puck is not dispersed by the pressure and is evenly compacted at all times. An evenly compacted puck gives an even extraction.
The extraction takes place at 15 bar pressure, which is more than the minimum 9bar required to make a high quality coffee.
Coffee Verdict
The Gaggia Accademia does make a really good and consistent espresso, and is so easy to use even the most novice of barista can make one.
Considering it costs twice as much as the Gaggia Brera, then I don't think the coffee is twice as good, and if you're mainly a black coffee lover, then I suggest you get the Brera.
However the reason the Brera costs more is the milk drinks, so lets look at those next.
Milk Based Coffees
This is where your extra money is going, the automatic milk management system.
First things first, the Gaggia Accademia has a detachable 0.6l milk container, which is real handy for single person households. What it means is you can easily detach it and store in the fridge overnight.
You will find that if you had to decant the milk out each evening, then eventually it would become too much of a chore and you just wouldn't use this part. So a removable milk carafe is a real hassle free feature.
For ease of use the Gaggia Accademia comes with 7 one touch drink options. These include Espresso, Cappuccino, Latte Macchiato, Hot Milk, Hot Water and more.
Choosing one these couldn't be easier, simply press one of the buttons on the front of the machine, and Accademia will take care of the rest.
For those of you that want to get a little creative then you can go "off piste" so to say, and control the actual amount of milk foam, and or the amount of milk used in your drink. You can customise any off the drink options in the menu.
The aim of the game with super automatics is convenience, so rather than having to adjust the milk settings each time, you have the option to store them to memory, so your preferred method is one touch away.
What you don't see too often, is a bean to cup machine with both an automatic and manual milk steaming option. But that is what Gaggia give you on the Accademia. This means you have all the convenience of automation, with the option of pretending to be a barista.
The dual boiler set up, means both the extraction and the texturing can take place at the same time. No waiting for the boiler to come up to temperature in between.
Overall the Accademia produces decent textured milk, with a real fine micro foam.
But real coffee purists will argue it is hard for an automatic system to texture milk as a good as a manual process. But you are covered here too with the addition of the manual steam wand.
Design
The design on this one is a little strange for me, I was expecting more on this front, especially as it is the top end offering from an Italian brand.
To me it looks a little commercial, I mean its not offensive looking, but its certainly not the Brera. Even its sibling the Gaggia Babila is better looking.
It has been designed with ease of use in mind though and everything can be accessed with ease. The last thing you want is to keep having to pull the machine in and out to get to certain parts. Especially if you have a small kitchen like me.
The controls and bright display are simple and intuitive to use.
Cleaning and Maintenance
Another major convenience you need to consider when buying a coffee machine is the self cleaning function and how involved do you need to get?
I remember my first espresso machines, they were cumbersome and difficult to clean. What this ultimately meant, is some days I just couldn't be bothered and i'd make a drip coffee instead. What I am trying to say, is don't underestimate this part.
To start with there is an automatic rinse through cycle which activates on start up and power down each, which takes care of the daily clean through. All this is doing is flushing the system through with hot water.
It also features a milk circuit cleaning cycle, which is similar but a little more intense for the milk dregs.
Every so often and this depends on your local water hardness and how often you use it, you will need to descale it. This is, again an automatic program and all you need to do is mix up the solution and add it to the water reservoir.
If you live somewhere with particularly hard water, then you can add an Intenza filter to the water tank, which will filter out some minerals and calcium.
What I really like on the Gaggia Accademia is you cant really forget any of this, as its alert system will warn you when it's time to run any of the programs. Including when to empty the coffee pucks container.
I wish I could tell you that's it, and there is no manual action on your part, but that would be a lie. You are required to give the removable parts a decent soak and clean, probably weekly.
The easily removed parts include, the drip tray, brewing group, water tank, dregs drawer.
Don't worry if this all sounds a little much, there is a handy guide to cleaning and maintenance supplied in the instructions.
Frequently asked questions
Where can I find a Gaggia Accademia Manual?
If you have lost the one provided then you can download a new one here
What is a Super Automatic Espresso Machine?
A super automatic Espresso machine, is one where everything is automated. From the beans grinder, the brewer unit and even the milk system. They are also referred to as Bean to Cup machines.
My Final Verdict
The Gaggia Accademia is packed full of features, simple to use and produces both great espressos and perfect speciality coffees.
It is no wonder then that customer reviews are really positive for the Accademia.