If you've ever wondered who invented the first ever coffee machine, then you can stop, because a lady called Melitta Bentz invented the very first filter coffee machine in 1908(1).
Since those simple beginnings the company has grown the range to include several bean to cup coffee machines.
They have over the years gained a huge amount of experience in the sector, and it is therefore no surprise Melitta bean to cup coffee machines feature twice on my list of the top ten.
They cater for the mid to top of the price range, and they start with an RRP of £400 right up to over £1,000. But for that you are getting real quality machines for your money, couple with over 100 years of experience as one of the industries best coffee machine makers.
At the time of writing (December 2020) they currently list 21 models for sale in the UK. There is a lot of overlap within the model numbers, for example they have 7 Caffeo solo and perfect milk models, and the only difference is really the outer casing colour or material.
The brand is not that well known here, but their products are very well respected in their home country Germany.
Top 3 Melitta Automatic Coffee Machine
To try and keep things simple for you I have listed below the main 3 options from the range. Between them they cover the majority of what the sell for home use.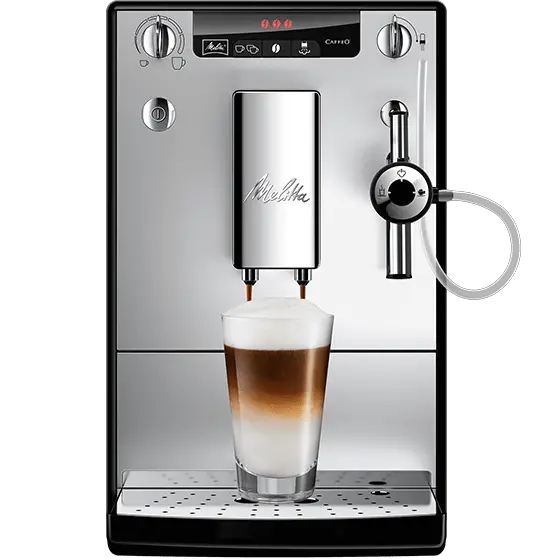 Coming in the mid price range and very affordable for all is the ever popular Caffeo Solo & Perfect Milk. This by far the best selling Melitta bean to cup coffee machine.
The name is a sort of a give away with this one, "Caffeo solo" refers to the coffee side of things and "Perfect Milk", you guessed it the milk frothing part. I must say this machine does both exceptionally well.
Featuring the patented "Aroma Extraction System" the actual brewing of the espresso is sure to get your senses going. Unlike the older models which were just "& Milk" the & perfect milk does feature an automated milk system. Which allows you to make a Cappuccino, Latte or Macchiato with one touch.
There are many other features such as auto cleaning, why not check them out with my full Caffeo Solo review here.
At the top of the range of Melitta bean to cup coffee machines is the Caffeo Barista TS smart, and smart it is. Mrs Bentz created the first ever coffee filter and over 100 years the company are still pushing the technological boundaries as far as coffee making goes. The machine attracts amazing reviews online.
The Barista TS is packed with features that will ensure you will enjoy coffee shop quality in your own home. This includes the ability to choose from 21 preset coffees, or to configure your to your own taste directly from your smartphone app. Obviously you can store you preference with the "My Coffee Memory" system.
The level of customisation is way beyond other coffee machines. For example you can store different types of beans, and program the machine which of the beans to use in which recipe. There are two different bean containers.
For the full list of available features check out the full Barista TS review here.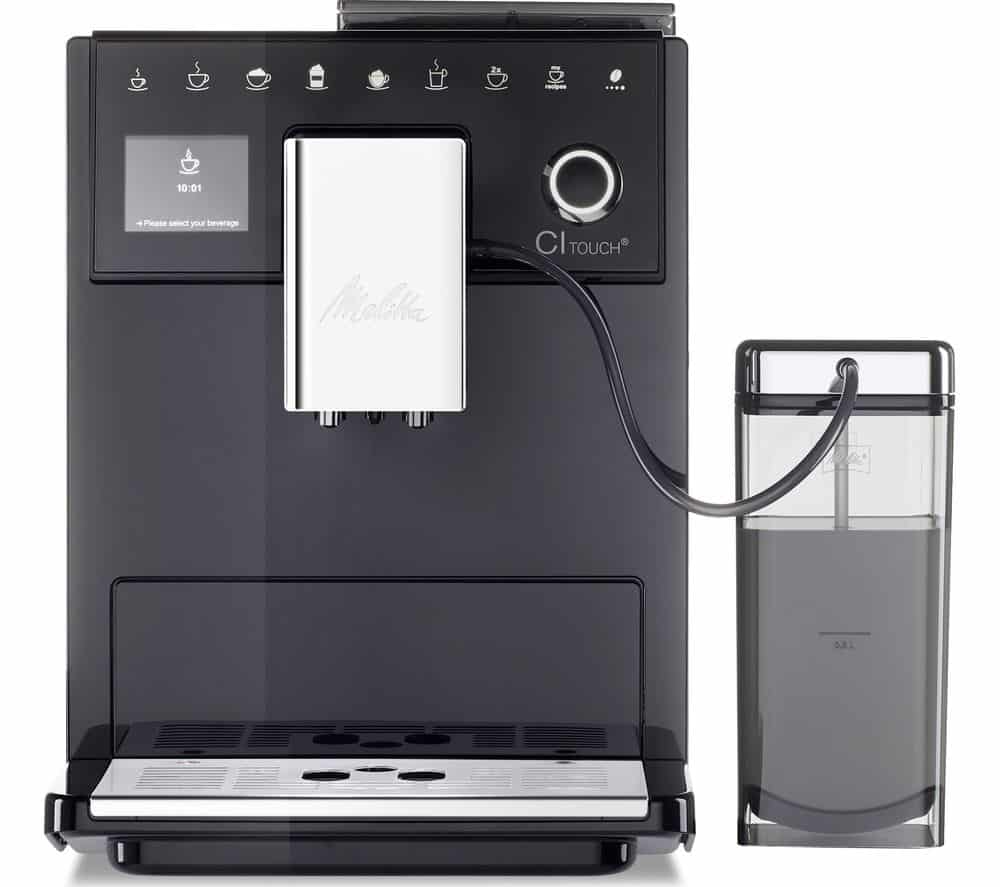 For those looking for the level of features of the TS above, but looking to spend a little less, then the CI Touch should be right machine for you at the right price.
For under £1000 this bean to cup coffee machine is simply amazing. The Melitta CI Touch offers 10 coffee specialities, but unlike the TS Smart there is no app connectivity, but all controls are via the easy to use TFT display.
Again your preferred settings can stored via the My Coffee Memory, ensuring coffee just the way you like it is never far away.
Frequently Asked Questions
How long should they last?
With proper use and a regular maintenance schedule, you can expect it to last 6-10 years
How often do I need to descale my Melitta
This is dependent on how often you use it, and how hard the water is you use.
If you clean it regular and use a water filter, then you should need to descale it every three months
Do they accept ground coffee?
No unlike other brands, Melitta do not take ground coffee. You should get fresh beans.
Final note on Melitta bean to cup coffee machines.
All Melitta machines are extremely well built and packed with features, but that is not all. They are also well designed and with their brushed stainless steel and matt black finishes would look good, gracing any kitchen worktop.
Whilst they do not take ground coffee, they do give you full control with a range of grind settings, and allow you to control the strength, taste and even the beans used to make your coffees.
The espresso they produce is some of the best you will experience at home.
They come packed with features that make even cleaning easy.
You could do a lot worse than buy a bean to cup coffee machine from the brand that started the whole coffee brewing industry.