Gaggia as you will probably know are the most famous brand when it comes to bean to cup coffee and espresso machines. They combine decades of experience and stunning Italian design.
So you would expect to pay for one of their automatic coffee machines, and you do most of the time. But for anyone looking for a less expensive way into this world, read on, as my Gaggia Naviglio review will show you how.
I will concede the Naviglio is not much to look at, and it doesn't contain the Italian styling that Gaggia are so famous for. This is most likely as it is a re-brand of the Saeco Intuita (now discontinued). In fact the model numbers are virtually identical Gaggia HD8749 and the Saeco HD8750. Both are owned by the larger Philips Electronics.
But you want a bean to cup coffee machine at this price, then something has to give. For me I am glad they saved on design and spent that inside making your coffee.
Fully Automatic Bean to Cup coffee Machine
Manual Milk Frother Wand
Integrated Ceramic Burr Coffee Grinder
15 Bar Pump Pressure
1.5 Litre Water Tank Capacity
Quick Heat Boiler technology
Whole Coffee Beans only
Height adjustable dispenser (variable cup height 70-115mm)
ABS Plastic body, metal drip tray
300 Gram Bean hopper
Dimensions: 25.6cm (W) x 44.0cm (D) x 34.0cm (H)
Weight : 8.0kg
It's true the Naviglio will not be winning any beauty pageants, and certainly the R&D money wasn't spent on its exterior. But for true coffee lovers that should not be an issue,
Because Gaggia have included a lot of the same essential specification that they include on their more expensive models. Meaning you can get all of that coffee making experience in your kitchen for a bargain price.
It is easy to use and will produce great drinks, so lets take a deeper look and go through just how Gaggia have achieved this.
Making Espresso
Gaggia are famous the world over for their Espresso, and not surprisingly as their founder is also the founder of the modern pressure brewing method.
The Naviglio actually made my list of the top three Gaggia Bean to Cup Coffee Machines, so you can be safe it makes quality coffee. In fact it will you can take my word for it, if you use decent beans it will be as good as your local coffee shop.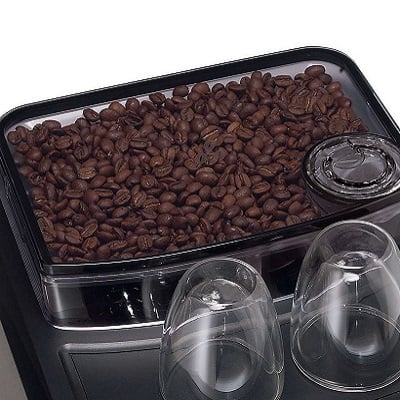 Lets break it down and I will show you how :-
Bean Grinding
I will be straight with you here, if you want to enjoy great espresso at home, then you NEED to start with good quality coffee beans. Your coffee machine is just that, a machine, it can't perform magic, it cannot turn bad beans into good coffee.
So starting with decent beans, your Gaggia Naviglio will then grind these on request ensuring maximum freshness.
Now you may think on a cheaper machine your grinder will not be decent. But you're wrong, the Naviglio has a ceramic burr grinder.
All bean to cup machines have burr grinders I here you shout!! But not all grinders are the same, the key here is "ceramic" this has a much higher temperature resistance(1) than a metallic one. This means it doesn't start to burn your coffee bean before they even hit the brewing group.
You can choose between 5 different grind settings, 1 is a finer grinder for bolder taste through to 5 which is coarse for a lighter taste.
One downside here is how we adjust the grind setting, this is done with an external key (supplied), this is a little fiddly when compared to other machines such as the Brera. And some reviews say the key is easily lost. Once you have your preferred setting though, you shouldn't need to change it unless you change your beans. Different coffee blends work well with different coarseness.
The second downside we have is, you cannot use pre-ground coffee. There is no bypass chute, so no option if you fancy a decaf.
Extraction Process
The extraction is what happens next, and is what turns that compact little disk of ground coffee into the thick full flavoured shot you so crave each morning.
This is the vital part, and if this is not good, then it doesn't really matter how good those beans are I made you buy above. You will end up with a sipid excuse for a coffee. Luckily as with all coffee machines on my site, the Gaggia Naviglio excels at brewing espresso.
Firstly you have three different coffee strength options available, and can select these by choosing how much ground coffee to use. You can also select 2 drink options Espresso or Lungo (long shot).
The standard Gaggia Navilgio doesn't offer a pre-infusion, but there is a deluxe version that does. I am not going to lie, pre-infusion does add to your espresso taste, but it is not essential. It is more a "nice to have"
The actual brewing takes place at 15 bar pressure as with all Gaggia machines, the minimum for espresso is 9 bar. So this is excellent. The pressure is built thanks to the quick heat boiler.
Espresso Verdict
For a bean to cup machine at this end of the market the Gaggia Naviglio produces a great coffee, cup after cup.
It has just enough custom settings to satisfy the tastes of the majority of coffee drinkers, but not enough to baffle its likely audience. In fact its fair to say it is easy to use.
And its quick you can hove your beans ground, brewed and enjoying your first cup of coffee in a minute.
Milk Based Coffees
The Naviglio is more than just an espresso machine though, yes you can also enjoy specialty drinks.
As you have probably guessed this end of the market does not get you and automated milk frothing system. No instead you have a steam wand.
This isn't the end of the end of the world, in fact I prefer a manual steam pipe, as it gives a lot more control over the process.
The particular steam frother here is a "Pannerello", which is actually just a normal one with a little rubber covering. But this little covering actually makes it very easy for novices to froth milk. However it does limit just how creative you can get.
The good news is you can remove it when you become more experienced. Then you get very creative with your milk frother and start practicing your Latte Art.
The steam pipe can also be used for hot water.
You do need to note that the Gaggia Naviglio has a single boiler, which means it cannot brew and steam at the same time.
Overall the textured milk you can make is really down to how well you do it, and is as good as other bean to cup machines with a manual wand.
Design
Well there is not much more for me to say on the design front, that I haven't said already. It is not great and will never win awards.
But I think most people can live with this, especially when they taste the coffee they get for this price.
I will add it is a really compact bean to cup machine and will fit easily into most kitchens.
Cleaning and Maintenance
Surprisingly for an entry level machine the Gaggia Naviglio has automated cleaning process.
Firstly when you power up the machine in the morning, it will give itself a quick rinse through, and the same when you power down.
But there is also an option on the front of the machine for a deeper cleaning cycle, which you should run from time to time.
You then also have the descaling program, you do need to mix up the solution first, but then the machine will take care of the rest. It will tell you via flashing lights when its time for this. Adding a water filter to the tank will help with this.
I also like to give my machine a wipe down after each use. And make sure you soak the drip tray, water tank and grounds bin in hot water from time to time. The Gaggia Naviglio also has a removable brewing unit which is very handy for cleaning.
Frequently asked Questions
These two are very similar machines, both perform as well as each other as both an espresso machine and when making milk coffees. It is really whatever machine you like the look of best.
Is gaggia owned by Saeco?
No they are two separate companies, but both are owned by parent company Philips electronics.
If you follow the cleaning and maintenance schedule then you can expect it to last 6-10 years. Gaggia offer a two year UK Guarantee
The Final Verdict
If you cant afford a Brera and still want to experience owning a gaggia machine then the Naviglio is a great choice.
It will keep you supplied with great coffee, and decently frothed milk.
Honestly for the price of this machine I am constantly amazed at just how good it is. Gaggia haven't wasted money on designs and aesthetics, instead they have concentrated on putting their considerable experience inside. The result is amazing coffee at a great price.