What makes the Delonghi Esam4200 so popular is the fact you get a coffee machine with all the features you could possible need for a great price.
If you research this machine online you will notice that it gets lots and lots of positive reviews, and with good reason. For the money you are getting a great little coffee maker.
This is a great machine for an entry level option, great for any coffee lover.
There maybe some of you looking for a different model number, the de'longhi magnifica esam 4200.s. We should point out this is the same machine, the ".S" at the end just refers to the silver version of the magnifica. So in effect this is a review of both models.
Delonghi Esam 4200 Features list
Fully Automated Espresso Machine
Manual Milk Frother wand
Integrated Coffee Burr Grinder (With different coarseness levels)
15 Bar Pump Pressure
1.8 Litre Water Tank Capacity
Uses Whole Coffee Beans or Pre Ground Coffee
Self Cleaning Function
Thermoblock boiler keeps water at perfect brewing temperature
Height adjustable dispenser (can use anything from espresso cups up to mugs)
Dimensions : 28.5cm (W) x 37.5cm (D) x 36cm (H)
Weight : 10kg
200 gram bean hopper capacity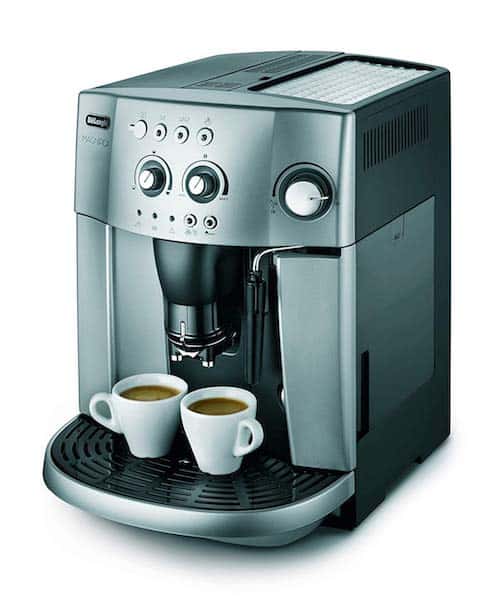 My Delonghi Magnifica esam4200 Review
The De longhi Magnifica Esam 4200 has been one of the best-selling bean to cup coffee machines of the last few years, and it is easy to see why.
It produces excellent espresso, has lots of features and is fully customizable to the user's preference.
Not bad for a machine that comes in at the lower end of the price range from one of the industry's top coffee machine manufacturers.
It is really easy to use and produces quality coffees, this is a great choice for your first bean to cup machine.
Making Espresso
Straight to the nitty gritty then, and the coffee making. You can probably gather by now I really like this machine, and one of the main reasons is the espresso shots it produces.
Comparable to your local coffee shop barista, or more expensive espresso machines.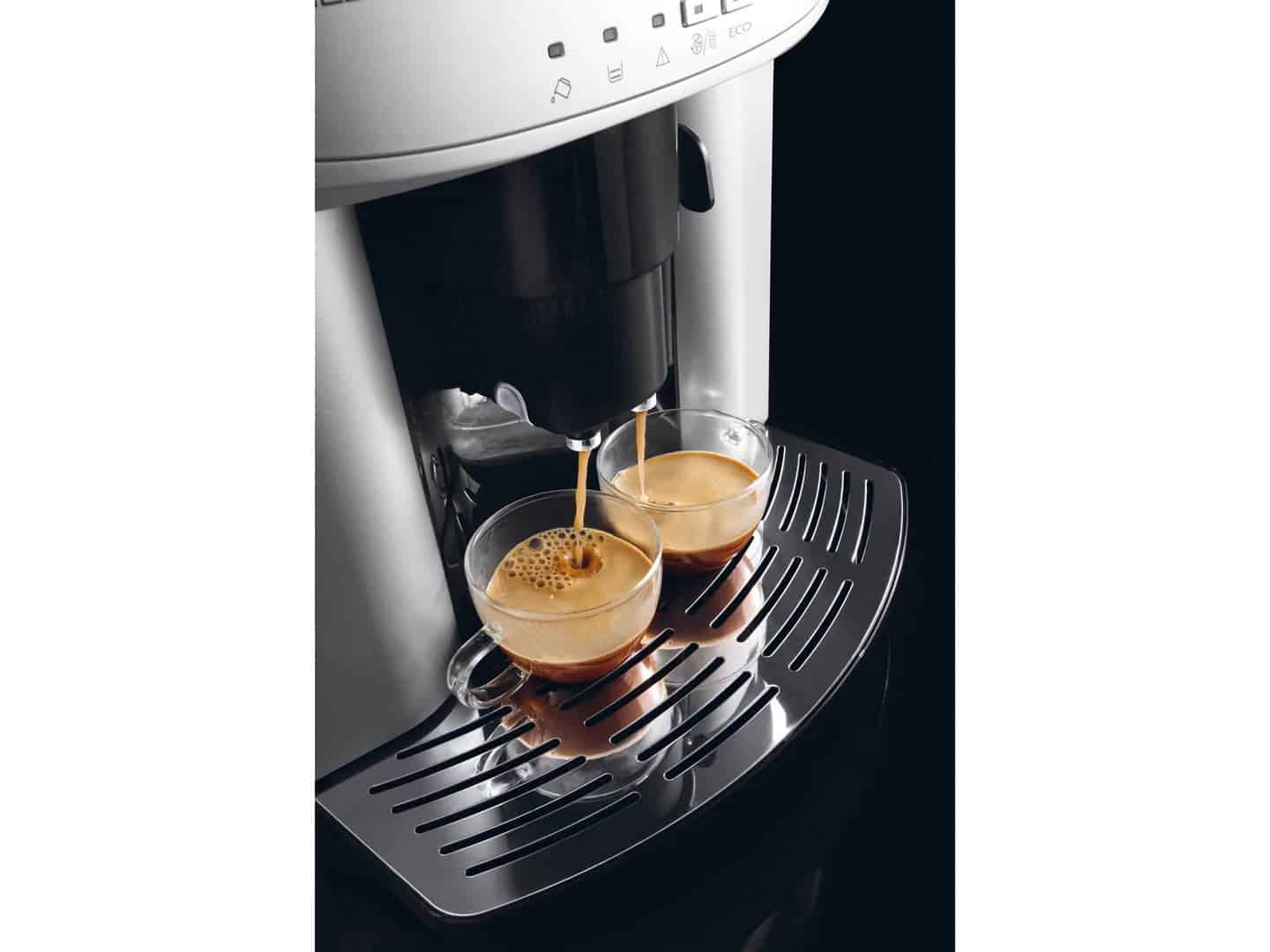 You have full control over the coffee the magnifica produces, thanks to the two main dials on the front control panel.
While these may look a little basic and not as technical as the more expensive machines, they do give you a full range of control over the brewing process.
You have a coffee strength dial, and another to control the amount of water in your coffee. Combining both of these allows you to make everything from ristretto, through espresso and all the way up to a long black.
Once you have found your desired settings, then I would suggest you leave the dials in place, that way the machine is pre-set for your next coffee.
For some reason only known to De Longhi there are no numbers or markings around the dials, so it is not that easy to find the same setting again.
Unlike some of the more expensive coffee machines, you cannot commit your settings to the memory. This means if you change the settings, you cannot get them back with one touch, like the digital versions.
When it comes to the integrated grinder you also have the option here of 13 different grind settings to choose from. Don't underestimate this option, this has a direct impact on your extraction rate and the crema on your espresso in addition to its flavour.
The coffee grinder is a lot quieter than other bean to cup coffee machines, which is great first thing in the morning.
If you don't know how fine you want to grind your coffee beans, or you just prefer your favourite pre ground coffee beans, then you can just use this instead. There is even a different storage chamber for them. However, I prefer to use freshly ground beans in my coffee.
The Delonghi Magnifica will make 2 cups of espresso at the same time.
Milk based drinks
There is no automated milk frother on the Delonghi magnifica Esam4200, instead it offers a manual steam wand, for those who prefer a cappuccino, latte or other milk-based drinks.
Although manual milk frothing is not as easy as an automated option, it does give you more control over how you like your drinks. And while I am not saying you can become a barista overnight, it does only take a little practice before you're able to produce a decent cup of coffee.
After just a little practice you will be able to use the milk frothing arm to texture milk almost like a pro.
For the best results, I would recommend removing the rubber covering on the steam wand, this will allow you to make much better microfoam (1), with smaller air bubbles, which gives the froth with a silky texture on your cappuccino you would expect from a coffee shop.
Cleaning the Delonghi Magnifica
Regular cleaning and maintenance is part of owning any kitchen products, not just coffee machines. And the De longhi Esam 4200 is no different, even though it does advertise an automated cleaning function.
Don't let this confuse you, this feature only runs a hot steam and water through the system at the end of each use to flush it out. It does not give it a full clean. I would also advise you wipe down the milk frothing arm after each use.
It is recommended that from time to time you give the different parts of the machine a good clean and soak in warm water. This includes the water tank, the coffee container, brewing unit and drip tray, all of these are easily removed for cleaning. To be honest I do this once a week with my machine, and I am a heavy user (at least 4 cups a day).
In addition, the esam 4200 also features a de-calcification and rinse through program which you can set to account for local water hardness.
When it's time for a de-scaling the delonghi magnifica will warn you via a little flashing red light. Unlike little flashing lights in your car, you can't just ignore this and carry on. No it simply won't let you make coffee until it's been de-scaled. The process is an automated program and you just need to add a little descaling solution. This takes roughly 15 mins.
Full easy to use instructions for all cleaning aspects are supplied and easy to follow.
Other Key Features
Cup warmer – the drip tray double as a cup warmer, although it does seem to take an age to warm the cup. I find it much easier to give my cup a quick blast of steam from the wand to bring it up to temperature.
Low Bean warning – Yes, the Magnifica Esam 4200 will let you know when it is running low on beans. This is a very handy feature, I do not like to fill my machine up to the top. Instead I like to put roughly a weeks worth of beans in, and keep the rest in an air tight container. This I think ensures maxmium freshness for my coffee.
Empty Water Indicator – You will also never run a dry machine, as you will be warned when the water level is low. replacing the water couldn't be any simpler, you simply pull out the water tank at the front of the machine and head to the sink.
Thermoblock Temperature control – This is a boiler that ensures the water temperature is consistent cup after cup, again this is a really imortant feature often overlooked when choosing the right machine. Water temperature is a vital part of the coffee brewing process.
Auto shut off function – for when you leave the machine idle, this will turn the machine off when not in use. Great for those busy mornings when you simply forget to turn it off.
Energy saving mode – This is effectively a low energy mode, a great feature to help lower your bills and protect the environment.
Frequently Asked Questions
Can I use ground coffee in my DeLonghi Magnifica?
Yes you can use pre-ground coffee in your DeLonghi Magnifica. First you must ensure the machine is turned on, and the selector dial is turned all the way to the left to the ground coffee option. Then add 1 level scoop of your favourite ground coffee to the chute. It is important not to use more than 1 scoop at a time, as this may clog the inside of the machine. You can only make 1 espresso at a time when using ground coffee.
Where to buy the Delonghi Magnifica?
Delonghis RRP for the Esam 4200 is £399 and this is the price you would expect to pay on the high street out of the sales. However, as we all know the best prices are generally found online and you can easily save £100. I keep a close eye on the online prices and can guarantee you will save money online.
How Reliable is the Esam 4200?
Delonghi are a great manufacturer and this is a very reliable product. For your peace of mind the Esam 4200 comes with a 2 year warranty.
As with any appliance, one of the best ways to ensure reliability is to carry out regular maintenance and follow the information in the manufacturers instructions.
And for any time you do need it then Delonghi do have a UK customer service centre, as well as all other countries they operate in.
Can I make a mug of coffee instead of shots?
The Esam magnifica has a maximum cup height of 105mm (10.5cm / 4.1 inches), so unless you have a supersize mug then you are easily able to get a mug under the dispenser. These type of bean to cup machines allow you to adjust the height of the nozzle.
In fact the average height of a mug is 95mm (33/4 inches). One of the main control dials is to adjust the amount of water used to make your coffee, so you can adjust this to your preference and make longer style coffee's.
Is the Integrated grinder noisy?
If you read the online reviews then one of the best features of this coffee maker model, is the fact that burr grinder is quieter than on other coffee machines. Users seem to place a lot of value on this.
I can see why, first thing in the morning the last thing you are going to want to hear the grinding of the beans, and you cannot really do it the the night before if you want fresh coffee.
Is it value for money?
As coffee machines go I have to say the esam4200 is excellent value for money. For the price you are getting a quality coffee machine, that produces great coffee and attracts consistently great reviews.
Reasons not to buy
It is only fair when writing a comprehensive review of any product, that I also include any reasons that this may not be the best choice for every coffee drinker.
Firstly if your after a super-automated coffee machine, one where it also froths your milk for you. Then this isn't the machine for you, this does require a manual approach to milk texturing.
I would also not really suggest this machine for the more experienced home barista, while it is a great coffee machine, it is mainly marketed as an entry level machine.
The final verdict
De Longhi Magnifica Esam4200 came in 2nd on our list of the best bean to cup machines, and this is not by fluke.
When you purchase the Esam4200 what you get is a reliable machine that is very easy to use and produces a great tasting espresso, cup after cup. As well as a manual milk frother when you fancy a Cappuccino, Latte or other milky coffees.
For a price under £300 you are getting a great value machine from a brand (De Longhi) that is regarded as one for the best coffee machine manufacturers. Backed up by the peace of mind of a 2 year guarantee.
But you don't have to take my word for it, a quick look online and you can easily see 1000's of positive reviews. Don't get me wrong there are some not good ones as well, but more than 95% would recommend this machine.