In my Sage Barista Express review you will find out, why after 12months and testing over 20 different bean to cup machines, this is the one I kept for myself.
Just in case you have not read my list of the top bean to cup machines, then I will save you some time and just tell you, the Barista Express was my number one pick. I did not give the top spot on a whim, no I really am a huge fan of this little machine.
As you have probably guessed from it's name, the Barista Express is a speedy little machine and will get you your hit of espresso in under 1 minute. That is quicker than your local coffee shop can take £3 off your debit card.
In this instance quick does not mean rushed, not only are you served quickly, but you will be served with one of the best tasting espresso's you'll have ever had. This espresso machine is perfect for even the most fussy coffee lover.
While true it looks more like a manual espresso machine than a traditional automatic one, it is so simple to use even my poor old mum can get a decent shot out of it.
It is no wonder then that the Barista Express is the best selling of all the Sage Bean to Cup Machines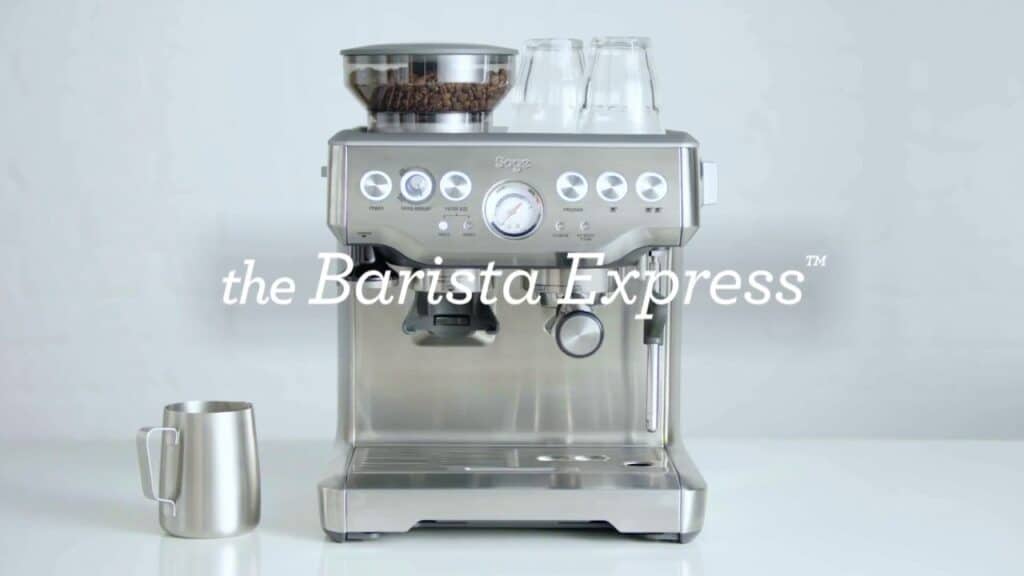 The Features
Semi Automatic Bean to Cup Coffee Machine
Manual Steam Wand for Milk Texturing
Integrated Conical Burr Grinder (With different coarseness levels)
Razor dose trimming tool
15 Bar Pump Pressure
2.0 Litre Water Tank Capacity
Automatic dosing control
Self Cleaning Function
Digital Temperature Control (PID)
Pre Infusion to ensure perfect extraction
Dimensions : 33.0cm (W) x 31.0cm (D) x 40.0cm (H)
Weight : 10kg
250 gram bean hopper capacity
Brushed stainless steel (BES875UK) or mat black finish (SES875BKS)
My Sage Barista Express Review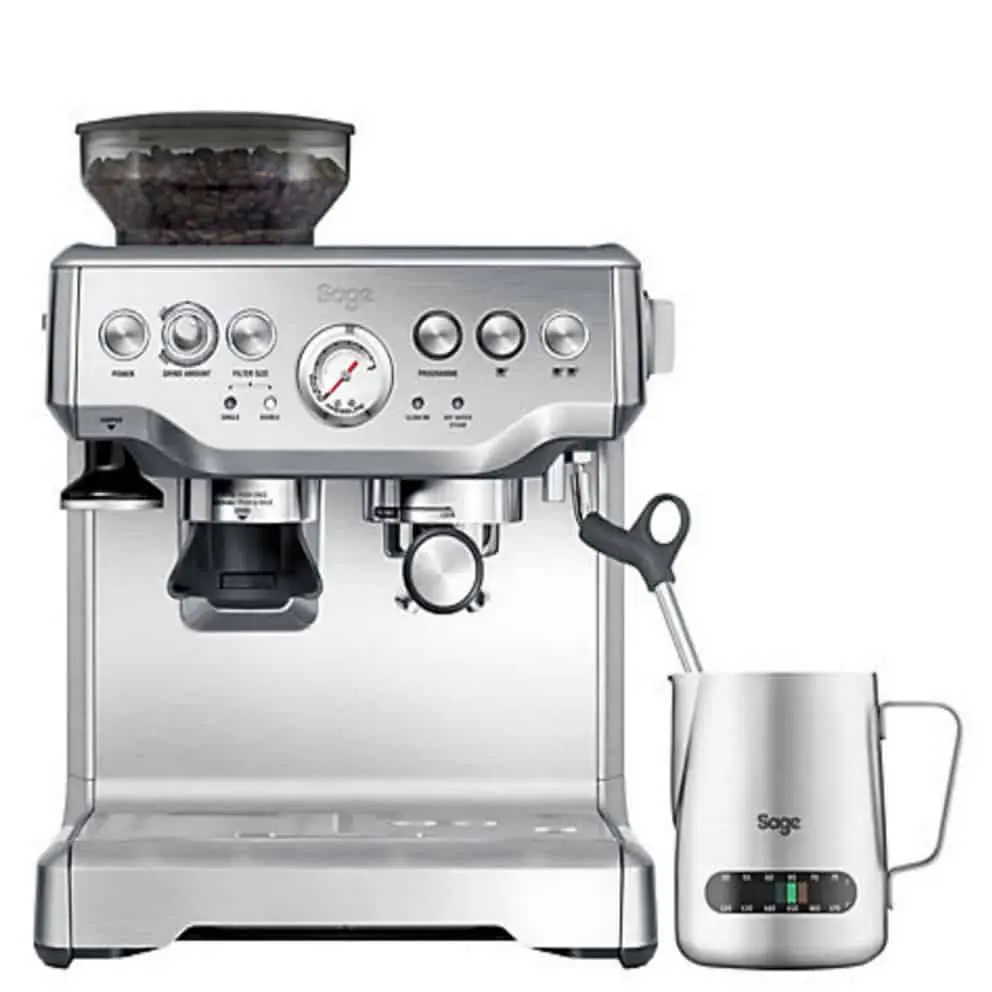 With a recommended price tag of £599 the Sage Barista Express is not cheap for their entry level model, and is on a par with the mid level coffee machines.
But it is worth every penny, and is often available for less than the RRP providing great value for money.
Unlike true bean to cup machines, there is a little manual effort required to make your espresso. In that you need to move the portafilter and tamp the ground coffee, before placing it under the group head.
Barista Express Espresso
Arguably the most important part of any coffee machine review, is how good is the coffee?
I am almost certain that you will not be disappointed on this front, I certainly wasn't.
In fact I am going to just say it, this machine produces some of the best tasting espresso I've had from a home machine.
How does the Barista Express achieve this, well it offers almost unending levels of configuration, which allows you with just a little practice to produce barista quality shots tailored just for you.
For starters the integrated conical burr grinder has 18 different grind settings, to set the coarseness you would like your coffee ground.
How fine or coarse you grind the beans has a direct impact on the extraction rate and this affects the taste of your coffee.
The finer the grind the slower the extraction, if you go too fine you may end up with a bitter espresso. Too much the other way and you will have a watery shot, my advice is start in the middle and adjust by 1 notch either way until you hit the sweet spot for you.
One thought here, is you will probably find that different coffee beans will work well with different grind size.
At this stage you can also request the integrated grinder, grinds the perfect amount for either a single or double espresso. Then you have 10 further settings to choose from for the amount of coffee to grind. So as you can see we are already up to 180 different possible settings (18 grinder x 10 coffee amount)
Next up in the process is the manual bit. Once your beans have been ground to your liking, you are required to remove the portafilter and use the attached tamper to compact the grounds.
Sage also provide you with a razor trimming tool, so you can remove any excess from the top, leaving you with perfectly compact and correct dose of ground coffee. Don't take this part for granted, these are vital steps in producing great shots.
And now to the actual extraction process, and this is where the Barista Express excels. The Pre-infusion function which you won't find on most other espresso machines, is the little bit of magic that sets this apart from the crowd.
What this does in essence is start the brewing process off on a low pressure, before gradually increasing to high pressure extraction. This ensures that the coffee grinds expand at an even and gentle rate, to give you an even extraction (1). This will give you a smooth tasting espresso with a great crema. No more bitter coffee for you.
Unlike the more expensive Sage coffee machines this does not have a dual boiler system. However it is a step up on your average single boiler machine, its 1850w integrated thermocoil heating system controls the water temperature. And the digital temp control (PID) delivers the water at the optimal extraction temperature.
The final level of control you have with this coffee maker, is the ability to decide exactly how much water you want to pass through the grouphead. There are of course two settings for one or two cups, as well as a manual setting, which gives you full control. This is great for anyone who prefers longer drinks.
The sheer number of options and quality of coffee the Barista Express produces is nothing more than I would expect from a machine that Heston Blumenthal lends his name to.
Milk texturing
So now you have the perfect espresso, you may be satisfied and leave it at that.
But what if you're not an espresso kind of person and you prefer your coffee with some micro-foam. Well then the barista express has you covered as well.
If you're looking for the kind of bean to cup machine where you touch one button, and a few minutes later a cappuccino appears, then this is not really the machine for you. However if you can see yourself impressing your friends with your amazing latte art then this could be a match made in heaven.
As you have probably guessed from the above the milk frothing on the barista express comes via a manual steam wand. You don't need to be wary of this part, although it looks a little daunting and may take a few attempts to master, it isn't that difficult. And once you have got it down, then you will find the manual way produces silkier milk than the fully automated machines.
Sage also provide you with a stainless steel milk jug, for use when texturing the milk. One handy feature is the milk jug has an inbuilt temperature gauge to show when your milk is just perfect. I am sure you will have seen the thermometers sticking out the top of the jugs at the coffee shop, well this is an inbuilt version of that.
With this being a single boiler coffee machine, you cannot steam your milk at the same time as it is brewing your espresso, as these two stages require different temperatures.
It is not the most intuitive way, but I found it easier and quicker to do the milk texturing first and then brew the shot. The reason being is as soon as you turn off the steam it automatically vents and drops back to brewing temp. When you make the espresso first you have to wait for boiler to get up to the correct frothing temperature.
You can also use the separate hot water wand to make Americano's or even to make a cup of tea, after all we are in the UK. You can also use the hot water to preheat your cups.
Cleaning and Maintenance
No one likes cleaning and myself included, and fortunately as with all sage machines the cleaning requirements are minimal.
You will need to make sure that every once in a while you give all the removable parts a soak and a good clean. If you use the coffee machine every day then I would suggest you do this weekly. But you will know when its time.
As with all bean to cup machines you do need to descale them regularly, even when used in conjunction with a water filter. You can do this by using descaling tablets, and rather neatly there is a separate filter just for this, so you don't contaminate your coffee filter. The machine will tell you when it's time.
For cleaning the steam wand, you should be wiping it clean after every use, but Sage also give you a little tool for getting right in there every now and then.
You can actually remove the top of the drip tray and underneath is a sort of storage box, with places to store the extras such as different filters, cleaning tools and the trimming tool.
If you already have other brushed stainless steel appliances then you will know, they can be a little fiddly to keep them looking top notch and shiny. But the Sage Barista Express is a good looking coffee machine, so it is worth keeping it that way.

As for other maintenance there isn't really anything required of the the user. What you get with Sage by Heston is a great build quality, ensuring your machine will last.
Frequently Asked Questions
Is the Barista Express worth it?
While it is not the cheapest bean to cup machine, it is still great value for money. For a mid priced machine it produces espresso like a top of the range model.
If you research customer reviews online then you will see many people highly recommend this coffee machine. And it is easy to see why, it gets the job done and it is easy to use to produce great coffee.
Is there Warranty and Guarantee?
All Sage by Heston Blumenthal come with a reassuring 2 year repair, replace or refund guarantee. However it is highly unlikely you would need to call on it as these machines are very well built. But the peace of mind is great to have.
Sage also have a full UK customer service center which offers support by phone, email or web chat.
What size cups does it take?
You can easily fit anything from an espresso cup to standard size mug under the dispenser. According to my measuring the clearance between dispenser and drip tray is 98mm, which is just enough for a decent size mug.
Is this the only Barista model?
No Sage have recently released two more models in this range.
The Sage Barista Pro is fundamentally the same machine it just has a digital pressure gauge and control panel which allows for a more granular level of control.
The Sage Barista Touch is a lot more expensive, but comes with a touchscreen display and is capable of producing a full range of coffees via its automatic milk texturing.
Do you need to plumb it in
No like all the models I review you do not need to plumb them into mains water. All domestic bean to cup coffee machines come with a water tank, which can easily be removed to filling.
Reasons I wouldn't recommend
I always try to offer a full and true opinion when reviewing coffee machines, and to achieve that I also need to advise the reasons this may not be the right choice for some people.
Firstly some will argue that as you need to tamp and move the ground coffee manually this is not a true a bean to cup coffee machine. So if you want a true hands off experience then the barista express is definitely not the machine for you.
Secondly there is no automatic milk frothing, instead this is also done manually via the steam wand. If you drink a lot of Latte's or Cappuccino's etc and you don't fancy your hand as a barista then again I would steer clear of this one.
Finally if you are always in a rush in the mornings or you are a big household then you may need a dual boiler that is capable of brewing and milk frothing at the same time.
If any or all of the above reasons apply to you then there are plenty of other options for you to choose from, and I guarantee you will find one right for you on our list of the top 10 bean to cup machines.
The Conclusion
As an espresso machine the Sage Barista Express will serve you an exceptional cup of coffee time after time. There is a little setting up and adjusting required on your part to get things just right, but it is certainly worth the initial effort.
And once your set you should be good to go, it is only a one time thing, after that perfectly smooth and silky espresso is less than a minute away whenever you fancy one.
If you prefer milky coffees then you will need to spend a little time practicing your texturing technique. But once you have this mastered, then the steam wand is capable of producing a micro-foam that will have you believe you're a professional barista.
For me this is the ideal machine, yes I would have liked it to tamp the beans for me, but that is only a minor inconvenience. And what I get in return is exceptional coffee, this is why it is my number 1 choice and the machine I decided on for my home.