The Delonghi Eletta Cappuccino ECAM44.660.B, is true fully automated bean to cup coffee machine. In my full review below you will learn if this is the right machine for you. And does its price tag represent good value for money.
You have probably noticed by now that De Longhi are big in the automatic coffee maker space. They have 3 entries on my list of the best bean to cup machines. But they actually produce a wide range of machines.
Even with in this range there are three models, the Eletta Plus, the Eletta Cappuccino top (stainless steel version), and the one I will focus on today the De longhi Eletta Cappuccino ECAM (44.660.b).
Looking at the name only you could be forgiven for thinking this machine is purely for making a cappuccino, but don't worry I would not recommend you spend upwards of £500 on a machine that is only capable of producing one drink. As much as I like a cappuccino's that would be ridiculous.
This is a fully customisable machine and comes with a digital display and inbuilt memory function to store your personal preferences.
De Longhi Eletta
Cleaning and Maintainance
Key Features
Full Automatic bean to cup machine
Automatic Milk frother (for drinks such as Flat White or Latte Macchiato)
Integrated Conical Burr Grinder (With 13 different grind settings)
15 Bar Pump Pressure
2.0 Litre Water Tank Capacity
Twin Thermoblock boiler
De'Longhi LatteCrema System
Automatic dosing control
Automatic Cleaning Function
Digital control panel
Coffee beans or Pre Ground Coffee
Dimensions : 26.0cm (W) x 36.0cm (D) x 46.0cm (H)
Weight : 11kg
400 gram beans container capacity
My Delonghi Eletta Cappuccino review in full
This is a mid-priced machine from Delonghi and comes with an RRP of £650 it is not cheap, but it is regularly available at a discounted price (check the button below to see current best available price) which in my opinion makes it a great value coffee maker.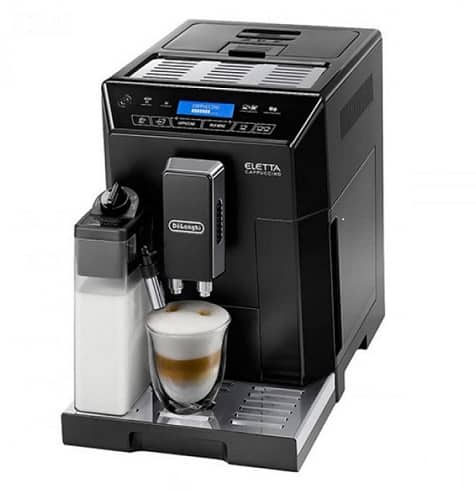 How's the Espresso
So a great place to start how good is the coffee produced? Very good would be my short answer!
With Ecam44 660 b you have a range of customisation options when it comes to making your coffee. All of which help with producing a quality shot of espresso.
This is a true bean to cup coffee machine, in that with one touch of a button it will grind the beans and brew your espresso with no manual intervention.
As is the case with any automatic machine, you can set the coarseness level you want it to grind your beans. With the Delonghi Eletta you have 13 different levels to choose from. Getting this setting right will affect how bitter or how watery your espresso tastes. A quick reference is the finer the grind the more bitter, and the more coarse the more watery the shot.
For the freshest coffee I would highly recommend you use fresh beans where possible, but if for some reason you can't, then you can also use pre ground coffee in the Eletta Cappuccino.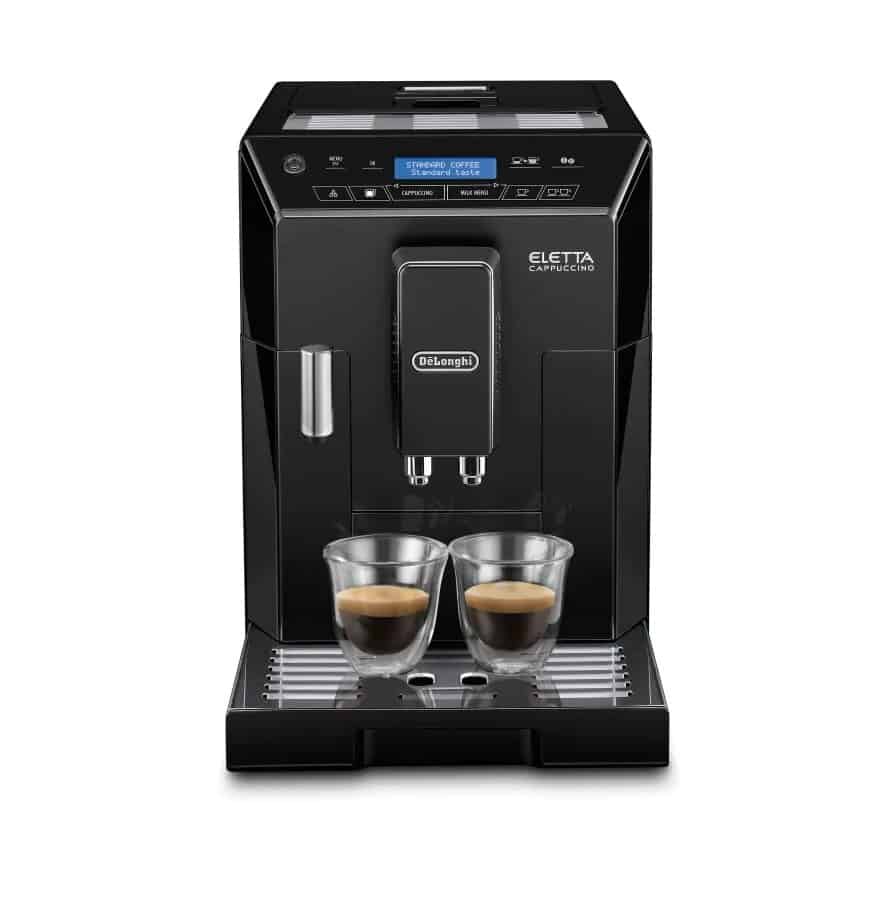 You also have full control over how long your coffee is as well as the strength of the coffee from extra mild to extra strong.
There are 2 dispensers which allows you to brew 2 shots at the same time. Or if you're like me, then you can easily get a mug under the dispenser and put both shots in one cup, that will wake you up.
Milk Based Drinks
As you have probably guessed from a coffee machine called the Eletta Cappuccino, the automatic milk frothing part is where it is at. Again this part is fully automated and it will handle all of the milk texturing for you.
The Ecam44 660 b comes with a variety of pre-set drinks available in the "milk menu" including Flat White, Latte, Cappuccino and Latte Macchiato.
And with the custom options available you can also produce coffee and milk, espresso macchiato or any other type of coffee you can think of?
When reviewing a machine with an automated milk frother, you have to bear in mind, that they will never be able to produce a textured milk as good as a barista. Maybe in the future, but certainly not now.
Now that I have cleared that up, then I will go on and say the De Longhi Eletta does do it better than most, and is as close to manually textured milk as you can get.
If however you are really fussy on this part, then there are plenty of semi-automatic machines, which allow you to manually handle this part.
The first handy thing you will notice is the milk carafe is removable, allowing you to store it in the fridge when not in use. No one wants to start the day with an off tasting coffee first thing in the morning.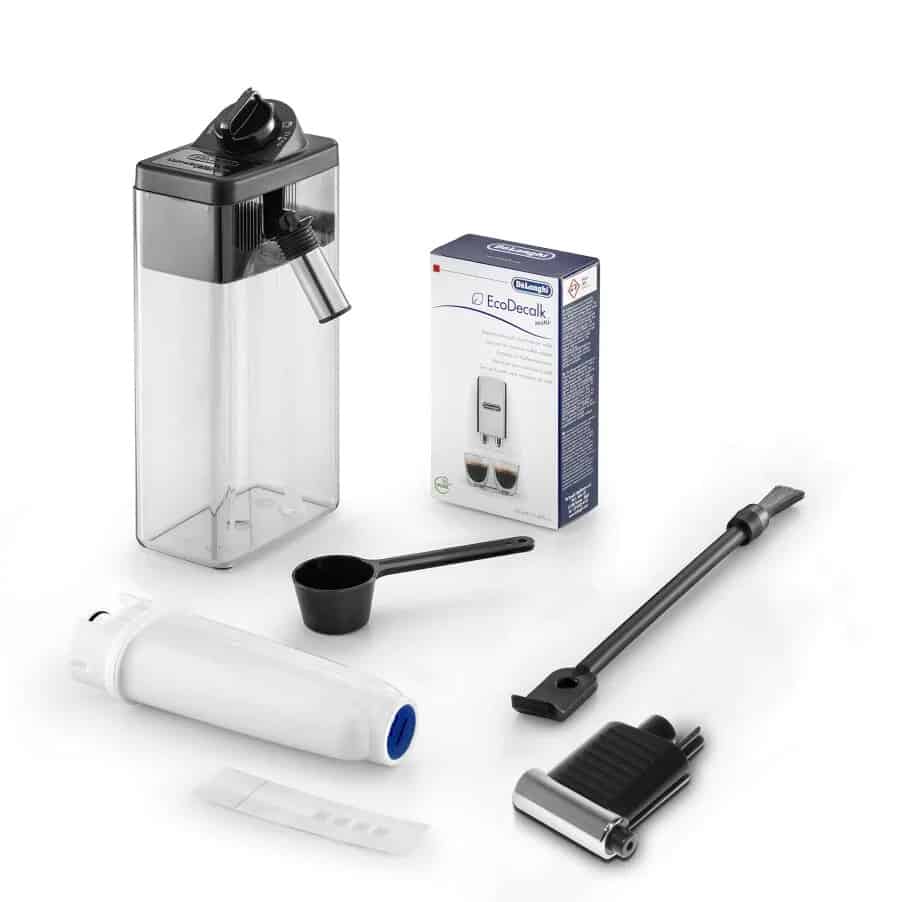 The reason the Delonghi Eletta excels compared to other machines when frothing the milk, is all down to the "LatteCrema System". This clever piece of technology is responsible for ensuring the right amount of air, milk and steam are combined to create a soft but compact milk foam.
So whether you prefer more milk or more dense foam in your coffees, you will be satisfied. All you have to do is set the regulator and let it know exactly the ratio of foam to use. If its late at night you can even have a glass of just hot milk.
For programming your own milk frother settings it is really simple and you just need to follow the easy to use instructions.
For the best results Delongi advise to use semi-skimmed milk with 1.5% fat, apparently this gives the best foam consistency. To be honest I only use semi-skimmed to milk so I cannot verify this is better than other types. But I can say it was good.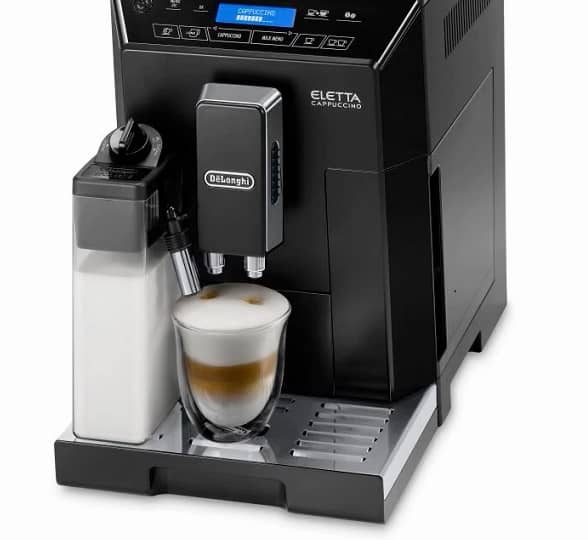 Cleaning the Ecam44 660 b (Eletta Cappuccino)
All coffee machines require some level of cleaning, what you need to look for here is how much of it you are required to do and how hard that is?
Well the Ecam 44 660 b is really easy to clean. For starters it has 2 easy cleaning programs. 1 gives it a full rinse through, which is great for maintaining the dispensers and piping, and the 2nd auto clean program is a descaling function as you get with any bean to cup coffee machine.
The removable parts including the drip tray, water tank, and bean hopper will need a soak with soap and hot water, I do this weekly, but it is really dependent on how much you use the machine.
De Longhi also supply you with a brush to clean the head out.
The De longhi Ecam 44 660 b is a well built machine and therefore does not require much maintenance other than the regular cleaning advised above.
Other Key Features
Cup warmer – Unlike other coffee machines where the drip tray is the cup warmer, this is on the top of the machine. If you have space I would leave your cups there all the time, so they start warming the second you turn it on
Thermoblock Temperature control – This is a great feature you find on all de longhi machines, and it ensures the water is consistently at the perfect brewing temperature.
Energy saving mode – Low power mode, ensures you only use the required amount of energy.
Water Hardness – You can configure the Delonghi Eletta for your local water hardness, this is great for ensuring longevity
Auto shut off function – Effectively this is an automatic standby mode, which kicks in if you are don't use it for a few minutes. Great for saving energy.
Frequently Asked Questions
Is this a fully automatic Bean to Cup coffee machine?
Yes this is what is referred to as super-automatic machine. What this means to you and me, is that it will handle everything from the grinding of the beans, making the espresso through to frothing the milk.
The only manual input from the user is putting the beans in the top, and the cup under the dispenser.
Can you use a mug?
Yes you can use a mug instead of espresso cups. The dispenser height is adjustable and the minimum is 90mm and maximum height is 142mm.
The average UK mug height is 96mm so plenty of room.
How Long does the Delonghi Eletta take to make an espresso?
There are two answers to this question.
For the first shot after the machine has been cold then you should allow around 2 mins (half of this is the boiler coming up to temperature).
If it is already up to temperature then you can have a shot produced in around 1 minute.
Are the Coffees with Milk hot?
A few of the online comments you can find do mention that drinks such as Flat White that have a large amount of milk in, can be warm as opposed to hot.
I found that there is a slight cooling effect when the milk is added, which is at 55c. This will obviously lower the overall temperature of the coffee, which is just below boiling when first brewed.
Is there Warranty and Guarantee?
Yes the De Longhi Ecam44 660 B Eletta comes with a full 2 year UK based warranty. Although you shouldn't need to call on it, as this is a product built to last. The average life span is 8-10 years.
Reasons I wouldn't recommend
As I mentioned earlier in the review, it is very difficult for a one touch machine to texture milk as god as a barista. I can say with certainty the Delonghi Eletta Cappuccino, does it better than most.
But if you are the kind of person where this is could be a big deal, then I would suggest you look for a coffee machine that has a steam wand for manually texturing the milk. You can a few great ones on my list of top machines.
The Conclusion
All in all I can honestly say this is an awesome machine and would be a great addition to any kitchen. As coffee machines go, the Delonghi Eletta is capable of producing smooth consistent espressos as well as a range of other coffees such as Latte, Macchiatos and Cappuccinos.
The fact you can use either fresh beans or ground coffee ensures you can use whatever brand of coffee you prefer.
With it regularly available at a discount from the RRP, this is an excellent value for money choice.
But you don't have to take just my word for it, just a quick scan of the comments on any online retailer and you will the vast majority highly rate it.