Delonghi coffee machines have been available on the market since the early 1990's and the Delonghi bean to cup machines (automatic coffee machines) debuted roughly 10 years later in 2003. Ever since they launched the very first Magnifica model they have been a hit among the bean to cup fan base.
Since the initial launch they have grown to be the best selling manufacturer in the niche, and now boast a machine for every budget and every level of automation.
While they do make all manner of coffee machines and all different types, we here at "we spill the beans" are primarily focused on the bean to cup type.
And I do have a special fondness when it comes to Delonghi machines, for no other reason than they do seem to consistently produce great machines, that are loved by customers. It is by no surprise they are responsible for the best selling one in this space the Esam 4200 Magnifica.
Delonghi occupy 3 spots on our list of the best bean to cup machines, in fact they have 2 machines in the top 3. You can see the full list here .
Choosing the right Delonghi bean to cup coffee machine
If you've decided on Delonghi as your preferred brand, and now you're are ready to buy your machine, then it is time to start thinking which model is best suited for your requirements.
Not all machines will be the best choice for all scenaros, so it's best to make sure you choose the one that's best for you.
As mentioned they make a machine for all budgets and requirements, so you will find the one that's best for you.
Entry Level
For those of you looking to get your first ever automated machine then you will want to look at the Magnifica range, otherwise known as Esam. Our top pick would be the esam4200.
These are what are described as semi-automatic, in that they will grind and tamp the beans, and produce great espresso. But they will not texture your milk for you. Instead this is done manually via the steam wand.
Although the Magnifica range is marketed as entry level and have an average price below £300 they are a really good option. They are sturdy, long lasting and most importantly simple to get a great coffee out of.
Step up from entry level
Next up for those looking to invest a little more is the Elleta (Ecam) such as the Delonghi 44.660.b and Autentica (Etam) range of models.
With these ranges you will get what is referred to a super-automatic coffee maker (Fully automated), this means not only will it prepare your espresso like the esam, it will also handle the whole milk texturing part as well.
This means with just a touch of a button you can make anything from a latte, a cappuccino to anything else that takes your fancy.
The main difference between the Ecam and the Etam is not the functionality but the size of machine, this is where you can get a machine to fit your specific kitchen. This is often overlooked and the last thing you want is to spend this kind of money and find you have a machine too big for where you wanted to put it.
Top Notch Delonghi coffee machine
For those that have the funds and really want the best then they also produce a machine for you as well. Introducing the PrimaDonna, quite an apt name I thought.
This machine is of course fully automated and will produce all the milk based coffees with one touch. But what sets this one apart is the fact you can customise the way it makes your drinks, and pre program your preferred settings. This can be via the touch screen display or even via it's accompanying smartphone app. This really is the machine of the times.
My best Delonghi Coffee machines (bean 2 cup)
With in the 3 different ranges described above, there are also different models to choose. This gives a rather overwhelming choice and although you really can't go wrong with any of the Delonghi models, I thought you might like to know which I would choose and why from each of the ranges.
My choice from the Magnifica range – Esam4200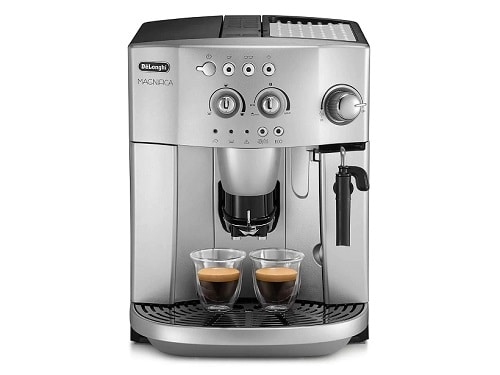 This great little machine is the favoured choice for a lot of homes, and it is easy to see why. For a very reasonable price, you get reliability, and great tasting coffee.
Technically this is a starter model, but if you don't mind manually texturing your milk then this will suit even more experienced baristas.
It came in 2nd on our list of the top machines and you can read our full review of the esam4200 here.
And from the Eletta range – The ECAM 44.660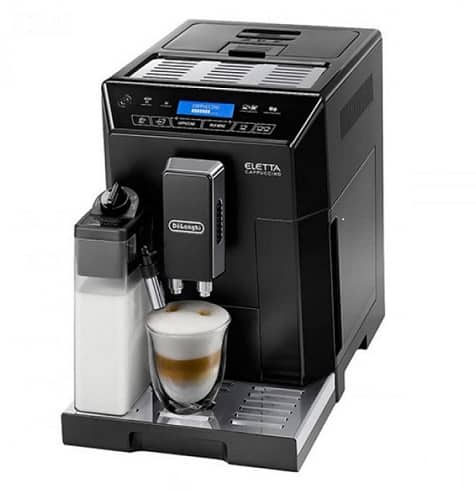 This is the mid range machine of choice from Delonghi, and is a fully automated coffee machine. It is a very popular model and has loads of positive reviews online.
While it is technically advanced, you do not need a degree in computer science to master it. In fact it is quite intuitive to use, and you can be sipping you first latte 5 mines after unboxing it.
This came in the top 5 on my list of the top coffee machines, read my full review of the Delonghi Eletta Ecam44.660.b here.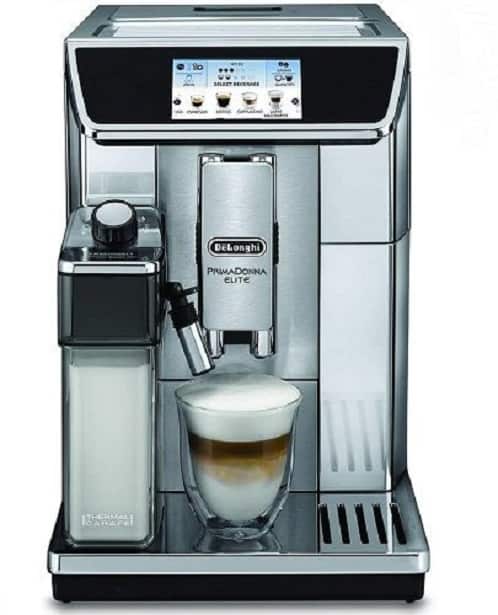 Well as the the name suggests the PrimaDonna is the top dog when it comes to Delonghi bean to cup machines. This is the all singing, all dancing machine for those who the best of the best
Straight out of the box this machine will be producing a range of coffees that will have you thinking your kitchen is your new fav coffee shop. But as you get more familiar with it, you will be customising the recipes via the app, and it will become your personal home barista.
Other Delonghi Bean to Cup Models to Note
Frequently Asked Questions
DeLonghi ECAM and Esam are they different?
The main differences between the ECAM and ESAM ranges from Delonghi are :-
The Ecam are smaller machines and great for those with limited space. The reason they are smaller is they only have 1 boiler. This may not be suitable for all, as you cannot steam milk at the same time you brew your espresso. Delonghi have added rapid boil technology to the ECAM range meaning time between brews is less than 10 seconds
The Esam range are slightly larger due to the fact they have a dual boiler set up. One for the steam and one for the Espresso. This is beneficial if you make a lot of milk based drinks? Most Esam models also feature the Rapid boil technology.
How long should a DeLonghi coffee machine last?
DeLonghi coffee machines last on average between 6-10years. This will be dependent on how well you maintain your machine and how heavy a user you are?
All Delonghi Coffee Machines come with a 2 year warranty, and spare parts can be bought easily in the UK
How often do I need to descale my DeLonghi coffee machine?
This is dependent on how often you use it to make coffee and the water hardness where you live. As a rule of thumb for a machine used 1 to 2 times a day, then you would need to descale every three months.
The final word on Delonghi
If you are anything like me, then you will want a name you can trust when you are spending the kind of cash you need to part with to get one of these machines. And that is exactly what you will get if you choose Delonghi.
Not have they been producing coffee machines for 30 years, they have been in the home appliance game for a lot longer. So they have the experience to provide you with top quality.
All of their machines are worth the money, and the 3 above are just my personal favourites from each model type, but the one that's right for you maybe a different model number.
All Delonghi coffee machines come with a 2 year guarantee for your peace of mind and they also have a UK based customer service center, which you can find here (on the off chance you need it).