Not being too well known, Beko bean to cup coffee machine write ups are quite rare. So writing this was quite a joy for me.
They only produce 3 machines. Well actually you could say just the one, as the differences are so small you could class them as variations of the same machine.
My Beko Bean to Cup Review
So my review, will cover all of the machines:-
CEG5301 – Bean to Cup Espresso Machine
CEG5311 – Bean to Cup Coffee Machine With Steam Wand
CEG5331 – As above with integrated milk frother
Ultimately the coffee brewing part is the same on all three and the only difference is the milk texturing system if included.
Espresso Making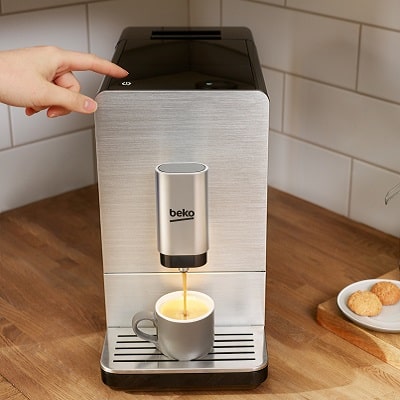 So Straight to the part that is the same for all 3 models, how well do they make an espresso? Well I have to say for the money very well.
Don't get me wrong you can get espresso machines that will do this a lot better, but they will cost you a lot more than one of these. Here we are looking at the cheaper end of the market, and yet they still produce espresso as good as some mid to high priced coffee machines.
You can control the grinder settings and have 19 options to select, pretty impressive for a coffee maker at this end of the market. In addition you can select between two different coffee strengths.
The Beko bean to cup machine also features a pre brew system, which wets you beans a little prior to extraction. This means your espresso will be full bodied a rich each and every time.
Your espresso is extracted at 19 bar pressure.
The higher the pressure the deeper the aroma and texture of the coffee as the oils and fats remain in the brew. You get a faster, foamier espresso with a full-bodied taste

Beko
The handy control panel allows you to select one or two shots at a time, with a simple touch of a button.
Overall, for one of the cheapest available at the time of writing, these Beko's do produce a great coffees, and I think most coffee lovers would be more than satisfied.
Milk Based Drinks
Depending on which coffee machine you choose, you also have the option of making milky based coffees. Like Latte, Cappuccino or Flat Whites. Your choice here really is whether you want the easy option and have this automated, or you want to manually handle it.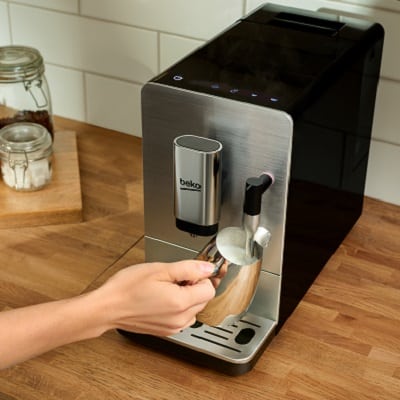 CEG5311 Manual Steam Wand
For those that feel confident enough, and to be honest all of you should as it isn't that hard. Beko offer this one with a manually operated steam wand. This model made my list of the best bean to cup coffee machine.
Unlike the more the expensive options, we only have a single boiler here. This means you cannot brew and steam at the same time. But this is not a major issue unless you are making lots of drinks at once, ie after a dinner party.
The steam wand is easy to use, and after only a little practice you can create the microfoam to your liking.
One of the big benefits of the manual steam wand is you prepare this in a separate jug, allowing you to practice your Latte art.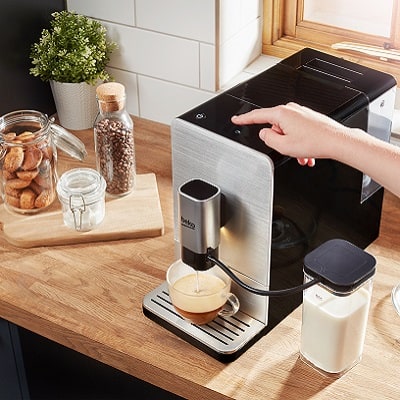 CEG5331 Integrated Milk Frother
For those that want the convenience or simple life, then you can upgrade to the integrated frother model.
This will automatically handle all the texturing and produce an array of coffee options for you. Choose from Latte, Cappuccino, Flat White or Macchiato at the touch of a button.
As a space saving design, the frother is internal, but the actual carafe is external. This clever design not only saves some space, but also means you can keep the carafe in the fridge when not in use, this will keep the milk fresher longer.
If you want my advice go for the manual option, you will get better coffees after only a few weeks practice. Plus you can impress your friends with custom Latte art.
Cleaning and Descaling
All three options come with a automated cleaning cycle, that will handle most of the daily cleaning. You will still need to wipe it down after use.
For a more intense clean, you will be required to put in a little effort, such as removing the drip tray, water tank and brew unit for a soak. From time to time you will need to empty out the coffee grounds, there is a little light to tell you when.
Every three months or so you should run the descaling program, this is pretty easy and the instructions are simple to follow.
Other Features
LCD Display
Auto Shut off
Eco Mode
Easy removed water tank
Hard water adjustment
Reasons not buy
I am not going to lie here, this is an average bean to cup coffee machine, and if you consider yourself to be a real coffee connoisseur then you will want to spend some more money and get a better bean to cup coffee machine.
Secondly for those that like decaf then there is no option to use ground coffee. Which means no decaf.
Final Verdict
The Beko Bean to cup espresso machine is a really great option for anyone looking for a smaller, cheaper option. The provide excellent value for money and will serve decent coffee made with freshly ground beans.
As a coffee machine it performs well, it also looks great, and is small enough to fit in most home kitchens or even caravans.