There will be a lot of you out there that are looking for their first bean to cup coffee machine, but are a little hesitant to spend too much. So just for you I have decided to review the Delonghi caffe corso esam2800, an entry level offering.
There maybe some of you wondering about a different model number you have seen used the Esam 2800.SB this is the exact same model as I am reviewing here, it's just "silver and Black" hence the .SB
Since its release this coffee maker has proved to be extremely popular in the UK and considering all the features you get for the price its easy to see why. It really does represent great value for money.
For starters it's from De Longhi and you really can't go wrong with any of their coffee machines. They are by far the most popular bean to cup machines on the market.
So is the Caffe Corso worth investing in, or are you better off with another entry level machine such as the Esam4200?
Great Coffee and Easy to Use, A Great Starter Machine
General Information
Integrated burr grinder
Manual Milk Frother / Steam Wand
15 Bar pressure
1.8 litre water tank
Uses Fresh Coffee Beans or Pre Ground Coffee
Brews two cups of espresso at the same time
200 gram bean hopper capacity
Dimensions : 28.5cm (W) x 37.5cm (D) x 36.0cm (H)
Weight : 10kg
Max cup height 105mm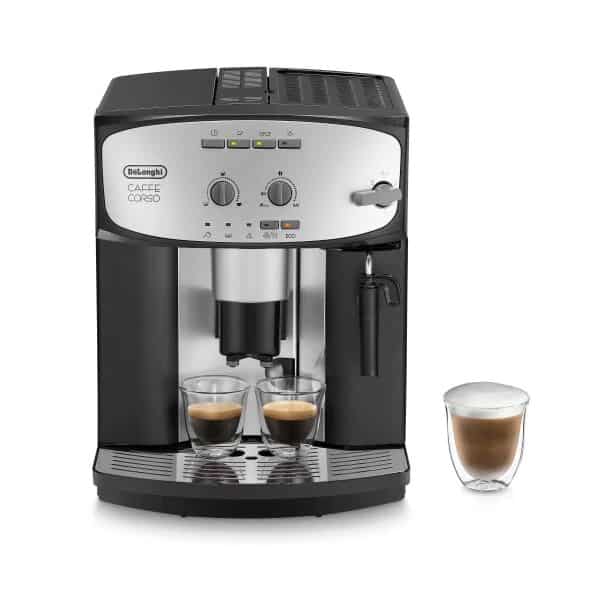 The Delonghi Caffe Corso is fairly easy to use as bean to cup machines go. There is no complex set up required, and you could be enjoying your first shot of espresso 5 mins after unboxing it.
You do have the option to customise the way it makes your drinks if you want to, but this is not like the more expensive coffee makers you cannot control every little aspect of the brew.
So without further ado lets get to the fun part and the actual review
Making Espresso
As I mentioned above you do get some level of control of the extraction and brewing process. Enough for any coffee lover to produce a decent shot.
On the front of the machine you have the two main control dials. The first dial is how you decide strength of your coffee, and the second dial is for how long you want your drink (how much water). This is effectively the same control panel any other De Longhi entry level machine.
Just above the two main dials you can choose whether to brew one or two cups of espresso. Or like me use the two button but have one big cup.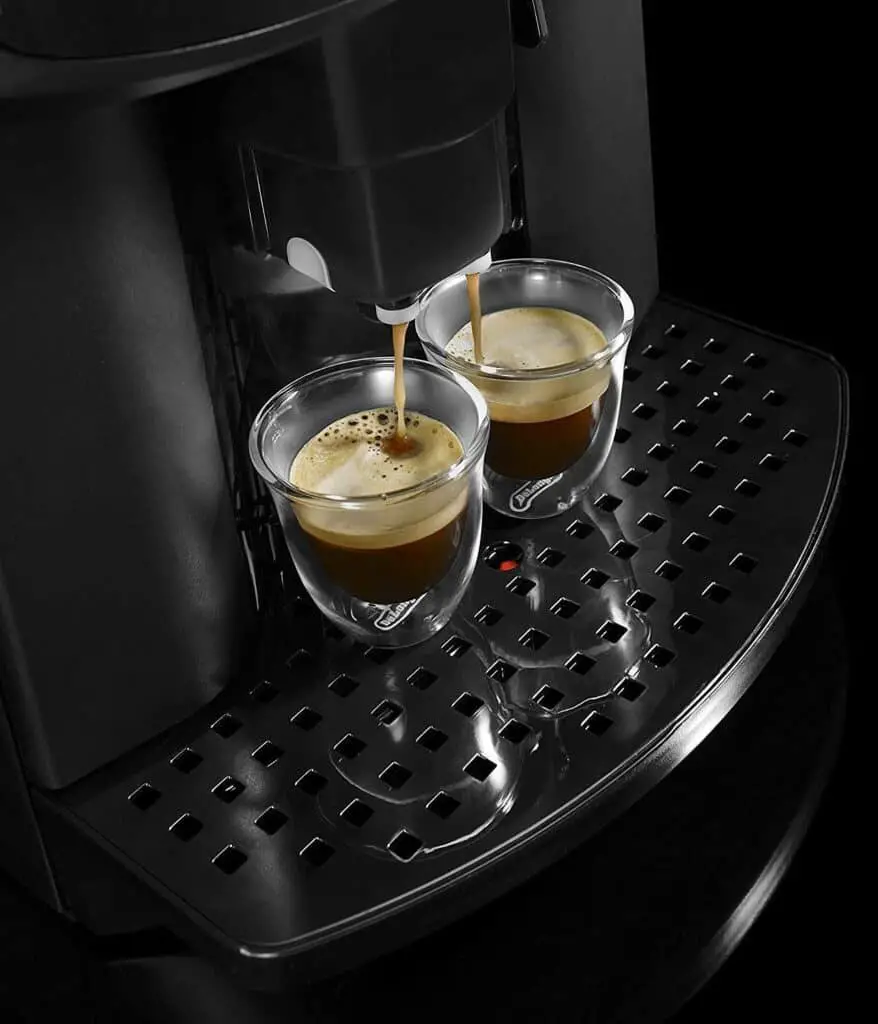 With these more basic machines, the settings you decide on for your perfect cup cannot be stored and recalled with the touch of a button. So if there are two people in the house who have different tastes, you will need to keep resetting the dials each time. Not a major problem but worth noting.
Pro Tip : you can mark each persons setting on the two dials, so they can be easily reset each time, I would suggest using a non permanent marker pen
You also have seven different coffee grinder settings to control how fine or coarse you want to grind your coffee beans, this is less than the 13-18 you get on a higher end bean to cup coffee machine.
Seven coarseness settings should however be more than enough for most coffee drinkers. You will probably find you will stay with the medium settings.
You can of course use ground coffee instead of beans if you prefer. I would try beans though, it really does add to the taste when the beans are ground freshly.
The beans container capacity is 200 gram, which is decent for a smaller machine like this.
De Longhi refer to this as a tubeless system, which means the beans are ground directly into the infuser for maximum freshness.
Pro tip : Make sure you don't fill the hopper to much, I would add enough beans for a week at a time, the rest you can store in an airtight container. This will ensure maximum freshness.
Espresso taste
So as you can see from above this is a fairly basic bean to cup machine, as you would expect for this price range. But it does come with enough settings to be able to produce an barista quality shot tailored to your own liking.
With just few tweaks you will be producing a silky smooth shot with a perfect crema, and not a hint of bitterness. If you are using fresh beans then you will have espresso as good as your local coffee shop produces.
Milk Based Drinks
You are not spending a fortune on the Caffe Corso, so as you would expect the milk frothing is a manual process.
But don't let this put you off, although it looks complicated this is an easy process to master, and believe me in a week or so you will be producing a really good textured milk.
You will need a stainless steel jug (not supplied) when you texture the milk. It's hard to describe how you need to do it, as it is one of those things that is judged by eye.
But basically fill the milk jug somewhere between a third and half full. You then need to make sure the steam wand is submerged in the milk before opening the steam control.
You will then use the steam to raise the milks temperature as well as infuse it with tiny air bubbles to create a textured milk. By lowering the jug so the steam wand is sort of half in and half out of the milk, you will create the foam for your coffee.
You can find plenty of information or an instructional video on milk texturing online.
The steam wand can also be used for hot water if you fancy a Cafe Americano or even a cup of tea.
The milk frother is as you would expect, its nothing fancy but certainly gets the job done, and allows you produce drinks like Flat White, Cafe Latte and Cappuccino.
The Boiler
The De Longhi Caffe Corso Esam2800 is a single boiler coffee machine, this in essence means you cannot brew your espresso at the same time as the manual milk frothing. These two process's require different temperatures of hot water.
Basically when you have brewed your coffee, you will need to wait a short time while it brings the water up to the correct steam temperature. It isn't that long but if you are like me then you will notice it.
Cleaning the De Longhi Caffe Corso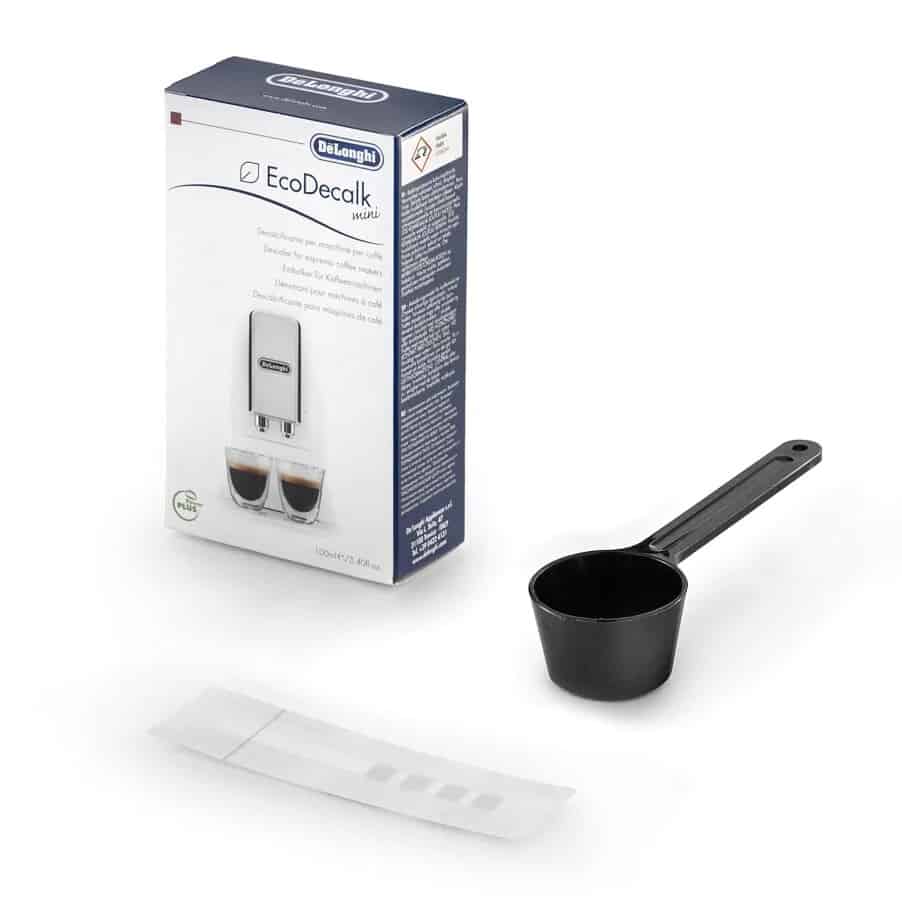 As coffee machines go this is fairly easy to clean. After each use you should really wipe down the front, including the drip tray, the steam wand and the dispensing nozzle.
The front of the machine opens up, which makes it really easy to get into the machine and the brewing unit to keep them spic and span.
The bean hopper and grinder are the more difficult parts to clean as they are not easily removed.
Easy cleaning is a feature I like on any appliance I buy. One of the main reason for buying a bean to cup coffee machine is convenience, and spending ages cleaning is not what I call convenient.
As with most coffee machines you will also need to descale it regularly, for a home use machine this will be roughly every three months. There is an automated descaling cycle on the Caffe Corso esam2800
Other Key Features
Cup warmer
The DeLonghi Esam 2800 has a cup warming plate, although it is quite slow. I prefer to use a little hot water to ensure my cup is at the correct temperature.
A pre-warmed cup is surprisingly a vital part of the process and I am not sure exactly why, but your coffee will taste better. Not to mention it will stay hotter longer.
Removable Water Tank
The water container slides out of the side of machine very easily, which makes filling it up really easy. You can take it to the sink, rather than bring the water to it.
You wont be able to appreciate how useful this is, until you've tried filling up a machine that has a rear, non removable tank, using only a jug. Especially first thing in the morning, when all you want is a coffee.
Pre-Heating
The delonghi esam2800 uses a pre-heating technology to ensure that you do not have to wait too long for that first shot. This is fantastic for first thing in the morning or when you are short of time.
Auto Standby Mode
If you haven't used the machine for a little while then it will automatically switch into its standby mode. I am constantly forgetting to turn things off after use, so this is a great idea for someone like me. It is little features like these that set De Longhi products apart
Height adjustable spout
This is handy for two reasons.
It allows you to be able to get any size (within reason) under the nozzle , so if you want your coffee in a mug then so be it. The maximum clearance is 105mm, which is about 10mm more than a standard mug
You want to keep the nozzle only just above the the cup you are using. Keep the distance to a minimum to ensure a god crema.
Frequently Asked Questions
Esam 2800 or Esam 4200
For me I would recommend the De Longhi Esam4200 over the 2800. To me it is just a better looking and feeling coffee machine, albeit only slightly.
It really only comes down to what you prefer as both are good quality bean to cup coffee machines, and both cost roughly the same price.
How do you descale it?
There is an automated descaling program. This should be run every three months on average. There are easy to use instructions to guide through the process.
How do you make DeLonghi coffee hotter?
The coffee is brewed at the optimal temperature, you really don't want it brewed any hotter as this will burn the ground coffee. I would advise to pre heat your cups prior to dispensing.
Is the Grinder noisy
Yes the grinder is a little noisy, but like all coffee grinders, this is unavoidable. If I could invent a way to do this quietly I would be a wealthy man. The machine does complete the grind fairly quickly, so it is not a major issue.
Reasons not to buy
As always I will include the reasons why this may not be the best bean to cup machine for you. If I am being honest there are not many reasons.
The main one is the manual approach to milk texturing, if you drink a lot of milk based drinks and want this done automatically then you need to steer clear of this machine.
Secondly if you have automatic coffee machines before or are looking for more than an entry level one, then you may want to consider something else.
Final Verdict
This is a great first bean to cup machine, that will look good in any kitchen. It comes with enough features that most home baristas will be more than satisfied.
The standard of coffee the machine produces will please even fussy coffee lovers. It is so easy to use that even complete coffee machine novices can have it up and running in a matter of minutes.
Easy to clean, Easy to use and great coffee. It is no wonder then that the machine is one of the best sellers in the entry level market.
De Longhi have done it again