Let's start with who Miele are? As I am sure many of you will not be that familiar with the brand. They are a German manufacturer of seriously high end appliances. When I say high end, I really mean it, this is another level up from the top of the range coffee machines from other manufacturers.
In my Miele Bean to Cup Coffee Machine review you will find out exactly why they are considered the Rolls Royce of the automatic coffee machines makers.
While they are more famous for the integrated coffee machines, you see in high end kitchens, they do also have a fantastic range of counter top bean to cup coffee machines. Find out where they came in the top 10.
Although they have 8 different models available they really all come within 3 series:-
CM5 Series – Entry level, Compact and colourful.
CM6 Series – Mid-range, Classic design and different user profiles
CM7 Series – Top of the Range, full set of features.
I have described the CM5 series as entry level, and it is Miele's entry level coffee machine. But I should warn you, their entry level is the same as any other company's top of the range, both features and price wise. Just check the online customer reviews.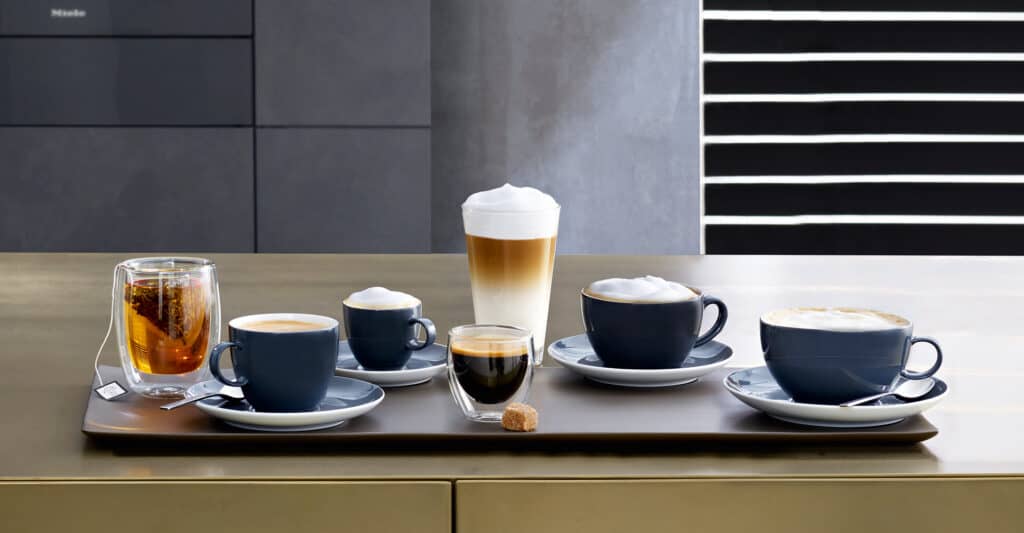 My Miele Bean To Cup Coffee Machine Review
So if your still interested and have the cash to invest in a top of the range coffee machine, then read on and my Miele bean to cup review will go into the different model types in more detail
As mentioned within each series there are several model numbers, but these are effectively the same machine and these different numbers represent only slight differences, such as colour.
No matter which series you choose you are certain to get a quality shot of espresso, speciality coffees, and great build quality.
Review
Consisting of 3 different models the CM5310Silence, CM5410Silence and the CM5510Silence. So let me first start by explaining the small difference between each of these, bear with me this won't take long.
CM5310 – Does not allow you to store settings under user profiles. Cannot dispense hot water
CM5410 and the CM5510 are the exact same feature wise, just the 5410 is black/red/silver and the 5510 is rose gold.
All other specifications between all three models are exactly the same. See I told you that wouldn't take long.
The 5 series are a very compact and simple design, which is prefect for anyone with a smaller kitchen, or likes the minimalistic look.
They feature a stainless steel conical burr grinder, which guarantees to grind the exact amount of coffee beans each time, ensuring maximum freshness and no wastage.
What really sets the 5 series bean to cup machines apart from the crowd is their patented "AromaticSystem" which means the brew chamber will expand as the water enters. Ensuring your coffee is brewed with an intense coffee aroma and no bitterness at all.
The other great thing about these is they are really easy to use, and the touch controls are self-explanatory and you simply follow the symbols.
They offer a full range of beverages such as Cappuccino, Latte Macchiato or even a hot milk and the ability to store personal preferences for two users (not on the 5310). All of which can be recalled with the touch of a button.
The next series is the Miele CM6 series a step up in both features and size.
Review
Again not much difference between these models, the main being CM6160 only allows 4 user profiles to store their preferences, the other two allow for 6 profiles.
Secondly the CM6160 does not include the glass milk container needed for milk based coffees. The other two models do. However you can just use a milk jug although this is a little fiddly as you need to hold the hose in place, so if you drink a lot of milk froth drinks get the proper container.
The main difference between the 6360 and 6560 is the finish of the outer container.
So what do you get from the CM6 series that is worth the step up on the 5? Well the first thing to note is these are larger machines with a bigger capacity, so the better option for larger households. The ability to always have warm cups thanks to the warming rack is awesome.
But the main upgrade is WiFi connectivity and being able to communicate with your bean to cup coffee machine on your phone. Never forget to order coffee beans again, you machine will send you a notification when you need to order more.
Specifications
Everything from the CM5&6 series
CupSensor
LCD display and drink selection
OneTouch for Two
Auto Descale function
Up to 8 profiled users
Review
We really are taking a step up here for the CM7 series, not just in terms of functionality but also price.
The differences here are again quite subtle. Basically the CM7750 is exactly the same as the CM7550 but has its bean hopper split into 3 compartments to allow you to store 3 different types of beans, you can then program which coffee bean to use in which recipes. The CM7750 also has "Aroma-friendly conical grinder".
The CupSensor on these is really cool and it automatically senses the cup being used and will adjust the height of the nozzle so its perfectly sized for the cup in use. This avoids unnecessary splashing and means every coffee is served at the perfect temperature and your espresso has a silky crema.
Both also come with a simple to use touch screen display, on which you can set your parameters such as brewing temperature, water quantity and grinder settings. From here you can also store to memory.
The auto Descale function is a real standout among its peers, and will descale you bean to cup coffee machine once a day at a time pre-set by you. Such as the middle of the night. There is a cartridge place on the rear for the descaling solution. Limescale will never have a chance to build up.
Miele coffee machine buying guide
When you are spending this kind of money on a bean to cup coffee machine you want to make sure you are getting the right one for you. So I have listed the main considerations you need to think about
Size
The different series are all different dimensions, so make sure you consider your current kitchen and whether you are likely to move in the near future
Capacity
Make sure the bean hopper and the water tank size are suitable for your needs. Eg, if you are a large family or host regular dinner parties, you don't want to refill half way through
What's Included
Different model numbers come with different options, such as what's in the box. If you need the Miele thermal milk container, then it is best to buy one that's included. Rather than buy separately
Specifications
Make sure your new bean to cup coffee machine does what you need it to do, think about your current needs and how these may change in the future.
Cleaning
While all Miele coffee machine will have a self clean, you will still need to remove and wash varius parts. Consider how easy it is to remove the brew head, the drip tray and other parts of your bean to cup coffee machine.
This really will become a chore if it is difficult.
Why don't you mention the Miele CM6150
Other websites review different model numbers, so you may be wondering why I haven't. Well the simple answer is at the time of writing Jan 2021, these are the current range of Miele coffee machines. Models such as the CM6150 and CM5300 have been discontinued.
Final notes on your Miele Coffee Machine
With whichever Miele coffee machine you choose, you will be paying a premium price but you will be getting a premium product. All of them will offer you a coffee experience better than any other coffee machine brand.
Whether you prefer espresso or milk based coffee drinks, you will not be disappointed.
For the price you are getting a real quality experience, and a machine that will last decades not years.