Sitting firmly at the premium end of the market, this review of the best Jura Bean to Cup Coffee Machine is aimed at the real coffee lover, who wants nothing but high quality.
This relatively small Swiss company produce some of the best automatic coffee machines available on the market. But they do come with a price tag to match.
The entry level Jura coffee machine costs more than some other companies high end machines with an RRP around £650, and from there they go up to the mid 4 figures.
So with 13 home bean to cup coffee machines to choose from, you really need to make sure you are making the right the choice. The last thing you want when investing a decent some like this to make the wrong decision.
But worry not, I have a lot of experience when it comes to Jura bean to cup machines. I am will guide you to the right decision.
My top Jura Bean to Cup Machines
For those that just want to dive straight in and want to know the top 3 here we go.
The entry level model from Jura, the A1 is an automatic espresso machine, meaning it does not make milk based drinks, but it is one hell of an espresso maker.
Best all round choice, the Jura E6 is not the most expensive, but is packed full of features and makes great espresso, and amazing milk based coffees.
Getting towards the top of the Jura coffee machine price-range we have the Z6, this is for serious coffee enthusiasts only. Like a personal barista in your kitchen.
Jura Coffee Machine Vocabulary
Like with all tech these days, they seem to communicate in either acronyms(1) or by using words they made up to make their tech sound unique.
I don't know about you but this can frustrate me, especially when there isn't a clear explanation in layman's terms which tells me what it is it actually does.
So to help on this front, and because I will be using some of the acronyms, I have decided to produce a handy guide.
PEP®
Pulse Extraction Process – This allows your Jura Coffee Machine to speed up the extraction by pre-infusing your coffee with hot water, while guaranteeing barista quality.
I.P.B.A.S.©
The Intelligent Pre-Brew Aroma System, is a really long way of saying "pre-infusion". This is pretty much the same method most high-end bean to cup coffee machines use to make consistently great coffee.
Effectively what is happening is your coffee is being wet first before the pressure is applied.
I.W.S.®
The intelligent water system, really is an intelligent piece of tech. What this does, is it tests your water supply, to check for local water hardness. It then makes sure your Jura coffee machine is set perfectly for this. And if it isn't, it will tell what you need to do to make sure it is.
J.O.E®
JURA Operating Experience is basically a smart phone app, available on both IOS and Android. It allows you to connect your machine to your phone. Well it is 2021!
Aroma G3 Grinder
Like any conical burr grinder, it grinds your coffee beans on demand for maximum freshness. You can like most other systems adjust the settings to your liking. What sets the G3 apart is that due to the cutting angles, it takes half the time and is a lot quieter than normal grinders.
CLARIS Filter System
Fitted to the water tank, the filter system is as it sounds is a water filter. It will prevent all the hard minerals and calcium from building up in your machine. All though this sounds really boring, it is really, really essential for long term maintenance.
JURA fine foam technology
This really is a unique feature and one that sets Jura Coffee machines above the rest. What this actually does is textures your milk twice, this results in an ultra fine silky milk.
What does this mean for you? Well silky, creamy and sweet milk even the most experienced barista would struggle to produce.
Jura Bean to Cup Review
So lets get to it, I will now go through all 13 Jura automatic coffee machines available today. I am confident money aside, there is one for all coffee lovers.
The top 3 as mentioned above, are in order below. But after that there is not much in it between the different models. In fact it is purely down to which has the right features for you.
Things to like
Makes Espresso and Specialty Coffees (Cappuccinos, Flat Whites etc)
Aroma G3 Grinder
Makes two coffees at a time
Fully Automatic
P.E.P for outstanding espresso every time
Stylish looks
TFT colour display
Things not to like
Only 11 coffee options
Technology can put off some users
The Jura E6 is arguably the best value Jura bean to cup coffee machine. I say this simply because it comes with a price tag that is affordable for most coffee drinkers, yet it is packed with most of the features you would expect only in the most expensive models.
It has a sleek design and is fully automatic, and will surely appeal to households of all sizes, or even a small office.
The fact you can control it from a smartphone app, not only makes it easy to use, but a real favourite among the tech minded.
For the money this is the best coffee maker available today.
Things to like
Stylish and Compact machine (great for even the smallest kitchens)
Simple to produce consistent espresso
One touch operation
The price
Things not to like
No Internal milk system
Only 1 shot at a time
The baby of the family the Jura A1 is espresso machine and not a fully automatic coffee maker. So first things first if you like drinks such as Cappuccino, Latte etc then this is not the one for you.
But if you are an espresso lover then this makes one awesome shot. All thanks to the Pulse Extraction process (P.E.P), and it's intelligent pre-brew system (IPBAS). If you read the customer reviews you will realise just how simple to use this one is, despite all the complex tech.
You can also grind settings thanks to the Multi-level burr grinder. For those that like a decaf you can use the bypass to add ground coffee.
If you are a coffee purist this is the machine for you. The A1 one of the best espresso machines available.
Things to like
Full range of one touch coffee specialties
Consistent espresso shots
Super quiet machine
Most sophisticated milk frother, yet simple to use
Machine learning adjusts to your preferences and the local water
Things not to like
The price tag
Is a big machine so you need a decent sized space for it
Some say it has too much tech
Cleaning cycle runs to often
By no means the most the expensive in the range, but the Jura Z6 price tag will certainly raise an eye brow or two.
So what does the Z6 do to justify an RRP north of £2000, well it packs more technology than your average laptop. I hear a lot of you saying is all this really necessary? Well true coffee lovers who want drinks as good as the best baristas make, then yes it is.
First of all we have an upgrade to the Professional Aroma Grinder, which gives 12.2% more aroma and a consistently higher grind quality. This is brought to you through the magic of geometry, yes you read that correct – math. The grinder is at the optimum grinding curve, resulting in a higher proportion of fine granules, guaranteeing maximum flavour extraction.
If that wasn't enough you also benefit from the newly developed fluid system, that enables the highest quality barista specialties to be prepared.
And finally comes the artificial intelligence, without getting to T3 on you, you Jura Z6 will start to learn the preferences of each household member and customise the colour display and control panel just for them.
Things to like
Full range of one touch coffee specialties
Consistent espresso shots
New Fine Foam FrotherG2
12 one touch options to suite all taste requirements
Coffee beans or ground coffee
Things not to like
Lots of tech, takes some getting used to
Need to use frequently to justify investment
The E8 is sort of the big brother of the E6 reviewed above, and is actually the best selling bean to cup coffee machine in Jura's history. It has recently undergone a big redesign and feature upgrade.
With a price tag only just above its little sibling, you do get quite an upgrade.
The new upgraded E8 comes with the standard Pulse Extraction process, the smart water filter, and the Aroma G3 Grinder.
But the upgrade and comes in the form of the fine foam technology, the frotherG2. This is the function that actually froths your milk twice and ensures specialty coffee lovers will not be disappointed. Good coffee is no longer a dream, but the bare minimum.
There are now 50% more coffees to choose from, along with 10 options for coffee strength.
Things to like
10 one touch coffee specialties
Stunning design
Pulse Extraction Process PEP
Simple control panel
Things not to like
Only one cup at a time
Small bean capacity
If small and easy to use is what you seek, then the Jura Ena 8 one cup coffee machine could be the one for you. Small enough to fit in the most compact of kitchens, space will not be an issue.
In small casings Jura have packed a lot of features, so don't think you need to sacrifice functionality when choosing size.
Ten coffee specialties are available with just a touch of a button, on the easy to use TFT colour display. The clearly marked options makes this really simple to use.
What really sets the ENA 8 design off is the external water tank, which looks reminiscent of an expensive crystal carafe.
Jura also offer the ENA 8 Signature line, which is the same coffee machine, but is housed in a 3mm thick aluminium casing.
Things to like
15 one touch coffee recipes
Compact design
Excellent milk texturing
Simple control panel
10 Coffee strength levels
Things not to like
Looks like the cheaper compact range
Priced for serious coffee lovers
Some of you may be asking what exactly is the difference between the S8 and the Z8 or E8, at first glance it looks similar to the E8, but has a lot of the premium features of the Z8.
Well that is the exactly what they were aiming for, they wanted to combine the best elements of the premium Jura coffee machines with the size and convenience of the compact range.
And I am pleased to tell you they certainly deceived that aim, and have produced a high quality coffee machine, in a sleek compact casing.
The JURA S line creates a new segment in coffee machines: the premium mid-segment
You get a 4.3inch control panel, Aroma G3 grinder, PEP extraction process and Jura's fine foam technology. All packaged in a compact machine.
Things to like
22 one touch coffee recipes
Stunning design
Excellent milk frother
Simple control panel
Things not to like
Apart from design its pretty much the same as the Jura Z6 coffee machine
We are now getting into the serious money range and you are looking at spending upwards of £2.5k on one of these.
The Z8 represents the very top of the range of coffee machine ingenuity. Packed with all the features you get with the Jura Z6.
You don't really get any upgrade technology wise over the Z6, but you do get design upgrades. These include the 3mm thick aluminium casing, HD touch screen display. And my favourite feature the "blue water tank illumination.
For coffee lovers with serous design ambitions.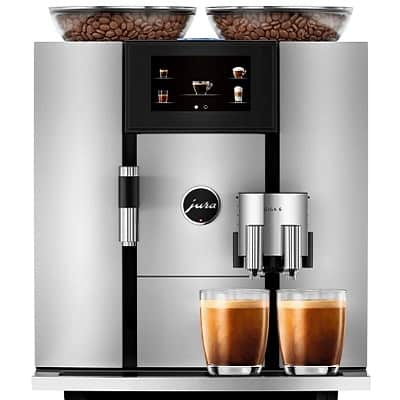 Things to like
22 one touch coffee recipes
Stu28 one touch coffee recipes
Stunning design
Award winning
Two of everything
Things not to like
The price did you not see how much this machine costs?
Some may say we are getting to silly money range with the Jura GIGA 6. But as with most things if you can afford close to £4k for a coffee machine then it isn't that expensive. Even at this money you are getting value, this is an award winning coffee machine.
Ultimately the Jura GIGA 6 is two coffee machines in one, it has two grinders, two hoppers, two brewing units and two milk frother.
Before you start complaining I am recommending spending several thousand, just so you can make two drinks at the same time. Stop, I would never do that. The double action here opens up so many possibilities.
This is what Jura have to say on the matter :
The machine's inner workings have been overhauled to provide the combined power of two heating systems and two pumps, enabling coffee and milk or coffee and milk foam to be prepared at the same time. This has opened up a whole range of new possibilities for coffee lovers, including popular mixed drinks such as caffe latte, flat white or cortado. Jura's new pride and joy can even prepare two specialties simultaneously if desired. Milk and milk foam can be tailored to you individual taste and programmed in 10 temperature levels#
But whats the need for two hoppers and two grinders? Well don't you fancy your cappuccino made with 75% of one bean and 25% the other?
Frequently asked Questions
Jura or Delonghi ?
Both brands are highly respected in the coffee machine world. For me Delonghi have a wider range of machines that start at a lower price bracket, so win for the majority of cases.
But if you are comparing similar priced machines, then pound for pound I think you get more from Jura.
Is Jura Worth it?
Although they appear expensive at first glance, Jura coffee machines actually represent good value, when you consider the technology and high quality you are getting.
Not everything is as simple as comparing the price tag.
What is the best Jura for home use?
This is really dependent on what you want from your coffee machine. If your are after the best of the best then the Z6 is my recommendation. If you want a good all rounder then the E6 is the best option. But if you just want a good espresso machine then the A1 is the way to go.
How Long Do Jura Bean to Cup Coffee Machines last?
If you look after your bean to cup coffee machine and follow the manufacturers recommendations. Then it should last 10 years at least. These are real high quality machines from a top brand.
How often should I descale and clean my machine?
Depending on which machine you have chosen, and how often you use it then descaling should not be an inconvenience for you. Some machines will even handle it for you automatically while you sleep.
How long do Jura filters last?
The Jura water filter will depending on use last between 2 to 3 months.
The final verdict
Jura are a brand with a reputation for producing real high quality coffee machines, but at a price. If you are looking to get one be prepared to put your hand in your pocket.
But what you will be getting is so much more than your standard espresso machines, even the entry level A1 is a huge step up in class.
For a great combination of price and features the Jura E6 is your best choice. With this you benefit from the best of the tech while keeping your cost under the £1k mark.
If you have the money available then I can highly recommend them, but for those just getting into the home coffee making scene, then I recommend a more budget friendly model, check the best available here.